Search for Lance*
XM689_ICDMS_lowres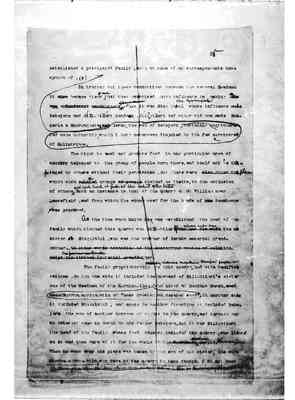 15
established a priviledged family, such as some of my correspondents have spoken of. (p) Berak, the son of Bebejern, certainly has inherited some authority, which I have never seen disputed by the few survivorsof Kulin tribes.
In tracing out these connections between the several Headmenit became clear to me that they exercised much influence in makingNgurung-aeta. Thus it was Ningulabul the Ngurung-aeta whose influence madeBebejern and Bili-billeri Headman. Bili-billeri and other old men madeBungerim a Ngurung-aeta.
The right to hunt and procure food in any particular area of country belonged to the group of people born there, and could not be in-fringed by others without their permission. But there were placeswhich such related groups claimed as theirs, to the exclusionof others and ?????????????. Such an instance is that ofthe quarry at Mt William nearLancefield, and from which the stone used for the heads of tomahawkswas procured.
At the time whenMelbourne was established the head of thefamily which claimed this quarry was Bili-billeri whose wife was thesister of Ningulabul, who was the brother of Berak's maternal grand-mother, (crossed out - in other words according to the aboriginal system of relation-ships his (tribal), paternal grandfather)The family propriatorship in this quarry included [???] and had wide ramific-ations. On the one side it included the husband of [Bili-billeri]'s sisterone of the [Headmen] of the [Kurning-ilun] who lived at [Bacchus Marsh],named [Nurrum-nurrum-biin] or "moss growing on decayed wood". On another sideit included Ningulabul, and again in another direction it included Bebejernthe son of another heiress of rights in the quarry, and through heran interest came to Berak by his father Bebejern. But it was Bili-billerithe head of the family, whose food country included the quarry who livedon it and took care of it for the whole of the Wurunjeri.When he went away his place was taken by the son of his sister, the wifeNurrum-nurrum-biin, who came to the quarry to take charge. I do not know??????????????????????????????????????????????????????????????????????
Last edit 26 days ago by
ALourie
XM765_ICDMS_lowres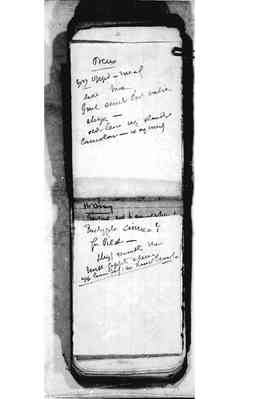 Ovens [underlined] [?] [opped?] meallike [mine?]found similar but eaten strings - older lease only [slowly?] Caucolar - & ng [meaj?]
[next page]
Mr Disney [underlined]
Eucalyptus cinerea?for Pilot - I [?] [?] the with propper species upp [lenas?] (only) and named [lanceola?]
Last edit 24 days ago by
Christine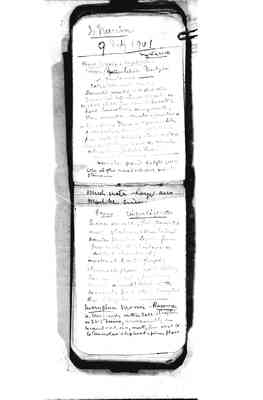 To Neerim 9 Feb 1901
Myrtaceae [underlined]
Back housea - myrtifolia. [Crossed out - Calyx] [?llum?] [hel?] Eucalyptus& TristaniaCalyx tubes [?] about [Somer?] [?] with short soft greyish hairlets. Leaves opposite not on short stalk from almost the node to [?] [?]by always acute then secondary [?va?] [?] -[?]. Flowers in cymes. [Tubes?] of the calyx [?] [?] from ovate to elliptic - [leaves?] [?], [?] under [?] long or up to [?] almost orbicular petals. Fruits [?] for [?] [?] - Wood classgrand of a light yellow colour and often marked with dark walnut stains.
[next page]
[words at top of page]much water layer was must be given
Fagus cupulifera [underlined]Leaves small, flat, crenulated mostly glabrous; then lateral venules faint. Leaves form from ovate to orbicular - a deltoid [?] [?]; [involcural?] tracts fringed; staminate flowersmostly orbitery [star?] several; fruit hanging [calyx?] minutely lobedat the [?]nut: fruits often triangular than triangular -
Eucryphia moorei - Rosaceae [all underlined] A tree finally rather tall, Leaflets in 3 to 5 pairs, accompanied by a terminal add one, mostly from oval to to lanceolar eliptical; firm, flat
Last edit 24 days ago by
Christine
XM775_ICDMS_lowres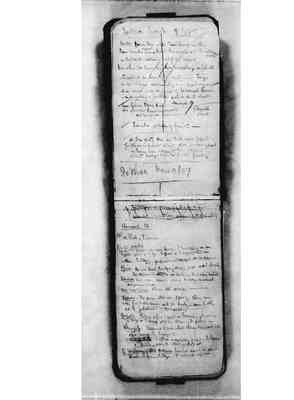 To Moe November 9/97
In the gum tree - the leaves in thelower branches [??] are brod lanceolar - to lanceolar-ovatebut in the extreme end of the upperbranches the leaves are long lanceolar, or falcateScattered on some of the extreme twigson other apparently an appendagement+ in some with a pair of terminal leavesindicating a further intermediate shootsample 7[Large - crossed out] Gum trees have the smaller branches smoothand brown - of terminal shoots
Sample 7Gum tree branch the smaller branches are smooth and born on terminal shoots
See also collection of fruits
At this date there are buds well formedfor bloom probably about xmas or new yearSome trees appear to have flowersabout July - to judge from the fruit
To Moe Nov 9/97
[next page]
Berwick to[??] on Flats E. Gunii.Banfield on flats E. Gunii - on creek bank. E. [??] onhigher ground + ridge E. Gunii + E. amygi (or L)there E. Amyg - preponderate except on ridgesOfficer there are level low lying clay flats with E. Gunii[??] [??] E. Gunii on all low lying banks where timberedPakenham but where there is a rise E. [??] makes itsappearanceNar Nar Goon there the sameTynong The same and at Tynong there arethe first hills coming into the [??] some E. Obliquaand E. pulverulenta appear alsoGarfield To here a few E. gunii in [??] placeon ridge. E. amyg ([??]) E. obliqua E. pulv.Bunyip The same to here - but then appear to bealso some E. [??] ?Langwarrin E. gunii on rising ground E. [??]E. [pulv.?] some E amygdalina to [to Bunyip P- crossed out] Drouin timber [such?] at about[??] E. [??] E. [??] E. capitellata
Last edit about 1 month ago by
Christine
hw0150 Notes on the Guyangal and Kurial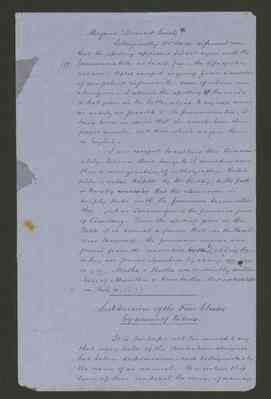 Morgan's "Ancient Society".*Subsequently Mr Lance informed methat the spelling aforesaid did not agree with the(17) pronunciation as heard from the lips of the natives. After careful inquiry from a numberof competent informants, some of whom wereaborigines I altered the spelling of the wordsto that given in the Table, which to my ear comesas nearly as possible to the pronunciation, itbeing borne in mind that the vowels have theirproper sounds. not those which we give themin English.
I am careful to explain this thus min-utely because there hangs to it something morethan a mere question of orthography. Kubi'ssister is called Kapŏta by Mr Ridley, + the factis thereby concealed that this classname issimply Kubi with the feminine terminationtha, just as Tarawangan is the feminine formof Tarawang. From the spelling given in theTable it is seen at a glance that in the Kamil-aroi language, the feminine names aareformed from the masculine [by the - crossed out] by adding tha,as they are formed elsewhere by adding an, [??]or gor. Matha + Butha are evidently contrac-tions of Muritha + Kumbutha. But see Note to Capiiion Rule iv. [L. F.]
Subdivision of the Four Classesby means of Totems
It is perhaps not too much to say that every tribe of the Australian aborigineshas totem subdivisions, each distinguished bythe name of an animal. It is certain thatsome of these contract the range of marriage
Last edit 5 months ago by
ALourie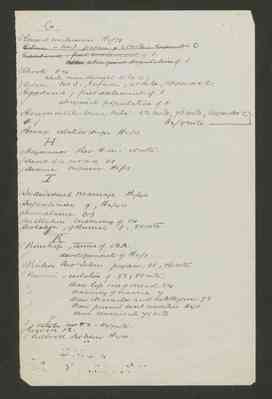 GGeneral conclusions H2/50[Gibson - Mr J. - preface, - 25 note, appendix C - crossed out][Gippsland, first settlement of 1. - crossed out][aboriginal population of 1 - crossed out]Ghosts 64White men thought to be 67Gibson Mr J, Preface, 25 note, Appendix CGippsland, first settlement of 1aboriginal population of 1Gournditch-mera tribe 52 note, 76 note, Appendix C, H2/8 noteGroup relationships H2/11
HHagenauer Rev. F. A. 25 noteHand of a corpse 61Hearne Professor H2/18
IIndividual marriage H2/40Infanticide 9, H2/44Inheritance 63Initiation ceremony of 14Isolation, of Kurnai 3, 88 note
KKinship, terms of 56Adevelopment of H2/1Kühn Rev Julius preface, 31, 76 noteKurnai - isolation of 53, 88 notetheir life one of dread 84meaning of name 7their character and intelligence 78their present social condition H2/1their numerals 78 note
Last edit 8 days ago by
ALourie
hw0048 Fison to Howitt n.d.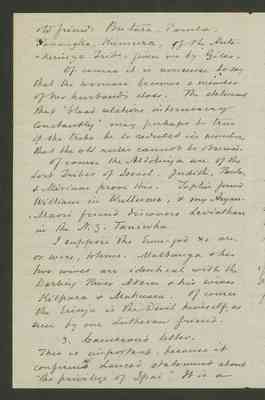 old friends Butura, Parula,Panangka, Kumura, of the Ante-keriya Tribe, given me by Giles.
Of course it is nonsense to saythat the woman becomes a memberof her husband's class. The statementthat "blood relations intermarryconstantly" may perhaps be trueif the tribe be so reduced in numbersthat the old rules cannot be observed.
Of course the Aldolinja are of theLost Tribes of Israel. Judith, Paula.+ Miriam prove this. Taplin foundWilliam in Wullume, + my Aryan-Maori friend discovers Leviathanin the N.Z. Taniwha.
I suppose the Emu-god +c are,or were, totems. Malbunga + histwo wives are identical with theDarling River [?Adoree?] + his wivesKilpara + Makuara. Of coursethe Erinja is the Devil himself, asseen by our Lutheran friend.
3. Cameron's letterThis is important, because itconfirms Lance's statement about"the privilege of Ipai". It is a
Last edit 2 months ago by
ALourie