Search for "Port Philip"
hw0404 Notes on Kurnai 150 pages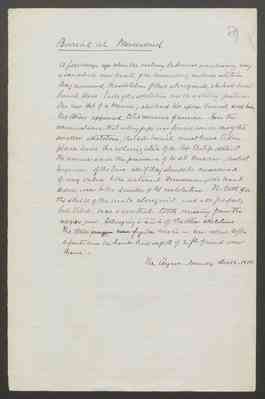 89[transcription of article from the Argus newspaper, 12/12/1881, p. 5]
Burial at [Mordialluk?] [Heading underlined]
A few days ago when the sailing labourers were cleaning away a sandhill near the site of the [Mordialluk?] railway station they uncovered the skeletons of three aboriginals, who had been buried there. Each of the skeletons was in a sitting posture. One was that of a warrior, who had his spear buried with him; the others appeared appeared to be the remains of women. From the circumstance that a clay pipe was found beside one of the smaller skeletons, the last burial must have taken place since the colonization of the Port Philip district. The remains are in the of Mr [J.P.?] Madden, district Engineer of the line who if they should be considered of any value to the natural museum, will hand them over to the director of the institutions. The teeth in in the skull of the male aboriginalwere all perfect, but there was a central tooth missing from the upper jaw belonging to each of the other skeletons. The three figures were in a row about 6 ft apart and the heads had depth of 2 ft of sand over them.
The Argus. Monday Dec 12. 1881.
Last edit 9 months ago by
Christine
hw0391 Notes by Howitt on Kulin from Barak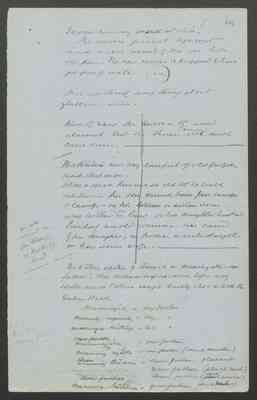 7 64
Moon was very vexed at thisThe moon goes into ngamat and walks round by the sea like the sun. The new moon is supposed to have got full of water [sketch]
Did not think any thing about falling stars.
When they saw the Aurora they were alarmed lest the Tharan-galk (Heaven) should come down. ____________________________The Kūlin were very careful of old people and children.When a man became so old that he could not travel his son carried him from camp to camp – or his brothers or sisters sons or his brother in law wifes brother or his daughter's husband. Similarly an old woman was carried by her daughter, a brother or sister's daughter or her son's wife.
The Kūlin spoke of Būnjil as Mamingata = one father". This William says was done before any white men in Victoria except Buckley who was with the Geelong blacks.
Mamingék = my fatherMaming - ngénne = thy [ditto]Maming–u-Káthūp = his [ditto] [Our fathe - crossed out]Manung ngáta = our father Maming ngŭlla = our father (dual number)Maming thŭnna = their father. Plural numbermamale ngūtta your father (plural number)mamena bribŭnda their father (dual number)Maminga – memena Bulla [būlŭnda - crossed out] = your father (dual number)
[written in left side margin]see noteextract re[??] Phillipat Port Philip Heads
Last edit 9 days ago by
ALourie