Search for "W Montgomery" Montgomery*
XM188_ICDMS_lowres Hagenauer to Howitt 1 May 1880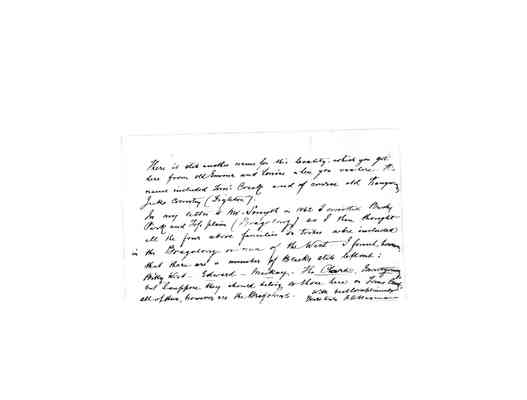 There is still another name for this locality, which you gothere from old Emma and Louise when you was here. Thisname included Tom's Creek and of course old KangarooJack's country Dighton
In my letters to Mr. Smyth in 1862 I omitted Bushy Park and Top plains (Bragolong) as I then thoughtall the four above families or tribes were includedin the Bragolong or men of the West. I found, however,that there are a number of Blacks still left out:
Billy Wood - Edward -Mackay. The Clarks, Montgomery,but I suppose they should belong to those here or Toms Creek,all of them, however are the Bragolons. With best compliments,Yours truly F.A. Hagenauer
Last edit 4 months ago by
ALourie
hw0404 Notes on Kurnai 150 pages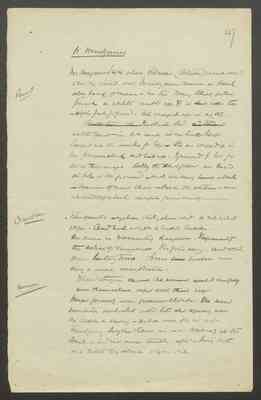 BurialIn the year/44 when Robinson (Protector) came overto see the district. [with - crossed out] In riding down [??] at Heartalong back of [?morass?] - his two Murray Black policefound a skeleton doubled up in a [??] tree- eight feet from ground not wrapped up in anything.[Another time the - crossed out] The blacks [??] [one ?? - crossed out] a ginat the Heart in [??] made in an Ant heap.Scooped out the inside [??] [??] She was wrapped up inher possum cloak and tied up. They mourned for her fromtwo or three days. Bobby the Blackfellow was buriedin hole in the ground - did not carry him about- because they were then about the station - were not travelling about except periodically.-
CorroboreesWere painted - eyebrows white, [??] white + red + white stripe. And had a kilt + budda budden.One dancer was representing Kangaroos. Representingthe actions of Kangaroos. The gins sang and oldmen beating time. Some [songs - crossed out] corroborees weremerry + some monotonous.
WomenWhen stranger came the women used to carefullycover themselves up with their rugs.Women generally wore possum cloaks. The mensometimes went about naked but also equally worethe budda + kaiang - perhaps more often than not.Montgomery brought them in - in 1846-47 at theHead + had no more trouble after - Jimmy Scottwas a little boy about 10 years old.
Last edit about 1 month ago by
ALourie