Search for Daylesford*
XM761_ICDMS_lowres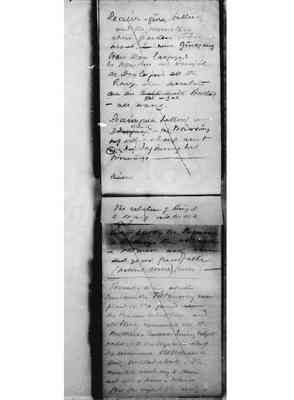 Leaur-gura -balluknow the mountain where Parkers Stationwas. name ginojaugWhen CampseNot many there was Bunjil.at Daylesford all the [??] when harmfulare all ? [Kalk Kalk crossed out] (with gal gal under) Bullung- all wang.Leaur gura tallung have spears [??] [woiwrung?]only with a [??][??] Jajawrung
Last edit over 1 year ago by
CoreyTheatre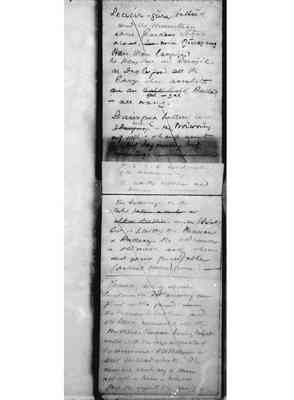 Leaūr-gūra-balluknow the mountainwhere Parkers stationwas. name Qūrojang[Have then language?]No wang there only Bunjil.At Daylesford all the Range when wambatare all gal-gal ['Kalk-kalk' crossed out] Bullūg- all wang.
Leaūrgura falling [?]speak ['3 language' crossed out] Woiworungout with a sharp [??][??] Jajoworong half[??]5.6.6.8. list [??](9) all the mothers and women
[next page]
the Bullawangs may betribal [crossed out 'fathers and uncles or older brothers'] uncles (Datak)But in following the Krauan& Bullawangs the old women& old men ask wheredid your grandfather(paternal come from) -
Thursday evening about sundown the Tūtanaring wereplaced on the groundthe Krauan behind them and Old Mary [?] represented all the mothers. Jonny Fidgett waited with the boys as master of the ceremonies. Old William & Dick walked about. The men all went away to chat[?]and after a time – William gave the signal to be ready.
Last edit 29 days ago by
ALourie
XM765_ICDMS_lowres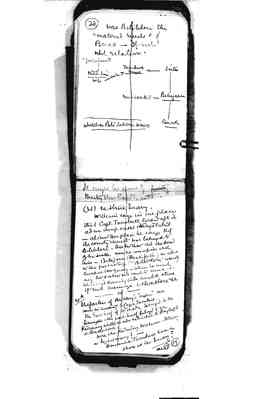 (20) was Bilibileri the "maternal uncle" ofBerak - if not what relation.
[diagram of relationships]
Father[??]Bilibilberiwife - sister BunjilTurnbullSister[Jack Heathcilff??] - BebijernBerak
What does Bilibileri mean
[next page]
(21) re stone QuarryWilliam says in one placethat Captain Turnbull looked after it and was therefore called Nūgūlabŭl - at and your place he says all the country where it was belonged to Bilibileri. His brother and the son of his sister were co-occupiers with him - Bebejeru (Beraks father) was also in the partnership. Bilibileri usually lived at the quarry - when he went away his sisters son went to mind it. when neighbouring tribes wanted stone they sent messengers to Billibileri [?]
[line across page]
21AThe father of Bilibileri's "nephew" was next in authority to Capt. Turnbull. The East half of Mt [Macedon?] belonged to the [Uruuyeri?] - the west half belonged to the Kŭrnung willŭm who extended to Daylesford & Bullarook.
Were the Kŭrnŭng willum - [Woeworung?] or Ja ja worung? - How could Captain Turnbull have a share in the Quarry?
See (12) (19)
Last edit 29 days ago by
ALourie
hw0419 Wotjobaluk Notes, Songs, Maps etc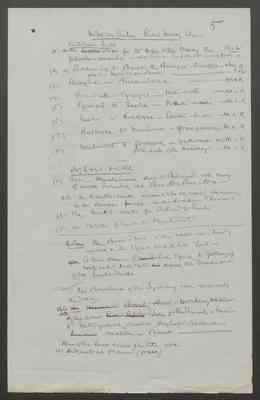 hw0418 Howitt Notes on Wotjobaluk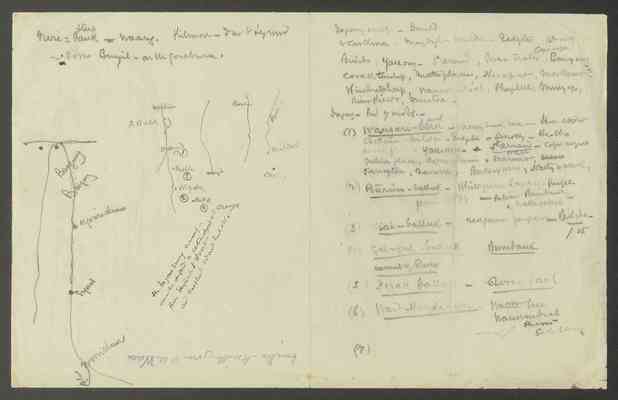 Neri = steep bank = waang Kilmore - down to Seymoursome Bunjil - on the Goulburn
[map showing location of communities]
[written under map]the Jajaurung countrycan be defined as extending N + Sfrom Daylesford to Boortand [??] [??] East + W.
Jajorung country - Donaldto [?Castlema?] - Maryborough- Maldon- Eddington- Dunolly[??]Bialiba, Yallong - St Arnaud, Swan Water, Cope Cope, BangerangCorak township, Morton plains, Naraport, Morlburt?Wimbutchup, Warraknabial, Sheephill, Minyip,[Kiew-crossed out] Kiewr, Murtoa.
[??] had 7 mobs-
(1) Wangari-bŭrk creek - stringy bark tree - Jim CrowCastlemaine-[?Maldon?] - Eddington - Dunolly- BealbaAvoca forest - Yau-ung - St arnaud warr - Cope CopeGuthrie's place, Avoca plain - Marano, [cres - crossed out]Tarragton, Navarre, Berke-yurn, Natty yallock(2) Būrŭm-balluk - white gum S. aphy peoplepart of (1) - Between Brimbank + Natti yalluk(3) Bial-balluk - redgum people - Bialiba(4) gal-gal-balluk Brimbank[??] of River(5) Derak-balluk - Avoca forest(6) Wait-kundi-uk Wattle treeWareknabealBriemLakeCorong(7)
Last edit 6 months ago by
ALourie
hw0414 Notes on Mukjarawaint with a map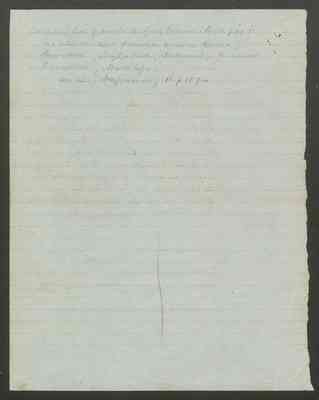 hw0391 Notes by Howitt on Kulin from Barak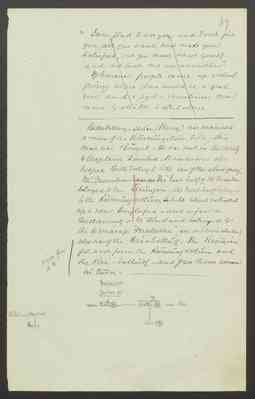 39"I am glad to see you and I will give you all you want and make you satisfied, but you must behave quietlyand not hurt me nor one another".If however people came up without giving notice there would be a greatrow and a fight. Sometimes men came by stealth to steal stone__________________________________________Billebillary's sister (Waang) was married to a man of the Kūrnŭngillŭm tribe; this man was Būnjil. He was next in Authority to Captain Turnbull. It was his son who helped Billibillary to take care of stone quarry. [Mt Macedon was in - crossed out] The East half of Mt Macedonbelonged to the Ūrŭnjeri; the West half belonged to the Kūrnŭng willŭm [tr- crossed out] tribe which extended up to near Daylesford – and as far as Būllanank. Mt Blackwood belonged to the Wirrarap "Malcolm" (see as to him elsewhere) who was of the Kri – ballŭk. The Ūrūnjeri got wives from the Kūrnŭng willŭm and the Kri – ballŭk – and gave them women in turn. ————Turnbull fatherTurnbull W│BBili W ― sister W ― Bili│Son B
[written in left side margin]wives from+ to
Last edit 29 days ago by
ALourie
68The Jajaurong (Ja-jau – Lips or mouth wurong eg. Speech)_______________________________________________See Brough Smith quoting the remarks of E S Parker and J Parker – vol 1 p 41. 42 Parker's work is The Aborigines of Australia – a lecture – 1854 – probably in the Melbourne Library.Parker was the Superintendent of the aboriginal Station at "Jim Crow" near Daylesford – in the Jajaurung country – of where the old story is told thus – a blackfellow said of him:"Kobon that one yabber "gib-it daily head – but baal that one gib it damper".He says "the Jaj owurrong inhabited the plains and tributaries of the Loddon."J Parker says "the Ja-jow-er-ong was divided into seven tribes.(1) Leak a bulluk(2) Pila-uhin-goondeetch (3) Kalk-Kalk-goondeetch x(4) Wong-hurra-ghee-rar-goondeetch(5) gal-gal – bulluk(6) Ton-num-burr-lar-goondeetch(7) Way-re-rong-goondeetch
Parker says of (7) that in their country was the only quarry of tomahawk stone to which all of the neighbouring tribes resorted for a supply. He also says that the Jajaurong country extended from the Eastern slopes of [the - crossed out] Mt Macedon to the Pyrenees. This includes the country which William Berak claimed as belonging to one of the divisions of the Woiworung – namely Mt Macedon and the Tomahawk quarry which was[?] the inheritance of one "mob" of which Billibileri* was the Headman.
[written in left side margin](E. S Parker)(I think theson of J Parker)
x i.e. people of theforest (Kalk-Kalkfor Kalk=wood)
*see next pagere Billibelari- who was evidentlya Jajaurong:
Last edit 29 days ago by
ALourie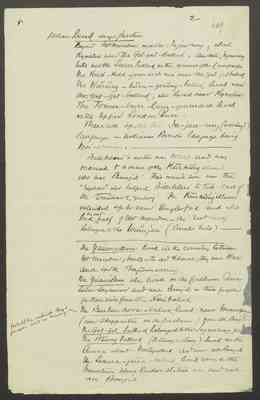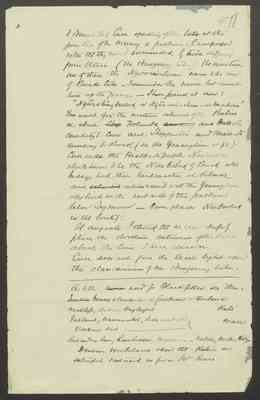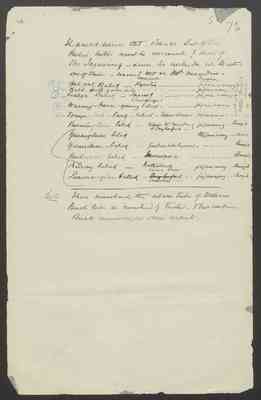 Last edit 5 days ago by
IClark
hw0429 Questions for William Berak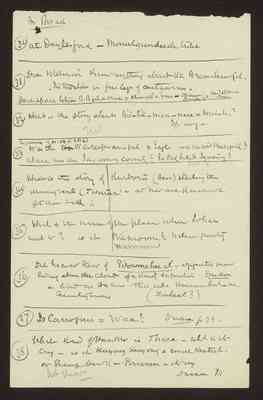 For Berak30 at Daylesford - Monulgundeech tribe
31 Does William know anything about the Bram-bram-galThe two stars in fore legs of centaurus.Dark space between B. B. gal + crux = chin-gal = Emu - opossum, Bunya = Head star in Crux
32 What is the story about Bil-bil-man-nere = minah?If any-no
33 Jajowerung - (p. 159 ii RBS)Was the [Wo- crossed out] Wo-reip-ar-pil = Eagle or is the word Wairrp-il?Where was the Jajowerūng country? Is Dick Richards Jajowerūng?no-4
34 What is the story of Kurborū (Bear) stealing thedrinking vessels (Tarnūk) - and how did Karakarokget them back?
35 What is the name of the place where Lohanwent to? is it Wamoom? Wilsons promontoryWarmum
36 Did he ever hear of Pirnmehee-al - a gigantic manliving above the clouds of a kind disposition Dawson- - lived in [?kness?] - this side Warrnambool - atFramlinghame (Binbeal?)
37 Is Canopus = Waa? Dawson p. 99
38 What kind of Hawk is Thara - what is itscry - is it Kuyong Kuyong = small kestrel.or Swamp Hawk - Pirrween= its crynot known Dawson lii
Last edit 29 days ago by
ALourie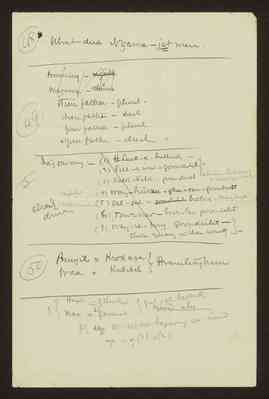 48 What does Ngama-jet mean
49 [crosssed out - maming - ngŭla][crossed out - mamma - thŭma]their father - pluraltheir father - dualyour father - pluralyour father - dual
[5 crossed out]Jajowrong - (1) [k - crossed out] Leak-a-bulluk(2) Pill-awin - goondetch}-(3) Kalk-Kalk-goonditch between Loddon + BendigoDaylesford (4) Wong-hŭrra-ghee-rar-goondetchalready done Castlemaine (5) gal-gal-[goondich - crossed out] bulluk - Maryborough(6) Tow-nar-bur-lar goondetch(7) Way-re-reong goondeetch -}stone quarry in their country
50 Bunjil = Krokage}Waa = Kubitch} Framlingham
1 Bunjil = {[??] gal gal bullukWaa = 2 gamut [??]They say that all the Jajowrong were mixed up - of (1) + (2)
Last edit 6 months ago by
ALourie