Search for Kopperamana* Kopperamanna*
XM690_ICDMS_lowres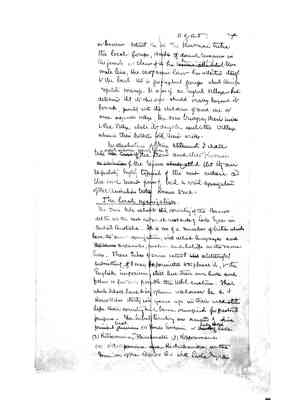 4or became extinct in the Kurnai tribe the local groups, Hordes if descent remains in the female or clans if it has been [?] of and [crossed out - became attached] the male line, the exogamous law has attached itself to the local that is geographical groups which therefore regulate marriage. It is as if an English Village had determined that its children should marry beyond its bounds, possibly with the children of some one in some adjacent village while its daughters went to the village whence thier brothers took their wives.
The illustration of these statements I shall take several instances mainly those of [crossed - the case of] the Dieri and the Kurnai [crossed out - as instances] for the reason [crossed out - already stated] that they are respectively highly typical of the most archais and the most recent forms of local & social organization of the Australian tribes known to me.
The local organization [underlined]
The Dieri tribe inhabits the country of the Barcoo delta in the west and to the west side of Lake Eyre in Central Australia. It is one of a number of tribes which have the same organization, with allied languages and [crossed out - the same] ceremonies, customs and beliefs are the same lines. These tribes to some extent althoroughly submitting, if I may be permitted to so phrase it, to the English imperium, still have their own lives and follow so far as is possible the tribal customs. That which I shall have [?] of them will however be as I knew them thrity seven years ago in their wild state before their country had been occupied for pastoral purposes. The tribal territory was occupied by five principal local divisions (1) [Poordo Pirmauie?] or Lake Hope [crossed out - the ?] Lake (2) Kūramina or Blanchewater (3) Kopperamana(4) [Kilalepanina?] and [Kathithaudra?] at the junction of the Baroo Rd with Lake Eyre.
Last edit 23 days ago by
ALourie
XM695_ICDMS_lowres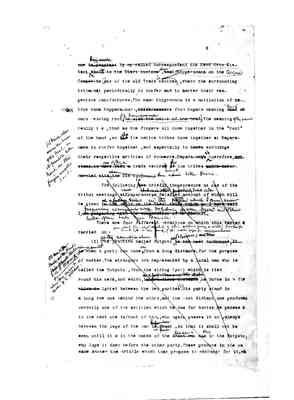 2
[now in progress by my valued correspondent the Revd Otto Sie- crossed out][bert the in to the Dieri customs- crossed out] show that Kopperamana on the Cooper[Cooper is - crossed out] One of the old Trade centres is, where the surrounding tribes met periodocally [sic], to confer and to barter their res-pective manufactures. The name Kopperamana is a mutilation of [is -crossed out]the true name Kappara-mara, from Kapara meaning "hand" and mara meaning "root" (1) [as also the haier [sic] of the head - crossed out]. The meaning of the name really is, that as the fingers all come together in the "root" of the hand, so [did - crossed out] do the native tribes come together at Kapara-mara to confer together, and especially to [there - crossed out] exchainge [sic]their respective articles of commerce. Kapara-mara is therefore [seems to have been a - crossed out] one of the trade centres for the tribes [which inter- crossed out][married with the -crossed out] those [akin - crossed out] allied to the Dieri.
The following is briefly the procedure at one of the tribal meetings at Kaparamarawhich are still presently held and a detailed account of which will be given [in the memoir on the Dieri tribe which as I have said - crossed out] at a future time in the paper work which I am now am preparing with the cooperation of Mr Siebert- crossed out] preparing in conjunction with Mr Siebert as to the Dieri and their tribes of the Lake Eyre Basin.
There are four different occations [sic] on which this barter is carried on. One which I have noted is when a blood feud is settled & barter ofgoods (p -)and ( ※ next page). -
(I) At the assemblies where the practice called Yutyuto(1) occurs, [and this is the most common. It- crossed out] when a party has come in from a long distance, for the purpose of barter. The strangers are represented by a local man who is called the Yutyuto, from the string (yut) which is tied round his neck, and which, [in the first instance - crossed out] as a first action, he burns in a fire [which is lighted- crossed out] lighted between the two parties (2). His party stand in a long row one behind the other, and the most didtant/distant one produces secretly one of the articles which he has for barter. He passes to the next one in front of him, who again passes it on, always between the legs of the man in front, so that it shall not be seen until it is in the hands of the [front man- crossed out] leader. [who - crossed out] This is the Yutyuto, who lays it down before the other party. These produce in the sa same manner the article which they propose to exchange for it,
[written in left side margin](1) Mara also means the hair of the head - in its position to the head as the fingers are to theirhand.
(1) See page -Dieri saw the Kundrito be of Kunke abilityJ.A.I. 188 - page -
where this man is spoken of as Yutchin(2)
Last edit 22 days ago by
ALourie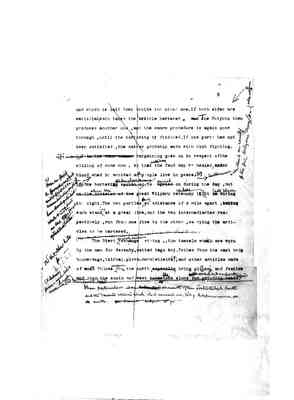 3
and which is laid down beside the other one. If both sides are thensatisfied each takes the articles bartered. [and - crossed out] The Yutyuto then produces another one, and the same procedure is again gone through, until the bartering is finished. If one party has not been satisfied, the matter probably ends with club fighting. ※[In the same manner -crossed out] bargaining goes on in respect of the killing of some man, so that the feud may be healed, blood shed be avoided and people live in peace. (1)
[Note up right side of text] *(I) Another occasion is when there is an assembly for the greatWilyaru ceremony (p -), when -
[Note Left hand column to go with bloodshed, line 8] (1) Here is kinda [sic] proceedure which under favourablecircumstances mighthave developed intoa customas that of the Wergeldof the Teutonic tribe
The bartering [on the above occasion spoken of - crossed out] is carried on during the day, but [on the occasion of the - crossed out] when the great Wilyaru ceremony is held (2) it takes place during the night. The two parties being at a distance of a mile apart, each standing at a great fire, and the two intermediaries res-pectively, run from one fire to the other, carrying the arti-cles to be bartered.
The Dieri on such occasions exchange string, the tassels which are worn by the men for decency, netted bags, &ct. Tribes from the east bring boomerangs, (kirha). pirra-mara (shields) (3), and other articles made of wood. Those who came from the north,[especially] bring pitcheri and feathers and from the south and west [comes - crossed out] the stone slabs [for grinding seeds - crossed out] with which seeds are pounded and ground.These particulars indeed note character of the intertribal barter and the radius within which it is carried on, taking Kopperamana as the centre. [at presents subject to for- crossed out]
[Notes left hand side](2) see Dieri tribep. -
(3) pirra-wood bowlmara - hand [diagram of circle with dot in middle]
Last edit 5 months ago by
ALourie
hw0312 Flierl to Howitt 5/4/1888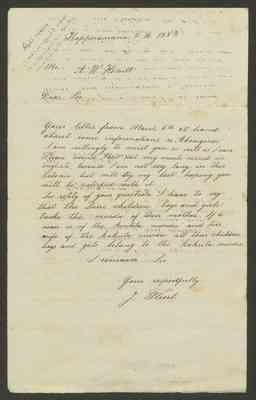 Replied 20/4/88(1) did he get information from old people(2) Are their customs [??] to [??] [??] here 26 years ago.
Mr A.W. Howitt
Dear Sir,
Your letter from March 6th at hand about some informations [sic] re Aborigines.I am willingly to assist you as well as I can. Please excuse I am not very much versed in english, because I am not very long in this Colonie, but will try my best hoping you will be satisfied with it.
In reply of your question I have to say that the Dieri children (boys and girls) tacke [sic] the "murdu" of their mother. If a man is of the kintela [underlined] "murdu" and his wife of the kakula [underlined] murdu all their children, boys and girls belong to the kakula murdu
I remain Sir,Yours respectfully
Yours respectfullyJ. Flierl
Last edit 4 days ago by
ALourie
hw0347 Meyer to Howitt 18/2/1888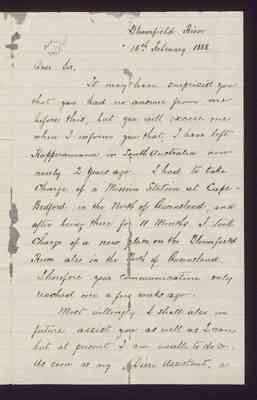 Bloomfield River18th February 1888.Dear Sir, It may have surprised you that you had no answer from me before this, but you will excuse me when I inform you that, I have left Kopperamana in South Australia now nearly 2 year ago. I had to take charge of a Mission Station at Cape Bedford in the north of Queensland, and after being there for 11 months I took charge of a new place on the Bloomfield River also in the north of Queensland.Therefore your communication only reached me a few weeks ago. Most willingly I shall also in future assist you as well as I canbut at present I am unable to do so.As soon as my "Dieri Assistant " a
Last edit 7 days ago by
ALourie
hw0351 Vogelsang to Howitt 16/July/1878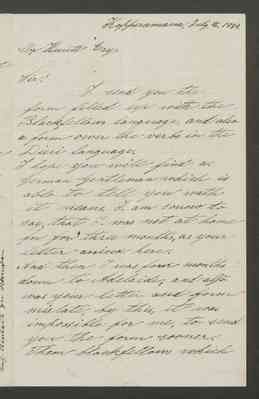 Kopperamana July 16 1878
Mr Howitt Esq
SirI send you theform filled up with the Blackfellows language, and alsoa form ower [sic] the verbs in the Dieri langauge.
I hope you will find aGerman Gentleman which isable to tell you wath [sic]it means. I am sorrow tosay that I was not at homefor three months, as your letter arrived here.
And then I was four monthsdown to Adelaide, and alsowas your letter and formmislate [sic], by this, it wasimpossible for me, to send you the form sooner.Them blackfellows which
Last edit 4 days ago by
ALourie
hw0353 Vogelsang to Howitt 16/12/1878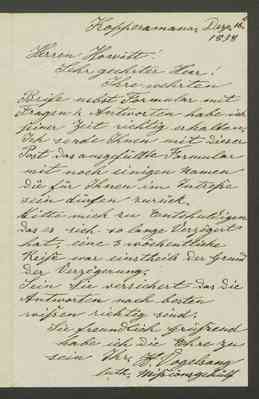 Koppermana, December 16, 1878
Mr. Howitt! Very esteemed sir!I have received your [wehrten?] letters, along with questions and answers, (every?) time without fail. I am sending you this letter in return, with the completed form with yet more names that might be of interest to you. Please excuse me for the long delay, a three-week trip was partially (einstheils: old German? lit: 'one part') the reason for the delay. Are you sure that the answers are right, to the best of our knowledge?
With best regards (or 'yours faithfully' etc.), I have the honour of being your [? Initial? Title?] Vogelsang, Luth.([Lutheran?) [Missionsgehülf].
Kopperamana, Deze, 16th, 1878
Herren Howitt!
Sehr geehrter Herr! Ihre wehrten briefe nebst formular mit fragen n Antworten habe ich jeiner zeit richtig erhalten.Leh mit dieser Post das ausgefűllte farmular mit noch einigen namen Die fűr ihnen im jntrefse sein dűrfen rurűck.
[Ritte? or Kitte?] mich [su? zu?] entshuldigen [enschuldigen?] das es sich so lange Verzȍgerts hat eine 3 suȍchentliche reife war einstheils der grund der Verzȍgerung.
Sein sie versichert das die Antworten nach besten soifsen richtig sind.
Sie freundlich [grűsrend?] habe ich die ehre zu sein Ihr [?] Vogelsangluth missions gehűlf
[English translation via Google translate]Kopperamana, this 16th,
Mr Howitt!Dear sir!Your resistedLetters together with formI have answersget one right time. anyway with thisPost the completed formwith a few more namesThe one for them in the futuremay be back. I apologizethat it delays so longhas a 3 weeklyMaturity was at one and the same time the reasonthe delay.
She assures you thatAnswers to the bestthat's right.
You kindly [grűsrend?] I have the honor tohis [?] Vogelsangluth missions belong
Last edit 5 months ago by
Joe
hw0355 Vogelsang to Howitt 15/12/1879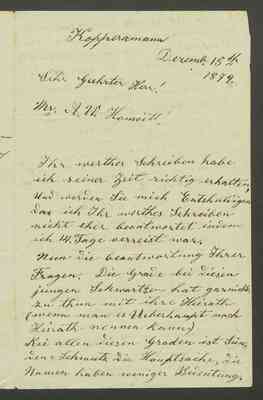 Sehr Geehrter Herr!
Mr A.W. Howitt!
Ihr werthes Schreiben habe ich seiner Zeit richtig erhalten, und werden Sie mich Entshuldigen [sic] Das ich Ihr werthes Schreiben nicht eher beantwortet indem ich 14. Tage verreist war.
Nun Die beantwortung [sic] Ihrer Fragen. Die Grade bei Diesen jungen Schwartzen hat garnichts zu thun mit ihre Heirath (wenn man es Ueberhaupt nach Heirath nennen Kann).
Bei allen Diesen Graden ist Sűn-Den = Schmutz Die Hauptsache, Die Namen haben weniger Bedeutung.
[Translation: Margaret T. Newman]KopperamanaDecemb 15th1879
Honourable Sir!Mr A. W. Howitt! I receive your esteemed letter in the goodness of time. You will excuse that I have not replied to it earlier since I have been away for 14 days.
Now to answer your questions. The degrees of these young Blacks has nothing whatsoever to do with their marrying. (If it could for that matter be called Marriage.)
For all of these degrees the main thing is sin = dirt. The names have less meaning. (continued on the next page)
Last edit 4 days ago by
ALourie
hw0357 Vogelsang to Howitt 13/09/1880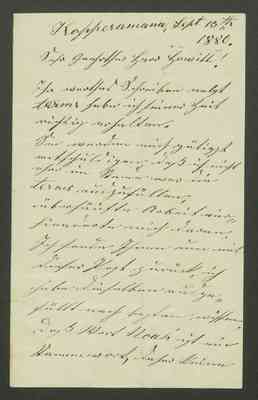 Kopperamana, Sept 13th 1880Gunsotfnd Zornt Zunsill!terms ins snissnd Zeit
unis gütigssmit
im Herndn
terms und zufüllen, übous. ftn Arbeit finnd. desvernmit
füllt buyt erwissnen
Hermannswert, Mission
Last edit 7 months ago by
ALourie