Search for 28/4/06*
XM34_ICDMS_lowres May Benson to Howitt 26 September 1906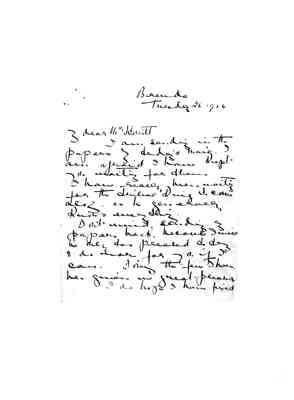 My dear Mr HowittI am sending in thepapers in today's mail. Iam afraid I have keptyou waiting for them.I have really been waitingfor the tribal King to comealong as he generallyknows everything.
Don't mind sending mypapers back, because I willbe only too pleased to try& do more for you if I can. Doing the few I havehas given me great pleasure.
I do hope I have fixed
Last edit 2 months ago by
ALourie
XM45_ICDMS_lowres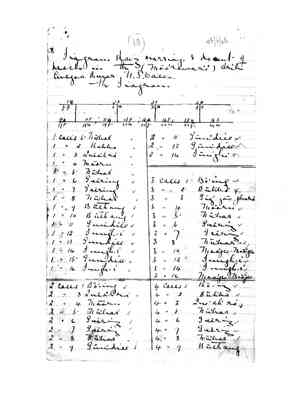 10 26/6/06Diagram showing marriage & descent ofblacks in the (Māo'rawar'i) tribeCulgoa River N.S. Wales.The Diagram1M 2F 3F 4M 5F 6M 7M 8F 9M 10F 11M 12F 13M 14F 15M 16F17 F 18m 19f 20m 21f 22m 23f 24 m
1 calls 5 Nū'hat [tick] 2 " 11 Gūn'diel [squiggle] 1 " 2 Bubba [tick] 2 " 13 Gūn'diel [squiggle]1 " 3 Quēa'kaa [tick] 2 " 14 Dūn'ghi [squiggle]1 " 4 Māoru [tick]1 " 5 Nū'hat [tick]1 " 6 Geëring [tick] 3 calls 1 Bo'ing [squiggle] 1 " 7 Geëring [tick] 3 " 2 Būbba' [squiggle]1 " 8 Nū'har [tick] 3 Gig'gaō gämha1 " 9 Bŭthang [tick] 3 " 4 Māaru [tick]1 " 10 Bŭthang [tick] 3 " 5 Nū'har [tick]1 " 11 Gundill [tick] 3 " 6 Geëring [tick] 1 " 12 Dungh-i [tick] 3 " 7 Geëring [tick] 1 " 13 Gundill [tick] 3 " 8 Nū'har [~ tick] 1 " 14Dung'h- i [tick] 3 " 10 Mao'gee - Mao'gee [tick] 1 " 15 Gundill [tick] 3 " 12 Dungh - i [tick] 1 " 16 Dung'h - i [tick] 3 " 14 Dungh - i [tick] 3 " 16 Mao'gee - Mao'gee [tick]2 Calls 1 Bō' - ing [tick] 4 Calls 1 Bō - ing [tick]2 " 3 Quēah'ra' [tick] 4 " 2 Būh'ha [tick]2 " 4 Māoru [tick] 4 " 3 Q ue'ah'ra' [squiggle] 2 " 5 Nū'har' [tick] 4 " 5 Nū'har [tick] 2 " 6 Geëring [tick] 4 " 6 Geëring [tick]2 " 7 Geëring [tick] 4 " 7 Geëring [tick] 2 " 8 Nū'har [tick] 4 " 8 Nū'har [tick] 2 " 9 Gün'dill [tick] 4 " 9 Būthang
Last edit 3 months ago by
ALourie
XM695_ICDMS_lowres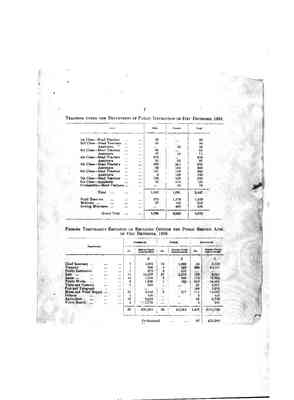 [Tables from a publication]7
TEACHERS UNDER THE DEPARTMENT OF PUBLIC INSTRUCTION ON 31ST DECEMBER 1898M - male, F - female, T - total1st class - Head teachers = 39M, 0F, 39T2nd class - Head teachers = 30M, 0F, 30TAssistants = 0M, 36F, 36T3rd class - Head teachers = 65M, 0F, 65TAssistants = 37M, 34F, 71T4th class - Head teachers = 218M, 0F, 218TAssistants = 35M, 62F, 97T5th class - Head teachers = 595M, 244F,839TAssistants = 69M, 154F, 223T6th class - Head teachers = 121M, 119F, 240TAssistants = 2M, 158F, 160T7th class - Head teachers = 133M, 152F, 285T8th class - Assistants = 12M, 114F, 126TUnclassified Head teachers = 0M, 18F, 18TTotal = 1,356M, 1,091F, 2,447TPupil Teachers = 375M, 1,178F, 1,553TMonitors = 57M, 155F, 212TSewing Mistresses = 0M, 406F, 406TGrand Total = 1,788M, 2,880F, 4,818T
PERSONS TEMPORARILY EMPLOYED OR EMPLOYED OUTSIDE THE PUBLIC SERVICE ACTS ON 31ST DECEMBER 1898[Four columns]Department, Professional, clerical, Non-clerical[Each column sub headings are No. and Salaries ₤ Yearly (Approximate)]Chief Secretary = 7, ₤3,004 - 18, ₤1,399 - 54, ₤3,133Treasury = 1, ₤300 - 5, ₤422 - 289, ₤25,512Public Instruction = 1, ₤275 - 2, ₤210 - 0Law = 12, ₤13,337 - 27, ₤2,376 - 180, ₤2,649Lands = 10,₤1,600 - 3, ₤280 - 175, ₤18,384Public Works = 5, ₤1,238 - 1, ₤120 - 310,₤34,065Trade and Customs = 1, ₤300 - 0, 0 - 51, ₤3,601Post and telegraph = 0, 0 - 0, 0 - 198, ₤9,903Mines and Water supply = 31, ₤5,342 - 2, ₤277 - 111, ₤14,095Defence = 1, ₤450 - 0, 0 - 3, ₤443Agriculture = 12, ₤3,658 - 0, 0 - 32, ₤2,758Public Health = 4, ₤1,779 - 0, 0 - 4, ₤581Totals = 87, ₤31,283 - 58, ₤5,084 - 1,407, ₤115,124
Professional [nothing in column 2] - 0, 0 - 87, ₤31,283
Last edit 6 months ago by
ALourie
hw0391 Notes by Howitt on Kulin from Barak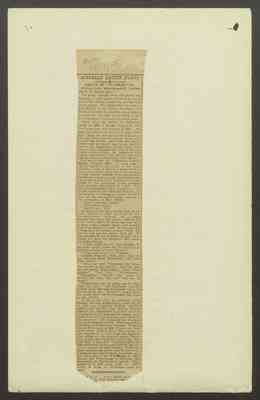 [newspaper article]Argus28/4/06Suburban Native NamesOrigin of "Prahran," &c.Writing from Merchiston-Hall, Geelong, Mr. G. F. Belcher says: -"In going through some old papers not long since I came across a letter from an old friend, Mr George Langhorne, dealing with native names. Mr Langhorne was sent to Port Phillip by the Sydney Governor (Sir Richard Bourke) to establish an aboriginal protectorate, the chief object being to look after the moral training of native boys.
"Soon after my arrival in Melbourne (early in 1839) I became acquainted with Mr Langhorne, who arrived in 1836. His camp was situate on the Yarra, near "Punt Hill.' Many an evening I spent with him in his tent, which was surrounded by the mia-mias of the natives. As a rule, the natives never cared to remain long in any locality, and so Mr Langhorne moved about fromtime to time, changing his camp to suit the wishes of his proteges. Mr Langhorne held a great influence over the natives, and often was the means of preventing tribal fights."
The letter from Mr Langhorne is dated Botany, October, 1889. It runs thus: - "With regard to the origin of the word 'Prahran' – now, I believe, a large town or city – on a mizzley, rainy day of late autumn in 1837 Robert Hoddle (surveyor-general) strolled into my hut, at the Government sta-tion at Pur-ra-ran, for so I named it - a com-pound of two aboriginal words, meaning land partially surrounded by water. This was the aboriginal station assigned to me by the Governor (Sir Richard Bourke), for the purpose of forming a nucleus establish-ment for the care and Christian training of the aborigines of Port Phillip.
" 'Busy? said my visitor." 'Yes; always busy.'" 'Lovely spot, this.'
"It was a lovely spot, at the bend of the river, opposite to what we call the 'Go-vernment-house Paddock,' on a rising ground, forming a fine, grassy slope to the river, well cropped by sheep that had been a short while camped there after landing from Van Diemen's Land. In the rear was a large and picturesque swamp, which thenatives told me was named after me. To the southward was a rising ground, from which we could see Hobson's Bay, about two miles distant.
" 'I have called on you,' said Hoddle, 'to get some native names for the districts or parishes around in county Bourke.'
" 'I am glad to hear it,' I replied.
"Hoddle went on, 'Now, first, what do you call this place, 'Purrarhan,' and 'Jika Jika' after?'
" 'After the chief, Wanorong, who claims the district as his country. And you may call one parish "Kulbundora," others "Ker-bukena," "Yall Yall." Tullamarena,""Tallanghata." "Tarook" (the names of several fine boys, who were with me in camp).'
"Kulbundora was the eldest son of Jika-Jika, the chief. Old Tukulneen was the former chief, but was superseded owing to his advanced age. 'Tarook' I named after the black crow, which abounded that time in the district.'
"A day or two after my interview with Hoddle, the boy Kulbundora, a fine lad of 14, who was acquiring English rapidly, walked into my hut, and, seating himself close to me, commenced to exhibit proof of his progress in the language by singing 'what shall we do with the drunken sailor early in the morning?' He mimicked the drunken man as he sang the refrain. The song he had learned at a brickmakers' canteen. When I visited Melbourne in 1851 (I have not been there since), passing down Collins-street I was startled by a voice from the opposite side calling out my (native) name, Tukul-reen, when a tall black ran over to me. 'Ah, Yall Yall, is that you?' I inquired after the lads mentioned above, and received the sor-rowful answer to each inquiry, 'To-Ke-Ko lang' (all dead and gone), only 12 years after I resigned the care of them. I presume now that very few of the Wawarongs of Mel-bourne, the Watowrongs of Geelong, the Borawongs of Westernport remain. They numbered in 1837 about 1,000 or 1,200; within 50 miles of Melbourne none re-main."
Last edit 3 months ago by
ALourie
hw0049 Fison to Howitt 5 Sept 1906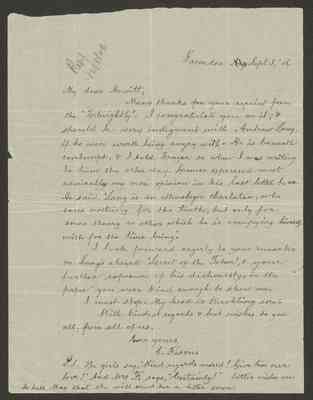 Essendon [Aug - crossed out] Sept 5, '06
Mt dear HowittMany thanks for your reprint fromthe "Fortnightly". I congratulate you on it, +should be very indignant with Andrew Lang,if he were worth being angry with. He is beneathcontempt, + I told Frazer so when I was writingto him the other day. Spencer expressed mostadmirably my own opinion in his last letter to me.He said "Lang is an ethnologic charlatan, whocares nothing for the truth, but only forsome theory or other which he is occupying himselfwith for the tine being."
I look forward eagerly to your remarkson Lang's absurd "Secret of the Totem", + yourfurther exposure of his dishonesty, in thepaper you were kind enough to show me.
I must stop. My head is throbbing sore.
With kindest regards + best wishes to youall, from all of us.Ever yoursL. Fison
P.S. The girls say, "Kind regards indeed! Give him our love!" And Mrs F says, "Certainly!" Lottie wishes meto tell May that she will send her a letter soon.
[written at top of letter]Reply12/8/06
Last edit 2 months ago by
ALourie
hw0064 Andrew Lang to Howitt 6 July 1906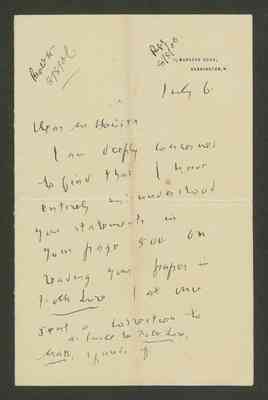 [written at top of page]Replied to8/8/06Reply 8/8/06
1, Marloes Road,Kensington, W
July 6 [1906]
Dear Mr HowittI am deeply concernedto find that I haveentirely misunderstoodyour statements inyour page 500. On reading your paper inFolk Lore I at oncesent a correction toMan as I will to Folk Lore, and if
Last edit 2 months ago by
ALourie
hw0065 Andrew Lang to Howitt 15 October 1906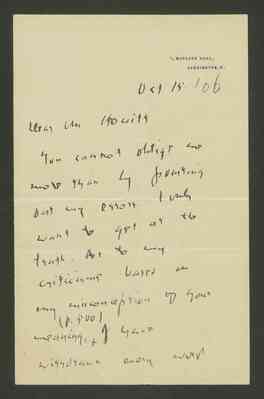 1, Marloes Road,Kensington, W
Dear Mr HowittYou cannot oblige memore than by pointingout my errors. I onlywant to get at thetruth. As to mycriticisms based inmy misconception of yourmeaning (p. 500) I havewithdrawn every word
Last edit 2 months ago by
ALourie