Search for Albury* Alburi*
XM98_ICDMS_lowres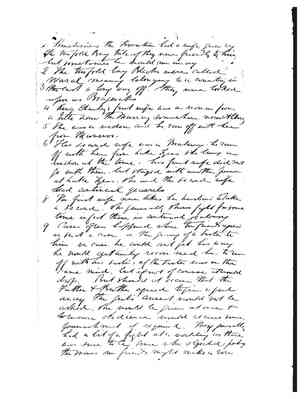 1 Sometimes the Kroathun had a wife given bythe Twofold Bay tribe if they were friendly to himbut sometimes he would run away.2 The Twofold Bay Blacks were calledWaral meaning belonging to a country in3 the east a long way off. They were lookedupon as Brajeraks4 King Charley's first wife was a woman froma tribe near the Murray somewhere near Albury.5 She was a widow and he came off with herfrom Maneroo.6 His second wife was a Brabralung he ranoff with her from Lake Tyers she being inwidowhood at the time. His first wife did notgo with them but stayed with another personat Lake Tyers. She and the second wife had continual quarrels.8 The first wife never likes her husband to takea second. She generally shows fight for sometime in fact there is continual jealousy.9 Cases often happened where her friends agree[?]in such a case in the giving of a sister tohim in case he could not get his wayhe would certainly recommend her to runoff with her sister if the sister was in thesame mind but if not of course it woulddrop. But should it seem that theFather & Brother agreed to give a girlaway the girl's consent would not beasked. She would be given at once &to insure obedience would receive somepunishment if required. They generallyhad a bit of a fight at a wedding as therewas said[?] to be some who objected, perhapsthe mans own friends might make a row[?]
Last edit 3 months ago by
ALourie
hw0436 Notes by Howitt on Omeo 'tribe' and letter from Bulmer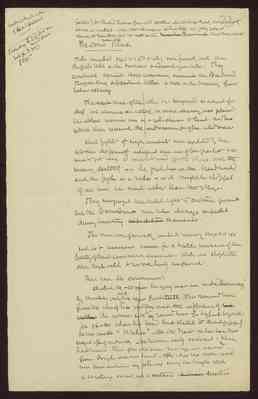 23Anthropological notes by Richard Helms
Proceedings L.S.. of NSWsecond series no x p. 387 1895.
Gathered by Mr Richard Helms from old settlers who in their early days frequently came in contact with the aborigines inhabiting this pretty place. Specially Mr John Barr Senr who settled in the [Moembar - crossed out] Mowamba River more than 40 years ago.
The Omeo BlacksTribe numbered 140 to 150 souls; were friendly with theBuffalo tribe + the Monaro + Queenbeyan [sic] tribes. They combined against their common enemies the BraidwoodTwofold Bay + Gippsland tribes + those on the Murray from below Albury.
The oldest man of the tribe was recognised as a kind of chief, but whenever an attack on some enemy was planned the ablest warrior was as a rule chosen to lead and his advice then received the endorsement of the old men.
Their fighter of single combats were regulated by the onlookers who fervently interfered when one of the parties was seen to get weak and unable to ward off the blows, with the necessary dexterity. The first hit in the head wouldend the fight as a rule - or it might be stoppedif one man was much older than the other.
They recognised the tribal rights to certain groundand the boundaries were not always respectedduring hunting [expeditions - crossed out] excursions
Two men were generally sent to convey messagessuch as to summon warriors for a hostile invasion of theterritory of their common enemies. While one slept theother kept watch to avoid being surprised.
There were two ceremonies:At about 14-16 years the young man was made "Kurrurong"by knowcking out one of his upper front teeth. This removed himfrom the care of his mother and the influence of [his - crossed out][mother - crossed out] the women + to [??] raised him from boyhood to youth.At 18-20 when his beard had started to develop properlyhe was made "Wahu". All the hair on his head wassinged off gradually - the women being excluded. Whenhair removed three of the old men ran up and wavedgreen boughs over his head. After this the men wouldrun some distance away returning swinging the boughs witha swishing sound in a certain [distance - crossed out] direction.
Last edit about 2 months ago by
ALourie
hw0391 Notes by Howitt on Kulin from Barak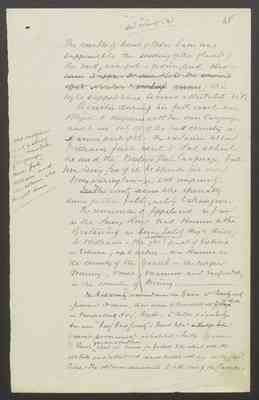 48Bad country (2) The results of breach of these laws was supposed to be the swelling of the glands of the neck, armpits & groin, and also [since it appears that ?? of late the ??- crossed out][effect similar to ?? - corssed out]; this maybe supposed to have become attributed to it.
A visitor during his first visit was obliged to dispense with his own language and to use only that of the bad country or of some part of it. For instance when William first went to Port Alberthe used the Western Port language but him being free of it he speaks his ownWoey wūrung Woeywuring language with impunity.
[In - crossed out] This country seems to be specially known for this fatal quality to strangers.
The remainder of Gippsland as far as the Snowy River was known to the Bratanūng as being fatal through Būlk;to William – the Northern and N - S part of Victoria- Echuca, up to Albury – was known as the country of the Yarūk – the upper Murray, Omeo, Maneroo and Twofold Bay,as the country of Mūng. The Bad country commenced near the Yarra at Brushy creek– followed it down, then across to Mordialluk Ck [through - crossed out] at [?Berwick?] - Mordialluk itself, Brighton - St Kilda & Sandridge+c was "half bad country". French Island [& Phillip Island - crossed out]was not permanently inhabited. In the Egg season the [?Baiks?] young men & married men went in canoes from Yalluk to the island with the ebb tide and returned with canoes loaded with eggs at the flood tide. The old men remained to take care of the Camp.
[written in left side margin]Old Morgan and a string of old men followed by the younger men "fed" William and the old men who brought him
Last edit about 2 months ago by
ALourie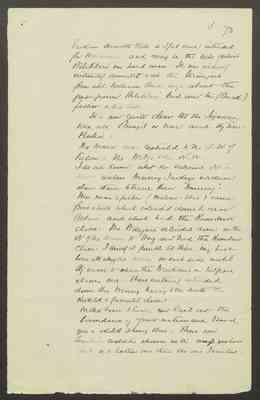 370Parker's seventh tribe is I feel sure intendedfor Woiworung and may be the tribe of which Bilibileri was head man. It was evidentlyintimately connected with the Urūnjerifrom what William Berak says about the great power Bilibileri had over his (Berak's) father & his tribe
It is now quite clear that the Jajaurongwere all Bunjil or Waa and they were Kulin.
The Mara are restricted to the S. W of Victoria. The Wotjo to the N.W.
I do not know what the extreme N. E.were unless Murray Jackey's evidence shows them to have been "Murring". This man's father (Malian-Ibai) came from a tribe which extended down to near Alburi and which had the Kamilaroiclasses. The Wirajuri extended down on the N of the Murray to Hay and had the Kamilaroclasses. I think it possible that these may havebeen all along the Murray on each side until they came to where the Mukwara & Kilpara classes were. These certainly extendeddown the Murray having to the south the Krockitch & Gamutch classes.
On this basis I have now laid out the boundaries of four nations and I send you a sketch showing this. These newboundaries could be shown on the map you have which is a better one than the one I enclose.
Last edit about 2 months ago by
ALourie
hw0185 Howitt notes on the Wolgal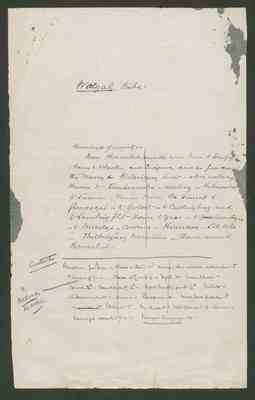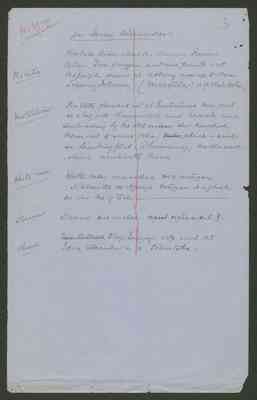 Wolganper Janey Alexander
The tribe This tribe lived about the Murray Riverbelow Tom Groggin and were friends withthe people down at Albury and up at OmeoSinging Johnny (Mragūla) is of this tribe.
InitiationsThe teeth knocked out at Initiations were putin a bag with Kangaroo teeth and reddle and sent way by the old man who knockedthem out to some other [tribe - crossed out] place - suchas Lambing flat. A boomerang, nulla nullashield went with them.
White menWhite men were called ma mūganNote here that in Ngarego mūgan is = ghost see also the Yūin
DreamsDreams are called [ngul - crossed out] ngŭradal
Classes [Two Bidwell- crossed out] Tongi Jemmy's wife said thatJaney Alexander is a Tchuteba
Last edit 5 days ago by
J Gibson
tip70-10-33-11 Howitt to Fison 5 April 1876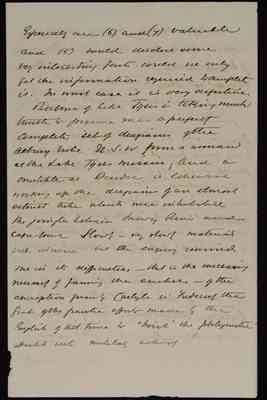 Especially are (6) and (7) valuableand (5) would disclose somevery interesting facts could we onlyget the information required to completeit. In most cases it is very defective.
Bulmer of Lake Tyers is taking muchtrouble to procure me a perfectlycomplete set of diagrams of theAlbury tribe N.S.W. from a womanat the Lake Tyers mission. And aconstable at Bendoc is likewiseworking up the diagrams of an almostextinct tribe which once inhabitedthe jungle between Snowy River and Cape Howe. Slowly - very slowly materialwill increase but the enquiry remindsme in its difficulties - that is the increasing necessity of fanning the embers - of thedescription given by Carlyle in Frederick theGreat of the frantic efforts made by theEnglish at that time to "hoist" the phlegmaticDutch into military activity!
Last edit 5 months ago by
ALourie
tip70-10-34-15 Howitt to Fison 17 August 1880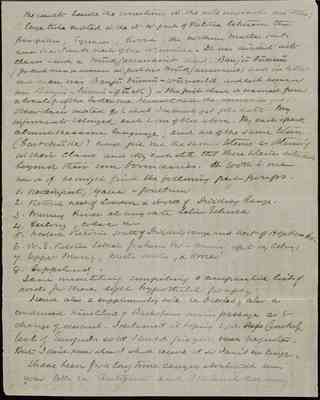 The results beside the corrections in the note now sent are these:A large tribe existed in the N.W. part of Victoria between the Grampians, Pyrenees, Avoca, the Northern Mallee scrubsand the scrubs west of the Wimmera. It was divided intoclasses - such as Mūk jarrawaint and [?Banjū būnnū](for each man or woman in [?first] was Mūk jarrawaint) and in lattereach man was [?Banjū būnnū] - [?wūrnditch] and each womanwas [?Banjū] [?][ ?] - the first class is named froma break up of the latter one. I cannot trace the derivation yet.Other classes existed yet to which I cannot get data. Myinformants belonged each to one of these above. They each speakalmost the same language, and are of the same totem,([?Gartchūker])and give me the same totems as [?]in their class and they each state that these [?] excludedbeyond their own boundaries. It looks to me now as if we might find the following [?] groups.
1. Westernport, Yarra - Goulburn.2. Victoria west opf Lodden & north of Dividing Range.3. Murray River at any rate below Echuca.4. Geelong, Colac etc.5. Western Victoria south of Dividing Range and west of Hopkins Rv.6. N.E. Victoria between Goulburn Rv & Murray up to say Albury.7. Upper Murray, Mitta Mitta, & Omeo.8. Gippsland.
I am meditating compiling a comparative list ofwords for these eight hypothetical groups.
I send also a supplementary note re Orestes; also acondensed [?] [?] of [?] main passages as tochange of descent. I [?] it hoping to get [word crossed out] [?]texts of Euripides so that I could give you verses [?]but I don't know when I shall receive it so I wait no longer.I have been for a very long time carrying about with meyour letter re Antigone and I cannot see any
Last edit about 1 month ago by
HelenB