Search for "6th February 1876"
hw0410 Frank James to Howitt 6/2/1876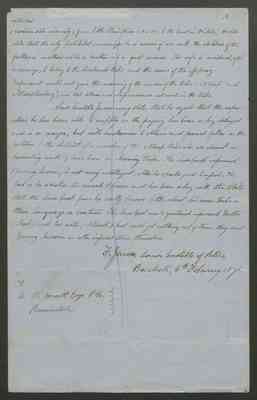 watershed.(eastern side river only) from Little Plain River (N. S. W.) to the Coast in Victoria. He alsostates that the only prohibited marriages he is aware of are with the children of thefather's or mother's sister or brother - i. e. first cousins. The wife is considered, aftermarriage, to belong to the husbands tribe and the same of the offspring.
Informant could not give the meaning of the names of the tribe - "Māap" and"Māapkoolong", and that totems and class names are not used in the tribe.
Senr Constable James may state that he regrets that the inform-ation he has been able to supply in the foregoing has been so long delayedand is so meagre, but will endeavour to obtain and forward fuller on thereturn to the district of a number of the Māap tribe who are absent onharvesting work + have been on shearing trips. The Senr Const's informant(Jemmy Lawson) is not very intelligent, altho' he speaks good English. Thefact is he smokes too much Opium and has been so long with the whitesthat the Senr Const fears he really knows little about his own tribe ortheir language or customs. The Senr Const saw + questioned informant's mother(Loah) and his sister (Māak) but could get nothing out of them, they sentJemmy Lawson as better informed than themselves.F. James, Senior Constable of PoliceBendock, 6th February 1876
ToA. W. Howitt Esqr P.M.Bairnsdale
Last edit 12 days ago by
ALourie