Search for 12th/4/99*
XM9_ICDMS_lowres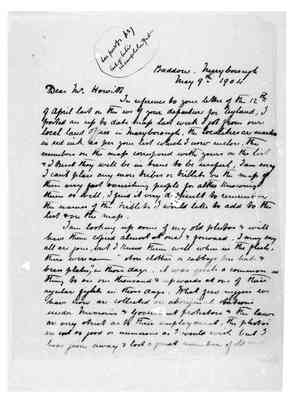 [see parts ... early .... incomplete yet]
Baddow Maryborough May 9th 1904
Dear Mr. Howitt In reference to your letter of the 12th of April last on the eve of your departure for England, I posted an up to date map last week I got from our local land office in Maryborough. The localities are marked in red ink as per your list which I now enclose. The number on the map correspond with yours in the list & I trust they will be in time to be useful. I am sorry I can't place any more tribes or triblets on the map of these very fast vanishing people for altho knowing them so well, I find it very difficult to remember the names of the triblets I would like to add to the list & on the map. I am looking up some of my old photos & will have them copied almost at once & forward. I may say all are gone, but I knew them well when in the flesh. There were no "[....] clothes or cabbage tree hats & brass plates" in those days, it was quite a common thing to see one thousand & upwards at one of their regular fights in those days. What few "niggers?" we have now are collected on aboriginal stations under "Missions?" & Government protectors & the laws are very strict as to their employment. The photos are not as good or numerous as I would wish but I have given away & lost a great number of old ones.
Last edit over 2 years ago by
nburgess
XM208_ICDMS_lowres Charles H Kerry to Howitt 14 July 1898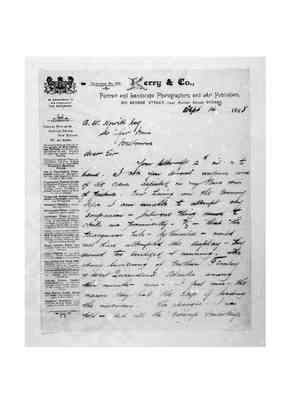 A.W. Howitt Esq[??]Melbourne
Dear SirYour letter of 12th inst. is tohand. I note you do not recognise someof the scenes depicted in my Bora seriesof pictures. Not having seen the ceremonybefore I am unable to attempt anycomparison - but one thing seemed tostrike me prominently - viz - that the Macquarie Tribe -by [??] - wouldnot have attempted the display - Theyseemed too civilized + cunning. Thestrong leavening of Northern Territory+ west Queensland Blacks amongtheir number was - I feel sure - thereason they took the step of leadingthe movement. The strangers - I wastold - did all the carvings + markings.
Last edit 2 months ago by
ALourie
XM29_ICDMS_lowres Beardsmore to Howitt 10 October 1907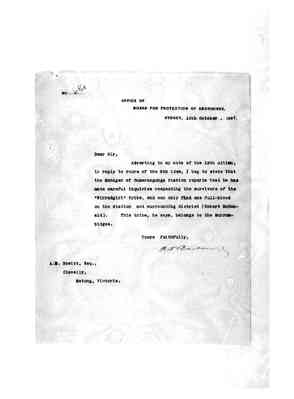 No 614Office ofBoard for Protection of AboriginesSydney, 10th October, 1907
Dear Sir, Adverting to my note of the 12th ultimo,in reply to yours of the 6th idem, I beg to state thatthe Manager of Cumeroogunga Station reports that he hasmade careful inquiries respecting the survivors of the"Wirradgiri" tribe, and can only find one full-bloodon the station and surrounding district (Robert McDon-ald). This tribe, he says, belongs to the Murrum-bidgee.Yours faithfully.R H Beardsmore
A W Howitt, EsqClovelly,Metung, Victoria
Last edit about 2 months ago by
ALourie
XM61_ICDMS_lowres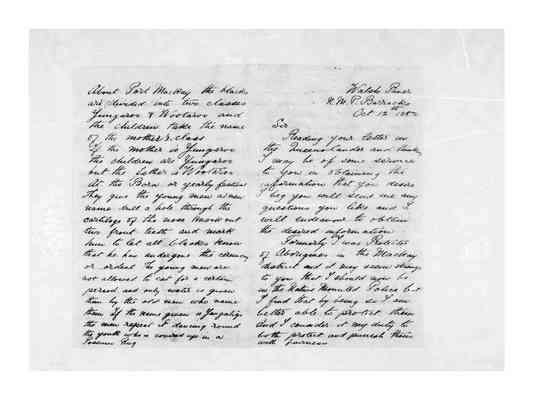 Walsh River N.M. P. Barracks Oct 12th 1882
Sir,
Reading your letter in the Queenslander and thinking I may be of some service to you in obtaining the information that you desire I beg you will send me any questions you like and I will endeavour to obtain the desired information Formerly I was Protector of Aborigines in the Mackay district and it may seen strange to you that I should npw be in the Native Mounted Police but I find it that be being so I am better able to protect them and I consider it my duty to both protect and punish them with fairness
[next page]
About Port Mackay the blacks are divided into two classes Yungaroo and Wotaroo and the children take the name of the mother's class If the mother is Yungaroo the children are Yangaroo but the father is Wootaroo At the Bora or yearly festival They give the young men a new name drill a hole through the cartlilage of the nose knock out two front teeth and mark him to let all blacks know that he has undergone the ceremony or ordeal. The young men are not allowed to eat for a certain period and only water is given than by the old men who name them If the name given is Yougalijo the men repeat it dancing round the youth who is covered up in a Possum Rug
Last edit over 1 year ago by
J Gibson
tip70-10-23-2 Fuller to Fison 25/4/1873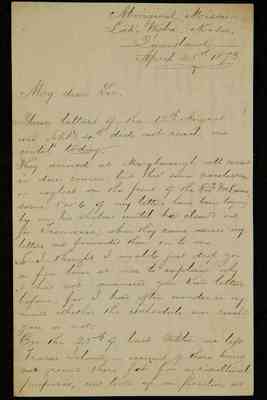 Aboriginal Mission Lake Wyba. NoosaQueenslandApril 25th 1873
My dear Sir
Your letters of the 12th Augustand Septr 4th did not reach meuntil today.They arrived at Maryborough all correctin due course, but thro' some carelessnessor neglect on the part of the Revd Mr Lavers,some 5 or 6 of my letters have been laying by on his shelves until he clear'd outfor Tasmania; when they came across myletters and forwarded them on to me.So I thought I would just drop youa few lines at once to explain whyI had not answered your kind lettersbefore; for I had often wonder in mymind whether the Schedule ever reach'd you or not.On the 25th of last October we left Fraser's Island, on account of there beingno ground there fit for agriculturalpurposes, and took up our position at
Last edit over 1 year ago by
ALourie
tip70-10-39-2 Fison to Howitt 14/7/1884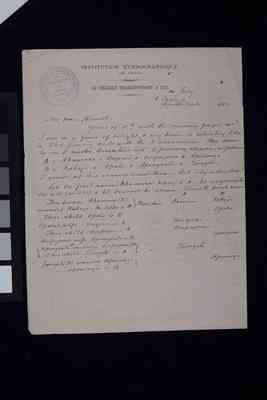 Institution EthnographiqueDe ParisLe Delegue Correspondant A Fiji
14 July 18846 Taylor StM. Ponds
My Dear HowittYours of 12th with the missing pages recd.I am in a fever of delight, + my brain is whirling likea Tibet praying mill with the 8 class names. They seemto me to resolve themselves into 2 primary classes, as followsA = Akamara + Ungerai + Ampajoua + ApenongaB = Kabaji + Opala + Apongardi + TungeliI arrive at this arrangement thus - But "why is this thus?"
Let the first name (Akamara) belong to A, let exogamy bethe rule (as it is) + let descent be uterine. Discard the female names
[table]A BThen because Akamara (A) Place them Akamara Kabajimarries Kubaji, the latter is B
Their child Opala is B [written under B] Opala
Opala's wife Ungerai is A [written under A] Ungerai
Their child Ampajoua is A [written under A] Ampajoua
Ampajoua's wife Apongardi is B [written under B] Apongardi
Apongardi (B) marries Ampajoua (A)[therefore] his child Tungeli is A [written under A] Tungeli
Tungeli (A) marries Apenonga[therefore] Apenonga is B [written under B] Apenonga
Last edit 2 months ago by
ALourie
tip70-10-41-2 MacKenzie to Fison 12/1/1872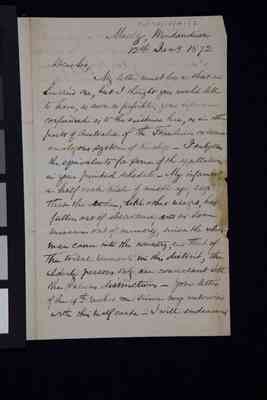 Moelly, Wandandian12th Jan 1872
Dear Sir,My letter must be a short andhurried one, but I thought you would liketo have, as soon as possible, your inferenceconfirmed as to the existence here, as in otherparts of Australia of the Tamilian or someanalogous system of kinship - I subjointhe equivalents for some of the appellationsin your printed schedule. My informant,a half caste male of middle age, says that the code, like other usages, has fallen out of observance, and in somemeasure out of memory, since the whiteman came into the country, and that ofthe tribal remnants in this district, the elderly person only are conversant withthe various distinctions - your letterof the 4th reached me since my interviewwith this half caste - I will endeavour
Last edit about 1 year ago by
ALourie
hw0162 Bennett to Howitt 12/08/1880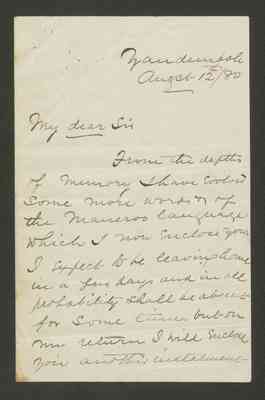 YandunboleAugust 12th 80
My dear Sir
From the depthsof memory I have evolvedsome more words +c ofthe Maneroo languagewhich I now enclose you.I expect to be leaving homein a few days and in allprobability shall be absentfor some time, but onmy return I will encloseyou another instalment
Last edit 8 months ago by
ALourie
hw0260 Charles Cameron to Howitt 12/12/1884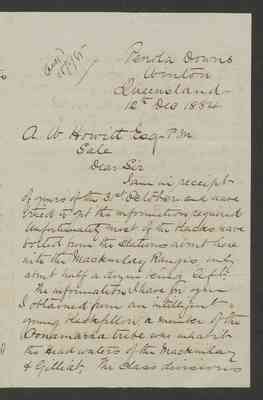 Penola DownsWintonQueensland12th Dec 1884
A W Howitt Esq P. MSale
Dear SirI am in receipt of yours of the 31st October and havetried to get the information required.Unfortunately most of the blacks havebolted from the stations about hereinto the Mackinlay Ranges, onlyabout half a dozen being left.
The information I have for youI obtained from an intelligentyoung blackfellow, a member of theOonamarra tribe who inhabitthe Head waters of the Mackinlay+ Gilliat. The class divisions
Last edit 2 months ago by
ALourie
hw0397 Bulmer to Howitt 12/April/1899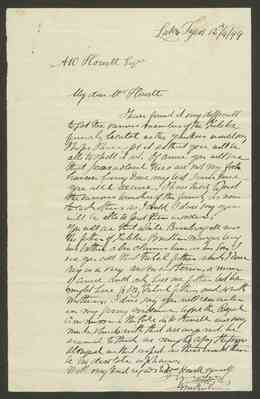 AW Howitt Esque
My dear Mr Howitt
I have found it rather difficult to get the various members of the Tuleba family located as the Yankees would say I hope I have got it so that you will be able to spell it out. Of course you will see that geneaolucal [sic] trees not my forte however having done my best I am sure you will excuse. I have tried to put the various branches of the family as near to each others as I could I dare say you will be able to put them in order.
You will see that while Bimbingall was the father of Tuleba Bruthen munjie being his brother also claims him as his son. I see you call that tribal father which I dare say is a very convenient term, a man of course could only have one father but he might have 1/2 doz tribal fathers and so withmothers. I dare say you will remember in my giving evidence before the Royal Commission. The late Sir W Stawell was very much struck with that arrangement, he seemed to think we might copy this from Aboriginal [sic] in that respect, as there would thenbe no desolate orphans,
With very kind regards to Mrs Howitt and yourselfI am faithfullyJohn Bulmer
Last edit 2 months ago by
ALourie
hw0401 Howitt to Bulmer Howitt to Bulmer 18/April/1899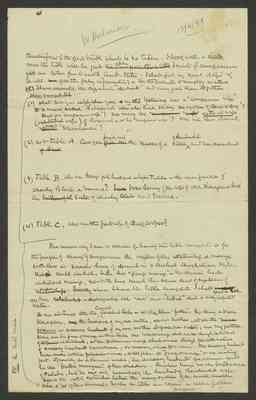 Mr Bulmer 18/4/99Thanking him for the great trouble which he has taken. I think with a little more the table will be just [the comparative table - crossed out] what I want for comparison with one taken from a central Aust. tribe. I shall feel very much obliged if he will give the following information:- For the present to simplify matters I have separated the different "descents" and can join them together when completed.
(1) What dou [sic] you imply when you say the Yallung was a "companion wife" to a man called Birraark who also had Mary the mother of Kangaroo Jack?What is a "companion wife"? Was Mary the ["companion "wife" - crossed out] actual wife (not tribal wife) of Birraark – or his "companion wife"? Was not this Birraark called "Mundanan"?
(2) as to Table A. Can you [give me - crossed out] find out the name of a sister of Bembuikil and her descendants [of Bem - crossed out]
(3) Table B. Who was Mary's first husband – before Tulaba – the own father of Charley Blair and Emma? [I an - crossed out] Was Jenny (the wife of old Kangaroo Jackthe [brother of Ch- crossed out] sister of Charley Blair and Emma.
(4) Table C. Who was the first wife of Dick Cooper?
The reason why I am so desirous of having this table complete is for the purpose of showing by comparison the nature of the relationship + marriages with those in similar lines of descent in a central Australian tribe. This [K - crossed out] central Australian tribe has "group marriage" – the Kurnai had individual marriage, yet both have much the same kind of system of relationships. Finally when I have the table complete I shall [??]?ableall the relationship – distinguishing between "own" and "tribal" which is a very important matter.
As an instance take the Central Australian tribes – and their term "father'. Ergo being a Dieri blackfellow, [my - crossed out] the husband of my own mother, all his brothers, and all the "pinnai - crossed out]pirauru or accessory husbands of my own mother and of all her sisters, are my fathers. There are two forms of marriage in these tribes the noa marriage which arises through betrothal of two [person - crossed out] individuals, and the pirauru marriage which arises through the allocation of accessory husband to a woman, or accessory wives to a man. The accessory husbands have access to these pirauru - wives, so that there is "group marriage" as an existing fact. Speaking as a Kurnai would, the "accessory husband" of a woman would be the "biebba minyan" of her children. Bruthen Mungi was the bubba minyanof Tulaba, but he was only nominally the [?binbad?] of Bembuikils wife. Here is the vital distinction between the marriage system of the central Australian tribe + that of the Kurnai. For this the table are required as well as of other peoples
[written in the left side margin]PS Re Prickly Moses
Last edit 2 months ago by
ALourie
hw0429 Questions for William Berak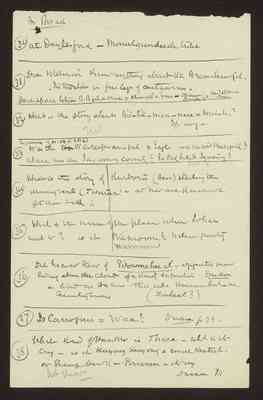 For Berak30 at Daylesford - Monulgundeech tribe
31 Does William know anything about the Bram-bram-galThe two stars in fore legs of centaurus.Dark space between B. B. gal + crux = chin-gal = Emu - opossum, Bunya = Head star in Crux
32 What is the story about Bil-bil-man-nere = minah?If any-no
33 Jajowerung - (p. 159 ii RBS)Was the [Wo- crossed out] Wo-reip-ar-pil = Eagle or is the word Wairrp-il?Where was the Jajowerūng country? Is Dick Richards Jajowerūng?no-4
34 What is the story of Kurborū (Bear) stealing thedrinking vessels (Tarnūk) - and how did Karakarokget them back?
35 What is the name of the place where Lohanwent to? is it Wamoom? Wilsons promontoryWarmum
36 Did he ever hear of Pirnmehee-al - a gigantic manliving above the clouds of a kind disposition Dawson- - lived in [?kness?] - this side Warrnambool - atFramlinghame (Binbeal?)
37 Is Canopus = Waa? Dawson p. 99
38 What kind of Hawk is Thara - what is itscry - is it Kuyong Kuyong = small kestrel.or Swamp Hawk - Pirrween= its crynot known Dawson lii
Last edit 2 months ago by
ALourie
hw0192 Cameron to Howitt 20/06/1900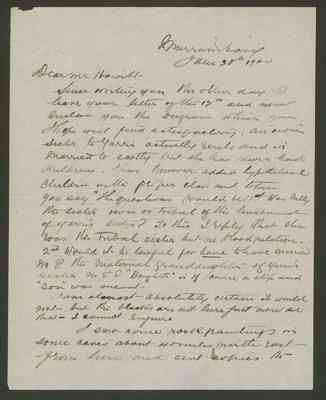 Dear Mr HowittSince writing you the other day Ihave your letter of the 12th and nowenclose you the diagrams which youI hope will find satisfactory. An "own"sister to Yarri actually exists and ismarried to scotty but she has never hadchildren. I have however added hypotheticalchildren with proper class and totemYou say "The questions would be (1st) Was Nellythe sister own or tribal of the husbandof Yarri's sister? To this I reply that shewas the tribal sister but no blood relation2nd Would it be lawful for Jane to have married No 8 Her maternal granddaughter of Yarri'ssister no 5 P "Daughter" is of course a slip and"son" was meant
I am almost - absolutely certain it wouldnot but the blacks are not here just now sothat I cannot enquire
I saw some rock paintings insome caves about 40 miles north eastfrom here and sent copies to
Last edit 2 months ago by
ALourie
hw0345 Meyer to Howitt 19/June/1884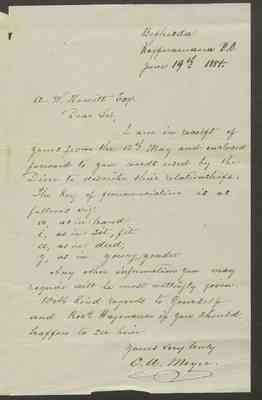 Bethesda Kapperamana P.O.June 19th 1884
A.W. Howitt Esqr,
Dear Sir,
I am in receipt of yours from the 12th May and enclosed forward to you words used by the Dieri to describe their relationships.
The key of pronunciation is as follows viz:a, as in : handi, as in : sit, fitee, as in : deedy, as in: young, yonder
Any other information you may require will be most willingly given.
With kind regards to Yourself and Revd. Hagenauer if you should happen to see him.
Yours very trulyC.A. Meyer.
Last edit 2 months ago by
ALourie