Search for Piraooroo*
hw0323 Gason to Howitt 21/01/1882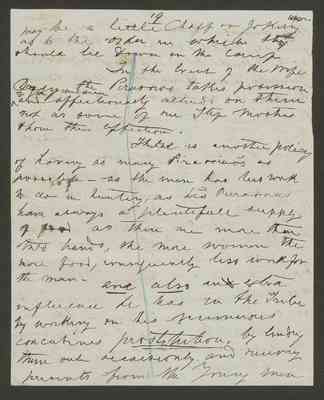 19may be a little Chaff or Jokingas to the order in which theyshould lie down in the camp.
In the event of the wifedying the Piraooroo takes possessionof the children and affectionately attends on themnot as some of our Step mothersshow their affection.
There is another policyof having as many Piraooroos aspossible - as the man has less workto do in hunting, as his Piraoorooshave always a plentiful supplyof food as there are more thantwo hands, the more women themore food, consequently less work for the man.
And also in extra influence he has in the Tribeby working on his numerousconcubines prostitution, by lendingthem out occasionaly [sic] and receivingpresents from the young men
Last edit 7 months ago by
ALourie
hw0327 Gason to Howitt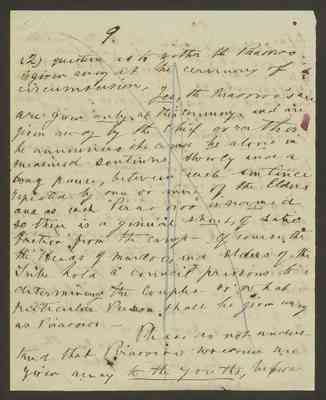 9.(2) question as to wether [sic] the Piraooroois given away at the ceremony ofcircumscision [sic].Yes, the Piraooroo's are are given only at the ceremony and aregiven away by the chief or ratherhe announces it and he alone inmeasured [?sentences?], slowly and a long pause, between each sentencerepeated by one or more of the Eldersand as each "Piraooroo" is namedso there is a general shout, of satis-faction from the camp - of course thethe Heads of [?mardoona?] Elders of theTribe hold a council previous to determining the couples - or whatparticular Person shall be given awayas Piraooroo.Please do not unders-tand that Piraooroo women aregiven away to the youths, before
Last edit 7 months ago by
ALourie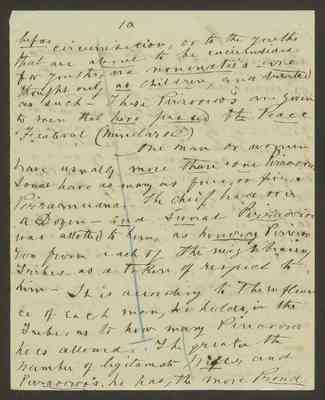 10before circumsicion [sic], or to the youthsthat are about to be circumsised [sic]for youths, are [?nonenaties?] - arethought only as children, and treatedas such. These Piraooroos are givento men that have passed the PeaceFestival ("mindarie")
One man or womanhave usually more than one Pirraooroosome have as many as four, or five,Pirramuanas. The chief had overa Dozen - and several Pirraooroowas allotted to him, as honorary Pirraoo-roo from each of the neighbouringTribes - as a token of respect tohim.
It is according to the influen-ce of each man, he holds, in theTribes, as to how many Pirraooroohe is allowed. The greater thenumber of legitamate [sic] wifes [sic], andPirraooroos he has, the more Proud
Last edit 7 months ago by
ALourie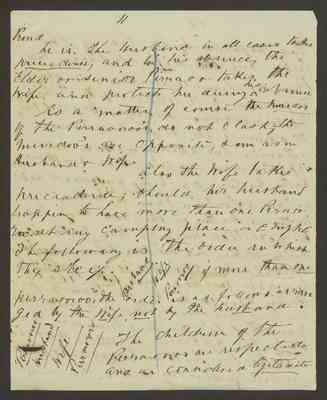 11Proudhe is. The Husband in all cases takesprecedece, and in his absence, theElder or senior Pirraoo takes thewife and protects her during his absenceAs a matter of course the murdooof the Pirraooroos do not clash. Themurdoos are opposite, same as inHusband + Wife.
Also the wife takesprecedence, should her husbandhappen to have more than one Piraoo-roos at any camping place at nightThe following is the order in whichthey sleep.husband wife Pirraooroo if more than onepirraooroo the order is as follows arran-ged by the wife not by the husbandPirraooroo Husband wife Pirraooroo
The children of the Pirraooroo are respected and are considered legitamate [sic]
Last edit 7 months ago by
ALourie
hw0330 Gason to Howitt 26/2/1883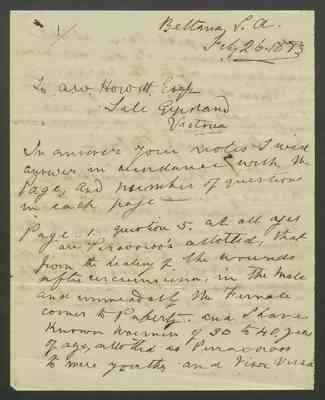 To A.W. Howitt EsqrSale GippslandVictoria
In answer your notes I will answer in accordance with the Page, and number of questions in each page -
Page 1. question 5. at all ages are Piraooroo's allotted, that from the healing of the wounds after circumcision, in the male and immediately the Female comes to Puberty. And I have known woemen [sic] of 30 to 40 years of age, allotted as Pirraooroo to mere youths, and visa versa [sic]
Last edit 10 days ago by
ALourie
hw0333 Gason 6/06/1884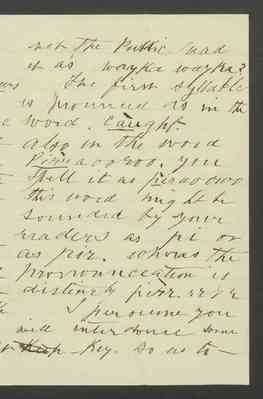 not the public readit as wayka wayka?
The first syllable is pronounced as in the word caught.
Also in the word Pirraooroo you spell it as Piraooroothis word might be sounded by your readers as pi or as pir. Whereas the pronounciation is distinctly pirr. rrrr
I presume you will interdouce [sic] some key. So as to
Last edit 6 months ago by
ALourie
hw0336 Gason to Howitt 23/07/1888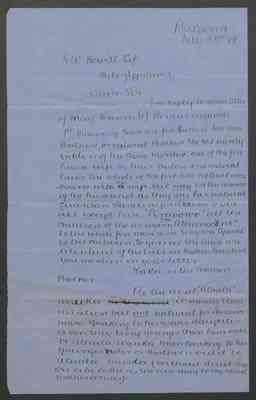 [This letter is not written by Gason]
BeltanaJuly 23rd 88
AW Howitt EsqSale Gippsland
Dear Sir
In reply to your letter of May seventh (7th) Re your inquiries 1st Presuming there are five brothers Two own Brothers or natural Brothers the rest merely [trible/tribal] or of the same murdoo one of the five has a wife by their custom and natural laws the whole of the five has sectual inter-course with the wife, but only [underlined] in the absence of the husband as they are her natural guardian stands as predecence over all except [underlined] her 'Piraooroo" all the children of the woman are "Athamoorna" to the whole fibve men and they are "Apirrie" to the children, so you see the laws are identical of the tribe in eastern Queensland you mention in your letters.
Kaka is the mothers Brother
Re the word "Athata" - wauka it means blood relation but not [underlined] natural for instance man speaking to his sisters daughter or son they being younger than him would be Athata wauka man speaking to his younger sister of Brother would be [Athata murula?] (without doubt they are or he or she as the case may be my natural Brother or sister)
Last edit 6 months ago by
Christine
hw0342 Howitt to Gason 24/o6/1884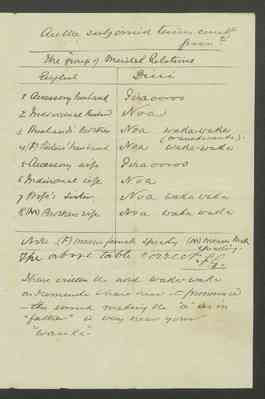 Are the subjoined terms [??]given?The group of Marital RelationsEnglish Dieri1 Accessory husband Piraooroo2 Individual husband Noa3 Husband's brother Noa waka-waka (or wauka wauka)4 (F) Sister's husband Noa waka-waka5 Accessory wife Piraooroo6 Individual wife Noa7 Wife's sister Noa waka waka8 (M) Brothers wife Noa waka waka
Note (F) means female speaking (M) means malespeakingThe above table correct. S. GI have written the word wka-waka as I remember to have heard it pronounced- the sound making the "a" as in"father" is very near your"wauka"
Last edit 4 months ago by
ALourie