Search for Bunwurung* Būnwurung*
XM690_ICDMS_lowres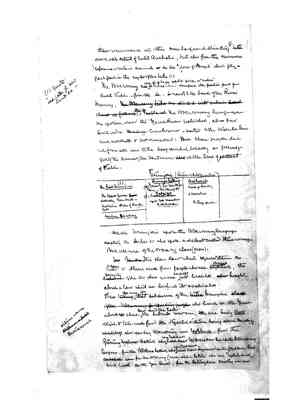 8
their occurrence in other more backward standing tribesover a vast extent of Central Australia, but also from the numerous references to certain animals as the "sons of Bunjil" which play a great part in the myths of this tribe (1).
[Left margin note - (1) quote old tales from new lands &c-]
The Woeworung was on of a large related group, or "nation" tribes which occupied the greater part of Central Victoria - from the Sea [crossed out - to] nearly to the banks of the River Murray. [Crossed out - The Woeworung tribe was divided into certain] [crossed out - clans as follows: - the people] The Woeworung language was spoken over the Yarra River watershed, and as far South inland as [crossed out - Dandenong] Cranbourne - western Werribee River and northwards to Mt Macedon: But these people did [?] form all one tribe being divided locally as follows:- giving the names of the Headman [crossed out - who] at the time of settlement of Victoria.
[Table]
[Title] Wŭrunjeri (Wŭru = white gum tree)[Column 1](3) The Real Wurunjeri [underlined] The Upper Yarra [crossed out - from]including Yarra Flats - Northern slope of Dandenong Mtns.Southern [?]
[Column 2](a) [Kurnage-belung?] [underlined]Yarra River from Yarra Flat down - the Plenty River (b) Bebejan [underlined] Saltwater River up to Mt Macedon [willibilleri?] [underlined]
[Column 3]Boiberit [underlined]Part of Sunbury and Werribee.Bŭng-erim
All the [Werunijeri?] spoke the Woeworung language excepting the Berberits who spoke a dialect called [thŭri-wurung?] - But all were of the Waaug clans (crow).
The clan law which which required them as waaug crows to obtain wives from people who were Bunjil (Eaglehawk), the [separation?] of the two clan names severally into localities [crossed out - also] [?] about a law which was local in its application.
Thus [crossed out - taking] the men of that subdivision of the [crossed out - tribes] Werungeri [crossed out - also] [crossed out - of the Woeworung for speaking people] who lived in the Yarra about where Kew and the eastern the suburbs now are, [crossed out - the] were being crow[underlined] obliged to take wives from the Ngarūk Willŭm living about Dandenong who although also speaking Woeworūng were Eaglehawk [underlined], from the Gūnŭng [crossed out - willum] Ballŭk who were Eaglehawk lived near Mt Macedon but spoke Būnwurung Campaspe, from the Būthera balluk who were Eaglehawk lived near Seymour on the Goulburn River [crossed out - and spoke ?] from the Waring (cave) illŭm ballŭk who were Eaglehawk and lived on the Yea River, from the BalŭungKara Muttŭng who were
Last edit 4 months ago by
Christine
XM759_ICDMS_lowres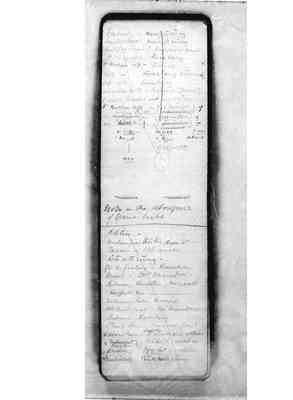 hw0404 Notes on Kurnai 150 pages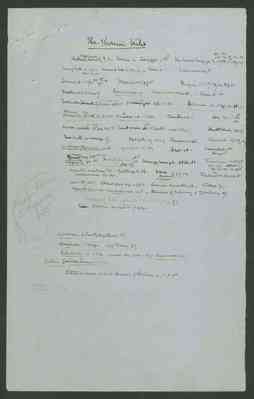 The Kurnai tribe
The [??] [??] [??] [??] 3 1 - Bukan 1 - Set fight 1. 52 A The Kurnai language 2 - 7.8.15.39.4976.82 55.56.59.60.68Nme of birds 2.73.80 82.83.89 names of trees 2.73.83.84 Loän 3 [??] [??] [??]3Jerail 4.18/19 - 39. 87. 97. [88-crossed out] Elopement - 5.27.45 [??] 5.6.7.12/13.27.60Direction N.S.E.W +c 7 Rainmaker 41 Marks on Possum rugs +c 45. - Legends 46.Food rules Jerail 9./11-24.28.48 77.79.81 Messengers 14/16.18.51 Biraark - 14.18.20.36.38.86Dreams Omens 3 14.24.25.51.56.72.59 Aurora 14.15.58. Thunder 14.15 Sky 14.15.24 69Moon + stars 15.32.56.58.68 Head men 17.18.32.39 Wild tribes 17. The old blacks 28.47[??] ball as message 17. Mrarts 19.50.69 [??] 21.25 Burial 47.59.89Legends Brewin + the moon 22.63 Yambo 25.69 [??] Supernatural Beings 50[??] [??] Magic 29.39.48.61.33.50 Doctors +c 29.40.41.34.37.59. Nungy nungit - 30/32.33. [?Varura?] +c 48.51.53A 70.73.[58.63 - crossed out] 54.67 76.82.84.86.86A 97.Imported corroboree 55. Katūngal 56. Dress ornaments weapons 57.59. Visitors 62.63.66.68[?crow?] 59.63.72 Clasns+c 64.-65- Kurnai ancestors 66. Widows 71.-Legends 74.75 76. Muk Kurnai 74A - Drawings of [?Bulerwieng?] + Tūtnŭrring. 91.names of [?bats?], plant. [?water?] +c 73[Kulu - crossed out] Kurnai ancestors p. 22
Batman + Port Philip blacks - 57.Wimmera - magic. the bone 67.Būnwurūng in 1841 not more than 500 - p 90 - Rain maker 90.Kūlin Gesture Language - 91
Tūta-warra-wara division of [Malaua?] - p 90
[written in left side margin][?Kup?] - boraE. [?Rignans?]p 75
Last edit 17 days ago by
ALourie
hw0391 Notes by Howitt on Kulin from Barak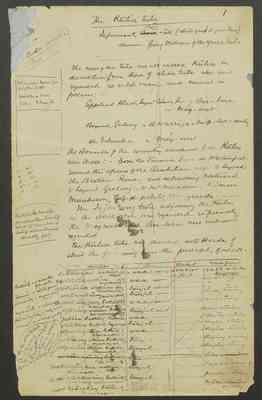 The Kulin TribeInformant Berūk (white grub in gum tree)otherwise King William of the Yarra tribe.
Mr Cameron learns fromKing David thatKubitche = WaaKroki = Bunjil
[Margin Note:] Avoka – or Boka Dick
The men of this tribe are all called Kūlin in distinction from those of alien tribes who are regarded as wild men and named as follows: -Gippsland blacks beyond Tarwin River = Bér-bira or Méy-metBeyond Geelong = B Warrije = Far off - Bek = countryat Echuca = Méy-metThe bounds of the country occupied by the Kulin were these: from the Tarwin River in Westernport round the spurs of the Australian alps to beyond the Broken River; and extending westward to beyond Geelong – to Mt Macedon, Kilmore Murchison and probably Wangaratta. ——[Margin note:]1 – W2 – W3 – B5 – W6 - BEach tribe has its particular locality which they consider a sort of inheritance - Buckley p. ?7]The Jajowurong tribe adjoining the Kūlin on the North west was regarded as friendly; The Mey met […] Ber-bira were not so regarded.The Kulin tribe was divided into Hordes of which the following […] the principal; of […][Marginal text:ballŭk = a number of peopleūrŭn = white gumjerrirŭk = mourning birdngarŭk = stonesKūrūng jang = red ground[?]Neera = a deep gullyalso the Nir-ballŭkfrom Nir = cavespoke Thagun wūrŭng fromThagun = No - lived on watershed of Campaspe down to [...] ]Hordes Class Wives to Wives from1. ūrŭndjeri ballŭk Kew waa wöe 6.3.4.8.10.1113.14.15 3.4.6.8.10.13.142. Būlūk willŭmCranbourne waa wöe woey wūrŭng language3. Ngárŭk willŭmDandenong būnjil wöe woey wūrŭng language4. Būnwūrŭng Mordiallok būnjil wöe boon-wūrŭng5. Kūrūng jang ballŭkWerribee waa woey wūrŭng6. gūnŭng willŭm ballŭk
Mt Macedon būnjil wöe woey wūrŭng7. Nira ballŭkKilmore Waa thagūng wūrŭng8. Būthera ballŭk Seymour būnjil thagūng wurung9. Yowŭng illŭm ballŭkAlexander waa thagūng wurung10. Waaring illŭm ballŭkMuddy Ck būnjil thagūng wurung11. Yeerŭn illŭm ballŭkBenalla būnjil thagūng wurung12. Būn mūrŭng ballŭk
Cape Schank Waa boon-wūrŭng12 13. Ballŭng Kara-mittŭng-būlaWangaratta būnjil (does not know) 13 14. Wŭdthowrŭng ballŭkGeelong bunjil Wadtha-wurung14 15. Ngūralŭng būlaMurchison Same Būnjil Ngur-ai- illŭm Ngūrai ilŭm wrūrung
Last edit 17 days ago by
ALourie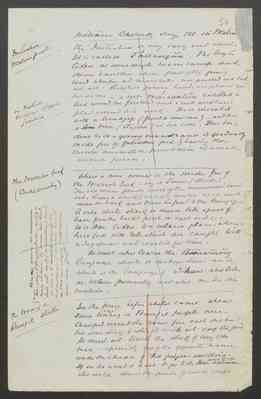 50Initiation Western port
William Bairuk says that in [??] water?the Initiation is very easy and short. It is called Tállangŭn. The boy is taken at some single mans camp andthence to another where part of the growing beard whiskers and moustache are pulled out but not all. Ringtail possum bands are placed roundhis arms – a net máragalŭn raddled istied round his forehead and a reed necklace placed round his neck. He is invested with a branjep (front + rear one) – and has a [lon - crossed out] bone (ilijéri) (dijeri) in his nose. This being done he is a young man and is gradually made free of forbidden food by having the various animals +c given to him in small cooked pieces. ________________________________________________________________The Marine beck (Bad Country)
When a new comer is to be made free of the Marine Beck – say at Tarwin (Blacks). The old man plucks most of the newcomer's beard out. Runs a streak of raddle over his head and down his back and down his front to the Branjep. A wide white streak is drawn like a pair of braces from the back to front on each side. He is then taken to a certain place where he is fed with Eels which are caught with a Jag spear and roasted for him.
He must also learn the Būnwūrŭng language which is spoken there and which is the language of Lohan who lives at Wilson's promontory and who made this custom.
The Waang & Bunjil sticks
In the time before whites came when some wang (waa) & Bunjil people were camped around the same fire each one had his own stick to stir it with or to cook the food. He must not touch the stick of any other man - specially one of the opposite name under the chance of his fingers swelling. If so he would have to go to the [M old man - crossed out] Wira rap who would draw the piece of wood out.
[written in left side margin]
in Nulictlanguage of Gippslandjinibin
When at dawn the newcomer {hears sees (say) a laughing Jackass making a noise at him he must turn towards him and spit (or splutter) loudly at him - to [indicate - crossed out] drive off thebad influences for the birds when they do this are saying "what did you come here for?"
Last edit 28 days ago by
ALourie
hw0429 Questions for William Berak