Search for "Strelezki's creek"
tip70-10-33-5 Howitt to Fison 7/7/1873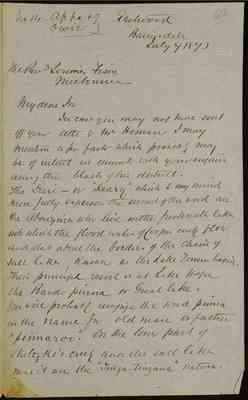 No 14 Appa +} EastwoodOwie BairnsdaleJuly 7 1873
The Revd Lorimer FisonMelbourne
My dear SirIn case you may not have sentoff your letter to Mr Homan I maymention a few facts which possibly maybe of interest in connection with your enquiriesamong the blacks of his district.
The Dieri - or "Deary"which to my mindmore fully expresses the sound of the word arethe Aborigines who live in the freshwater lakeswith which the floodwaters of Coopers Creek flowand also above the borders of the chain ofsalt lakes, known as the Lake Torrens basin.Their principal resort is at Lake Hopethe Bando pinna or Great Lake.You will probably recognize the word pinnain the name for old man or father "pinnaroo". On the lower part of Strelezki's creek [sic] and the salt lakesnear it are the "Tinga-tingana"natives.
Last edit 6 months ago by
ALourie