Search for "Cooper Ck"
tip70-10-37-4 Hughes notes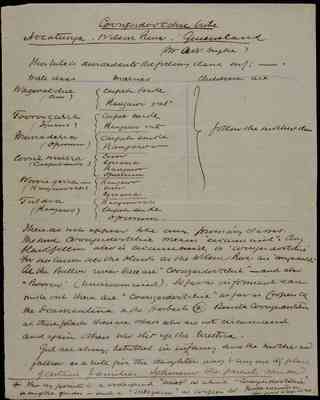 Coongerdootchie tribeNocatunga. Wilson River. Queensland(Mr A. N. Hughes)This tribe is divided into the following classes only :-
Male class marries Children areWageral-chie carpet snake(crow) Kangaroo ratTooroogurra carpet snake(Iguana) Kangaroo rat follow the mother's classMunaderra carpet snake(opussum) KangarooCoorie murra crow(carpet snake) iguanaKangarooopossumWoorie gerra Kangaroo(Kangaroo rat) crowIguanaTulara Kangaroo rat(Kangaroo) Carpet snakeopossum
There do not appear to be any primary classes.The word Coongerdootchie means "circumcised". Anyblackfellow who is circumcised is "coongerdootchie"For instance all the blacks at the Wilson River are "coongerdootchie"At the Bulloo river these are "Coongeradootchie" - and also"Booroo" (uncircumcised). So far as informant canmake out there are "coongerdootchie" as far as Coopers Ckthe Diamantina + the Herbert * Beside Coongeradootchieat these places there are others who are not circumcisedand again others who slit up the urethra.
Girls are always betrothed in infancy and the mother andfather as a rule give the daughter away to any one they pleaseof certain families. If however the parents were dead
[footnote at bottom of page]* This may point to a widespread "society" in which "Coongeradootchie"is one of the grades - such as "willyaru" at Coopers Ck. Further enquiries onthis point at Cooper Ck +c.
Last edit 3 months ago by
ALourie