Search for Berlin*
hw0362 Unsigned draft letter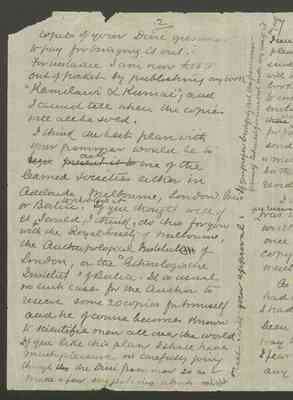 2copies of your Dieri grammarto pay for bringing it out.For instance I am now £150 out of pocket by publishing my book"Kamilaroi + Kurnai"; andI cannot tell when the copies will all be sold.
I think the best plan withyour grammar would be to[requ present it to - crossed out] ask one of the learned societies either inAdelaide, Melbourne, London, Parisor [Berlin]] to publish it. If you thought well ofit I could, I think, do this for oyuwith the Royal Society of Melbourne,the Anthropological Institute of London, or the "EthnologischeInsitut" of Berlin. It is usualin such cases for the Author toreceive some 20 copies for himselfand he of course becomes knownto scientific men all over the world. If you like this plan I shall havemuch pleasure in carefully goingthrough [the - crossed out] Dieri grammar so as tomake a few suggestions which might
[written in right side margin]meet with your approvalIf you prefer bringing out the grammaryourself I should if course not make any use of it myself.
Last edit 4 months ago by
ALourie
hw0055 J. G. Frazer to Howitt 22 July 1906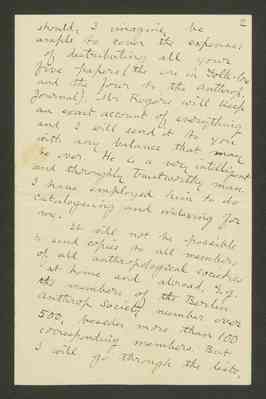 2should, I imagine, beample to cover the expensesof distributing all yourfive papers (the one in Folkloreand the four to the Anthrop.Journal) Mr Rogers will keepan exact account of everythingand I will send it to youwith any balance that may be over. He is a very intelligentand thoroughly trustworthy man.I have employed him to docataloguing and indexing forme.
It will not be possibleto send copies to all membersof all anthropological societiesat home and abroad. E.g.the members of the BerlinAnthrop. Society number over500, besides more than 100 corresponding members. ButI will go through the lists,
Last edit 2 months ago by
ALourie
hw0057 J. G. Frazer to Howitt 23 October 1906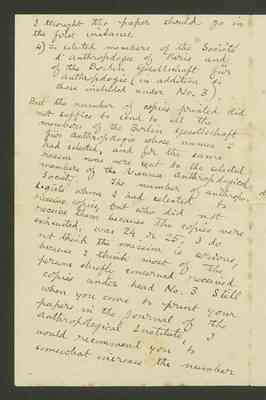 I thought the paper should go in the first instance.4) To selected members of the Societed'Anthropoligie of Paris and of the Berlin Gesellschaft für Anthropologie (in addition tothose included under No. 3)
But the number of copies printed didnot suffice to send ot all themembers of the Berlin Gesellschaftfür Anthropologie whose names Ihad selected, and for the samereason none were sent to the selectedmembers of the Vienna Anthropological Society. The number of anthropo-logists whom I had selected toreceive them because the copies wereexhausted, was 24 or 25. I do not think the omission is serious,because I think most of thepersons chiefly concerned receivedcopies under head No. 3. Stillwhen you come to print yourpapers in the Journal of the Anthropological Institute, I would recommend you to somewhat increase the number
Last edit 2 months ago by
ALourie