Search for "Folk Lore"
XM33_ICDMS_lowres May Benson to Howitt 1 September 1906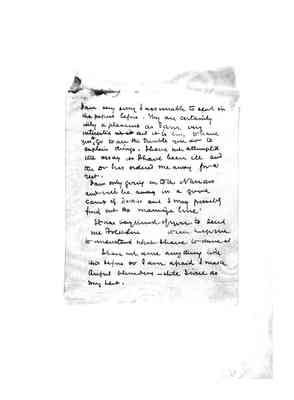 I am very sorry I was unable to send in the papers before. They are certainly only a pleasure as I am very interested [in it- crossed out] and it is lovely to have you to go to all the trouble you do to explain things. I have not attempted the essay as I have been ill and the Dr has ordered me away for a rest.
I am only going on to the Narran and will be [away - crossed out] in a good camp of Darkies and I may possiblyfind out the marriage line.
It was very kind of you to sendme Folk Lore it will help me to understand what I have to drive at.
I have not done anything likethis before so I am afraid I make awful blunders - still I will domy best.
Last edit 6 months ago by
ALourie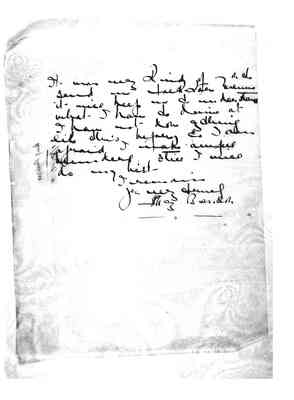 It was very kind of you tosend me Folk Lore volumeit will help me to understandwhat I have to drive atI have not done anythinglike this before & I amafraid I make awfulblunders; still I willdo my best.I remainYours very trulyMay Benson
Last edit 4 months ago by
ALourie
XM521_ICDMS_lowres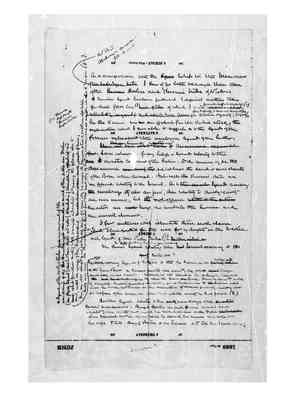 [Upside down at top of page]- 205 - 9 Sunday - White Sunday - 160
As a comparison with the [Legend- crossed out] beliefs in the Mura-mura[of the Lake Eyre tribe - crossed out]. I know of no better example than thoseof the [Kurnai - crossed out] Kulin and Kurnai tribes of Victoria.A numbers legends [sic] have been published by different authors takenfrom their folk lore (1) [and of the - crossed out] of which I note [versions which - crossed out] several different versions (1)[I collected myself and which have been from - crossed out] from Woeworung + Kurnai narrators collected originally myselfAs the Kurnai were an offshoot from the Kulin stock, theexplanation which I am able to suggest as to the legends of the
[Upside down]- 806 - 8 Saturday - 169
former may be applied to the analagous legends of the latter.
[I have - crossed out] legends [relating to- crossed out] [I have not been able to learn of the ceremonies suppose to be - crossed out] [few - crossed out], I am [??] of any beliefs or legends relating to theinitiation ceremonies of the Kulin, and the reason may be thatthose ceremonies [were many that- crossed out] did not have the sand or [??] characterof the Bora at the Kuringal. But with the Kurnai there wasan legend [sic] relating to the Jeraeil. As to [the number - crossed out] legends recording[the - crossed out] wanderings they also are few, those relating to the sky-countryare more numerous, but in most of these [relate to the actions - crossed out]the actors are [anoth - crossed out] beings who combine the human andthe animal element.
A few instances will illustrate these several classes.of which I have quoted from the work of my daughter in the Folkloreand legends of some Victorian Tribes (1) - [The other instances are - crossed out]The Wotjoballuk legend - see reverse ofThe Kurnai legend relating to the [Init- crossed out] Jeraeil ceremony is the
(quote here)
The Woeworung legend of Lohän is that he when he was [baking eels- crossed out] cooking eelsat the Yarra River a Swan's feather was carried by the south [wind - crossed out] breezeand fell on his breast. Walking in that direction he at length reached[the sea the - crossed out] Westernport Bay where the Swan [was - crossed out] lived. There he remained until they migrated Eastward, when he followed them, and at last came to Corner Inletwhere he made his home in the mountains of Wilsons promontory, watching overthe welfare of the people who followed him south to the country he had found (2)Another legend relates to the [early - crossed out] wanderings of the [ancestors - crossed out]Kurnai predecessors. Bunjil Borun the first Kurnai marched acrossapproched from the north west until he reached the sea at the Inletswhere Port Albert now is. On his head he carried his canoe in which washis wife Tūk. Bunjil Borun is the Pelican & Tūk the musk duck.
Upside down 206 - 6 Saturday - 157(see over)
[written at top of page]and the Alcharinga ancestorsof the Arunta
[written in left margin]1. ThomasBrough SmythDawsonLangloh Parker
A legend of the Wotjo tribe gives an account of the wanderings of the two Brambramgals [who were the - crossed out] in search of their sister's son Doän(the flying squirrel) who had been killed and eaten by Wembulin (tarantula); [afterwards they - crossed out] and [went - crossed out] afterwards further meeting with various adventures and naming these places where theyoccurred, until the younger of the brothers died. [The elder brother + their mother sought for him - crossed out] Theere was elder 'shaped' part of a tree [??] the form of a man and by his magic it became alive + called him elder brother United once more the Brambramgals travelled far to the west where they lived in a cavern, but no one knows where they have gone (p. )
Last edit 6 days ago by
ALourie
XM92_ICDMS_lowres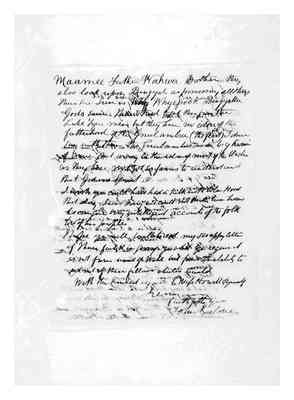 Maamee Father Wahwee Brother. They also look upon Bingyal as possessing all things thus the sun is Whyepook Bingyallu Gods [......]. I have tried to get this from the Lake Tyers men but they have no idea of the fatherhood of the Gnulambiu (the first) I dare say with them the Gnulambiu is a big Kurnai[?] Of course that may be the idea of most of the blacks as they have not got so focus to understand that God was Spirit. I wish you could have had a talk with Colin Hood that day. I was sorry we could not [....] him been he can give very intelligent accounts of the folk lore of his peoples. I hope you will be able to read my scrappy letter if I have failed in giving you what you require it is not from want of will but from inability to get out of these fellows what is[?] would. With the kindest regards to Mrs Howitt & family Remaining faithfully yours John Bulmer
Last edit almost 2 years ago by
Stephen Morey
XM225_ICDMS_lowres Andrew Lang to Howitt 1 December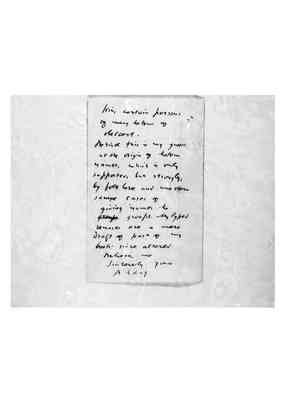 Kin, contain personsof many totems anddescent.Behind this is my guessat the origin of totemnames, which is onlysupported, but strongly,by folk lore and modernsavage cases ofgiving names to groups. My typedremarks are a meredraft of part of mybook: since altered. Believe me sincerely yours A Lang
Last edit about 1 month ago by
ALourie
tip70-10-5-1 Fison to Frazer 29/8/01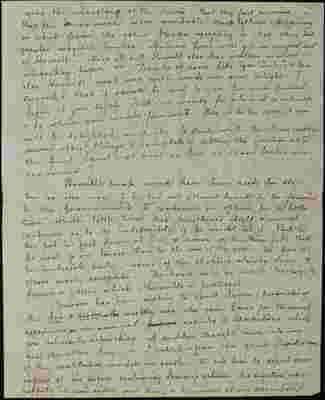 2were the ancestors of the Dieri. But the fact remainsthat the Mura mura were veritable black fellows, differingno whit from the other blacks, excepting in that they had greater magical powers. Andrew Lang will get no comfort outof Howitt. Miss M. E. B. Howitt also has written a mostinteresting paper on "Legends of some Lake Eyre Tribes", + thisalso Howitt went over with me to my great delight. Isuggested that it should be sent to you for your perusalbefore it goes to the Folk-lore Society for whom it is intended,+ to whom you would forward it. This is to be done, + youwill be delighted with it. It deals with the Mura muraamong other things, + completely settles the question as tothe Good Spirit - at least as far as these tribes areconcerned.Howitt's book would have been ready for the printer ere now if he had not allowed himself to be persuadedby the Government to continue in office for "a littletime", which little time has lengthened itself, + wouldcontinue so to do indefinitely if he would let it. But hehas put his foot down at last, + swears by the Nine Gods that he won't go on longer that to the end of the year. He has allhis materials ready, some of the chapters already done +others nearly complete. The book will be about the size of Spencer + Gillen's which Macmillan published.Spencer has been sending to David Syme, proprietor ofthe Age + Leader - the wealthy man who gave £1000 for the presentexpedition - occasional [crossed out - papers] articles + illustrations whichare intensely interesting. A sudden thought came into my head the other day, + I called upon the great David - oneof the crabbedest mortals on earth - to ask him to send youcopies of his papers containing Spencer's articles. His digestions washappily in good order just then, + he jumped at my suggestion, +
Last edit about 1 month ago by
ALourie
hw0391 Notes by Howitt on Kulin from Barak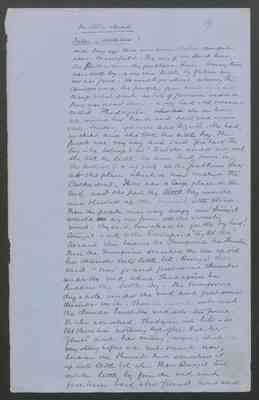 19The stolen child
Tales (Folk lore)
Once long ago when there were some Kūlin camped near Mansfield. They were of the Devils River, the Broken river the Goulburn River. Among them was a little boy – a very nice little boy of whom every one was fond. He used to go about among the camps and the people gave him nice little things to eat such as bits of possum and so on. There was near there - a very bad old woman called Thadagŭn [who ha - crossed out] who was hung all round her head and neck and arms with snakes, iguanas and lizards. She had no child and she took this little boy. The people were very angry and said "give back the boy – he belongs to us" But she would not and she took the little boy and hid him in the hollow of a big rock at the Goulburn Riverat the place which is now called the Cathedral. There was a large place in this rock and she put the little boy inside and blocked up the mouth with stones. Then the people were very angry and Būnjil collected [the - crossed out] every one from all the country round. They said how shall he get the boy back? Būnjil said to the Porcupine "try that tree". He said this because the Porcupine has thunder. Then the Porcupine smashed the tree up with his thunder into little bits. Būnjil then said "now go and put some thunder under the rock where Thadagŭn has hidden the little boy. The Porcupine dug a hole under the rock and put some thunder in it. Then he came out and the thunder burst the rock into two pieces. It also smashed Thadagŭn into bits – so that there was nothing left of her but her "ghost" and her mūng (magic) which was very strong before was not much now, because the thunder had smashed it up into little bits also. Then Bunjil took out the little boy from the rock and gave him back to his friends and said:
Last edit 23 days ago by
Jacqui Durrant
hw0341 Howitt to Gason 17/01/1880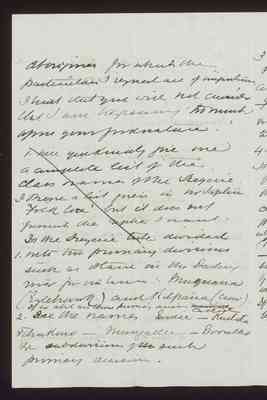 Aborigines for which the particulars I request are of importance.I trust that you will not considerthat I am trespassing too muchupon your good nature.1. Will you kindly give me a complete list of the class names of the DieyerieI there a list given in Mr Japlin"Folk lore" but it does not furnish the replies I want.Is the Dieyerie tribe divided1. into two primary divisionssuch as obtain in the Darlingriver for instance. Muquana(Eaglehawk) and Kilpara (crow)If so what are these primary divisions [named - crossed out] called.2. Are the names Purdil - KuclataTchukuro - Munjallee - Booralko+c subdivisions of [the- crossed out] suchprimary divisions.
Last edit 4 months ago by
ALourie
tip70-10-33-27 Howitt to Fison 6 October 1879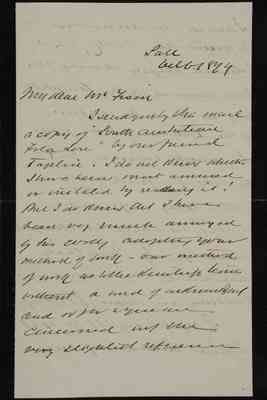 My dear Mr FisonI send you by this maila copy of "South AustralianFolk Lore" by our friendTaplin. I do not know whetherI have been most amused or irritated by reading it!But I do know that I havebeen very much annoyedby his coldly adopting yourmethod of work - our methodof work as to the kinship termswithout a word of acknowledgementand as far as you areconcerned only the very slightest references.
Last edit 4 months ago by
ALourie
hw0057 J. G. Frazer to Howitt 23 October 1906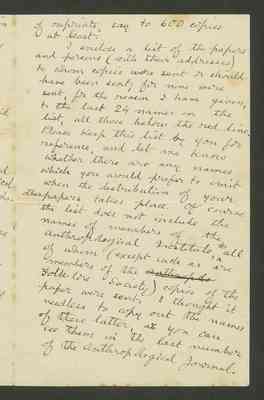 of reprints, say to 600 copiesat least.
I enclose a list of the papersand persons (with their addresses)to whom copies were sent or should have been sent; for none were sent, for the reason I have given,to the last 24 names on the list, all those below the red line.Please keep this list by you for reference, and let me knowwhether there are any nameswhich you would prefer to omit when the distribution of yourother papers takes place. Of coursethe list does not include thenames of members of theAnthropological Institute, to allof whom (except such as are members of the [Anthropolo - crossed out]Folk-lore Society) copies of thepaper were sent. I thought itneedless to copy out the namesof these latter, as you cansee them in the last numberof the Anthropological Journal.
Last edit 2 months ago by
ALourie
hw0063 Andrew Lang to Howitt n.d.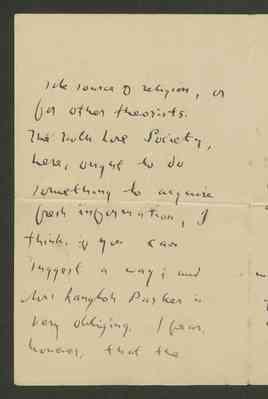 sole source of religion, orfor other theorists.The Folk Lore Society,here, ought to dosomething to acquirefresh information, Ithink, if you cansuggest a way, andMrs Langloh Parker isvery obliging. I fear,however, that the
Last edit 6 days ago by
ALourie