Search for "Science of Man"
hw0154 Article by Bucknell on Kamilaroi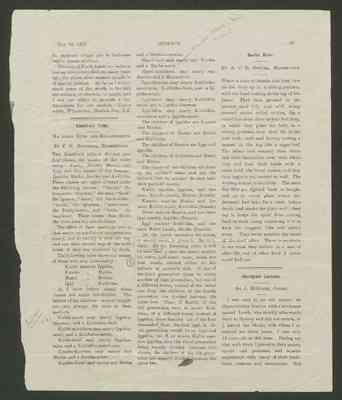 [copy of article from Science of Man, May 23, 1902, p. 67, by F. N. Bucknell of Burrendoon on the Kamil-ari Tribe Marriage Rites and Relationships]
Last edit 8 months ago by
ALourie
hw0156 Greenway to Howitt 2/July/1901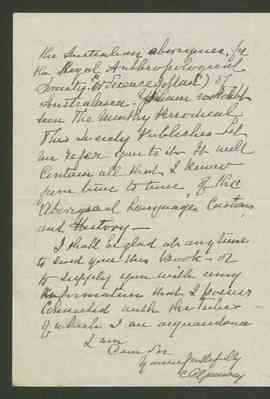 the Australian aborigines, forthe Royal Anthropological Society (or Science of Man) ofAustralasea [sic]. You have no doubtseen the monthly periodicalthis society publishes. Letme refer you to it. It willcontain all that I knowfrom time to time of the Aboriginal Language customsand History.
I shall be glad at any timeto send you this book - orto supply you with anyinformation that I possessconnected wtih the tribes of which I am acquaintance.I amDear SirYours faithfullyC Greenway
Last edit 10 months ago by
ALourie
hw0158 Langloh Parker to Howitt

[printed article by A. W. Howitt - 'The Kamilaroi Marrage Law" from Science of Man, vol. 5, no. 3, April 26 1902, pp. 46-47]
[notes written in margin in two different hands]
[left side margin]Would you kindly answer these questionsand set the marriage Ritesand Relationships outas fully as possible
[at top of page]A man must not onlymarry in his right class-say a Murri to a Boothabut in his right blood too - [??] [??]he is not himselfShould Murri be a gwaigullech[he must - crossed out] his Bootha must be aGwaimudthaShould Murri be a Kangaroo by inheritance hisBootha must not be one too.A personal totem if arrived by chancedoes not count in marriage restrictionsonly in food Taboos.
[in right side margin]I think the blood distinctionwould prohibit it-The tribes are divided into(1) Two bloods - Gwai gullech - Light bloodedGwai mudtha - Dark blooded(2) ? The children of either sex take their blood divisional name from the motherand no two of the same named blood may marry - ergo a man could not marry the daughter of his mother's brothersfor that brother would be sameblood as his sister the man's mother.K. Langloh ParkerLate of Bangate, Narren River, N.S.W.
Last edit about 1 month ago by
ALourie
hw0192 Cameron to Howitt 20/06/1900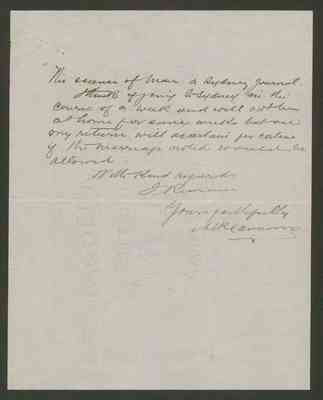 "The science of man" a Sydney journal
I think of going to Sydney in this course of a week and will not beat home for some weeks but onmy return will ascertain for certainif the marriage noted would be allowed.With kind regardsI RemainYours faithfullyALP Cameron
Last edit 2 months ago by
ALourie