Search for pigs*
1920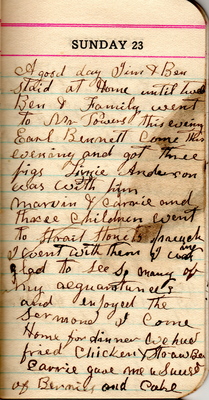 A good day. Jim & Ben staid at home until twelve. Ben & family went to Mr Powers this evening. Earl Bennett come this evening and got three pigs. Lizzie Anderson was with him. Marvin & Carrie and three children went to Strait Stone to preaching. I went with them. I was glad to see so many of my acquantances and enjoyed the sermond. I come home for dinner. We had fried chicken & straw be Carrie gave me a [?] of berries and cake.
Last edit almost 10 years ago by
Linda Tucker
1922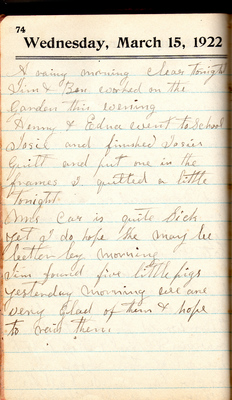 A rainy morning. Clear tonight. Jim & Ben worked on the garden this evening.
Henry & Edna went to school. Josie and [?] finished Josies quilt and put one in the frames. I quilted a little tonight.
Mrs Car is quite sick yet. I do hope she may be better by morning.
Jim found five little pigs yesterday morning. We are very glad of them & hope to rais them.
Last edit almost 6 years ago by
mkstewart
1923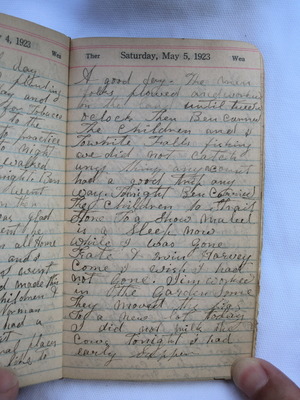 A good day. The men folks plowed and worked on the land until twelve oclock. Then Ben carried the children and I to White Falls fishing. We did not catch any thing any acount. Had a good trip any way. Tonight Ben carried the children to Strait Stone to a show. Mabel is a sleep now. While I was gone Kate and Irvin Harvey come. I wish I had not gone. Jim worked in the garden some. They moved the pigs to a new lot today. I did not milk the cows tonight. I had early supper.
Last edit almost 7 years ago by
Nathani