Search for Charlottesville* Charlottsville* Charlottsvill* Charlotsville*
1920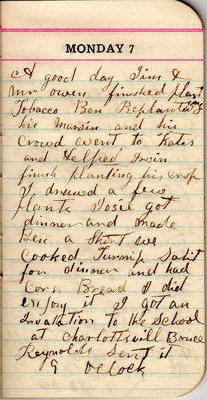 A good day. Jim & Mr Owen finished plant tobacco. Ben replanting his. Marvin and his crowd went to Kates and helped Irvin finish planting his crop. I drawed a few plants. Josie got dinner and made Ben a shirt. We cooked turnip salit for dinner and had corn bread. I did enjoy it. I got an invatation to the school at Charlottsvill. Bruce Reynolds sent it. 9 oclock
Last edit over 8 years ago by
Linda Tucker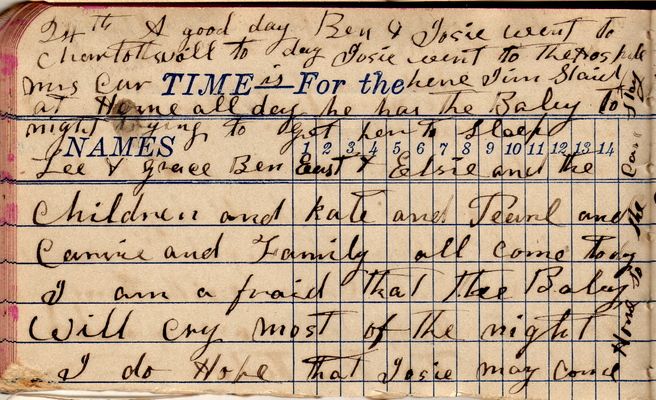 24th A good day. Ben & Josie went to Charlottsvill to day. Josie went to the hospidle [?]. Mrs Car is here. Jim staid at home all day. He has the baby to night trying to get her to sleep. Lee & Grace, Ben East & Elsie and the children and Kate and Pearl and Carrie and family all come today. I am a fraid that the baby will cry most of the night. I do hope that Josie may come so she can stay.
Last edit about 8 years ago by
Linda Tucker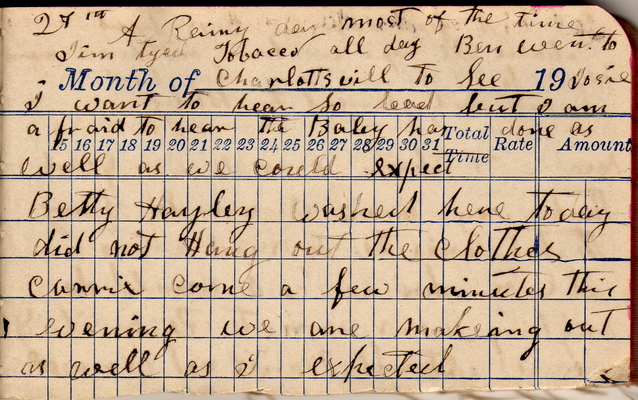 27th A rainy day most of the time. Jim tyed tobacco all day. Ben went to Charlottsvill to see Josie. I want to hear so bad but I am afraid to hear. The baby has done as well as we could expect. Betty Hayley washed here today. Did not hang out the clothes. Carrie come a few minutes this evening. We are makeing out as well as I expected.
Last edit about 8 years ago by
Linda Tucker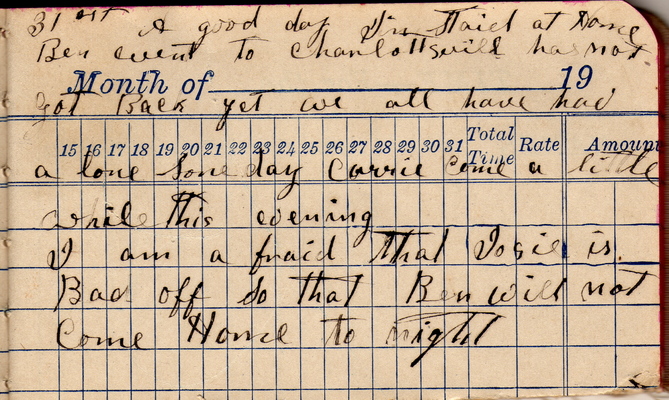 31st A good day. Jim staid at home. Ben went to Charlottsvill. Has not got back yet. We all have had a lone some day. Carrie come a little while this evening. I am a fraid that Josie is bad off so that Ben will not come home to night.
Last edit about 8 years ago by
Linda Tucker
1922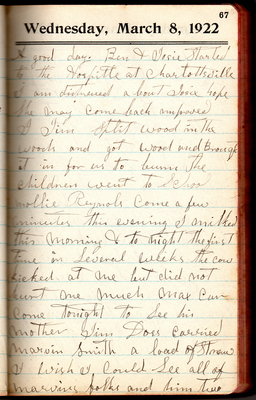 A good day. Ben & Josie started to the hospitle at Charlottsville. I am distressed about Josie. Hope she may come back improved. J Jim split wood in the woods and got wood and brought it in for us to burn. The children went to school. Mollie Reynols come a few minutes this evening. I milked this morning & to night. The first time in several weeks. The cow kicked at me but did not hurt me much. Max can come tonight to see his mother. Jim Doss carried Marvin Smith a load of straw. I wish I could see all of Marvins folks and him two.
Last edit almost 5 years ago by
Ladybug1492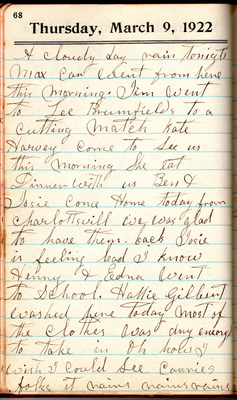 A cloudy day. Rain tonight. Max Car went from here this morning. Jim went to Lee Brumfields to a cutting match. Kate Harvey come to see us this morning. She eat dinner with us. Ben & Josie come home today from Charlottsvill. We was glad to have them back. Josie is feeling bad I know. Henry & Edna went to school. Hattie Gilbert washed here today. Most of the clothes was dry enough to take in. Oh how I wish I could See Carries folks. It rains rains rains.
Last edit almost 5 years ago by
mkstewart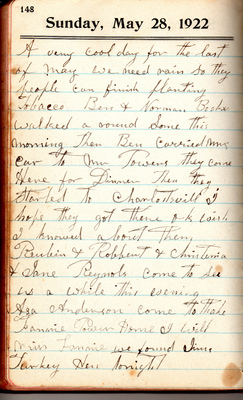 A very cool day for the last of May. We need rain so they people can finish planting tobacco. Ben & Norman [Booker?] walked a round some this morning then Ben carried [mms] Car to Mr. Towers. They come here for dinner then thay started to Charlottsvill. I hope they got there ok. Wish I knowed about them Reubin & Robbert & Christenia & Jane Reynolds come to see us a while this evening Asa Anderson come to thake Frannie Power home. I will miss Fannie. We found Jims turkey here tonight.
Last edit over 5 years ago by
kleind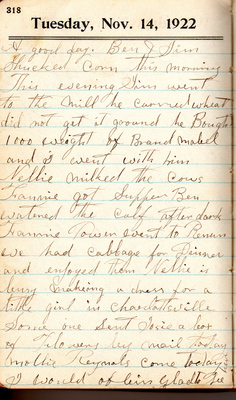 A good day. Ben & Jim shucked corn this morning. This evening Jim went to the mill. He carried wheat did not get it ground. He brought 1000 weight of brand. Mabel and I went with him. Nellie milked the cows. Fannie got supper. Ben watered the calf after dark. Fannie Power went to Renan. We had cabbage for dinner and enjoyed them. Nellie is busy making a dress for a little girl in Charlottesville. Some one sent Josie a box of flowers by mail today. Mollie Reynols come today. I would of bin glad to see her.
Last edit almost 5 years ago by
mkstewart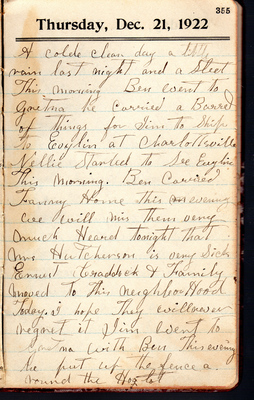 A colde clear day. A little rain last night and a sleet this morning. Ben went to Gretna. He carried a barrel of things for Jim to ship to Evylin at Charlottesville. Nellie started to see Evylin this morning. Ben carried Fanny home this evening. We will miss them very much. Heard tonight that Mrs Hutcherson is very sick. Ernest Craddock & family moved to this neighbor hood today. I hope they will never regret it. Jim went to Gretna with Ben this evening. He put up the fence a round the hog lot.
Last edit almost 5 years ago by
mkstewart