Search for Ruth* "Ruth Worsham"
1919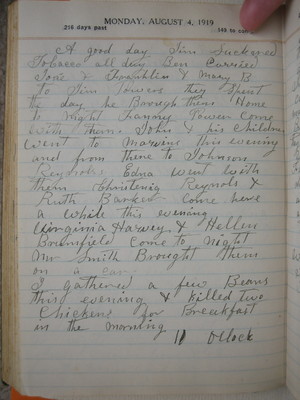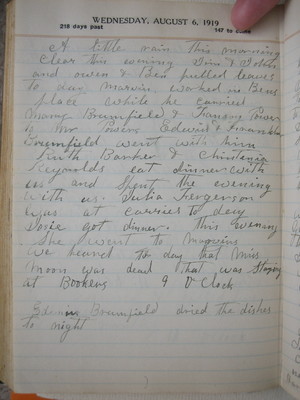 1922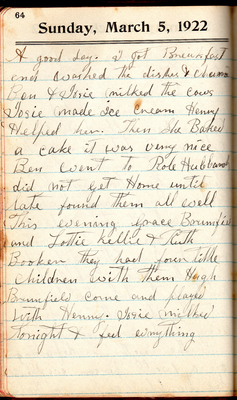 A good day. I got breakfast and washed the dishes & churned. Ben & Josie milked the cows Josie made ice cream. Henry helped her. Then she baked a cake. It was very nice. Ben went to Role Hubbards. Did not get home until late. Found them all well. This evening Grace Brumfield and Lottie Kellie & Ruth Booker they had four little children with them. Hugh Brumfield come and played with Henry. Josie milked tonight & fed everything.
Last edit about 6 years ago by
Ladybug1492
A cloudy day and some rain. Jim and Ben commenced plowing and had to quit. The land got too wet. Henry and Edna went to school. Josie made a quilt lineing and we put in a quilt. I got a snack for dinner and quilted a little. Then went to Mr Bookers. Ruth Brookers mother was there Mrs Jackson. I liked her fine for the acgiatanice[acquaintance]. Josie is feeling bad tonight I am so sorrie for her. Jim found the turkeys nests today.
Last edit almost 6 years ago by
mkstewart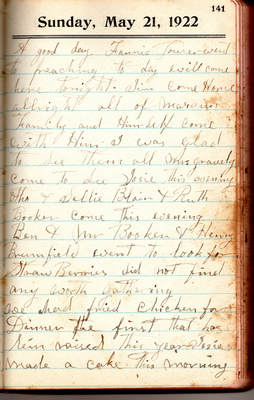 A good day. Fannie [?] went to [preaching?] to day will come here tonight. Jim come home allright all of [Maraines?] Family and Himself come with Him. I was glad to see them all Mrs. Gravely come to see Josie this evening Otho and Sellie Blain [?] Ruth Booker come this evening Ben and Mr. Booker and Henry Brumfield went to look for StrawBerries did not find any worth gathering [?] had fried chicken for dinner the firts that has [?] raised this year. Josie made a cake this morning
Last edit over 6 years ago by
Dean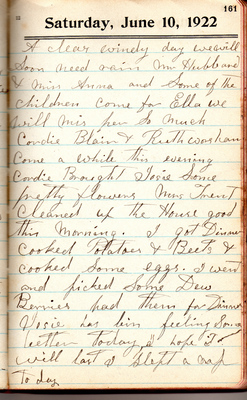 A clear windy day we will soon need rain Ms Hubbard
& miss Anna and some of the children come for Ella we
will miss her so much Cordie Blain & Ruth [indecipherable]
come a while this evening Cordie brought Josie some pretty
flowers Mrs Trent cleaned up the house good this morning. I
got dinner cooked potatoes & beets & cooked some eggs. I went
and picked some dew berries had them for dinner Josie has bin
feeling some better today. I hope it [indecipherable]will last
I slept a [indecipherable] today.
Last edit about 7 years ago by
tiffany.corrales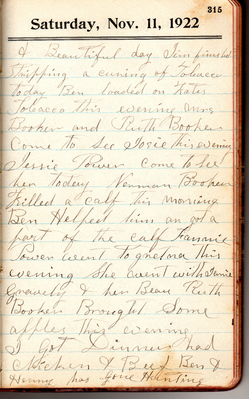 A beautiful day. Jim finished stripping a curing of tobacco today. Ben loaded on Kate's tobacco this evening. Mrs Booker and Ruth Booker come to see Josie this evening. Jessie Power come to see her today. Norman Booker killed a calf this morning. Ben helped him and got a part of the calf. Fannie Power went to Gretna this evening. She went with Jamie Gravely & her [beau?]. Ruth Booker brought some apples this evening. I got dinner. Had chicken & Beef. Ben & Henry has gone hunting.
Last edit almost 6 years ago by
mkstewart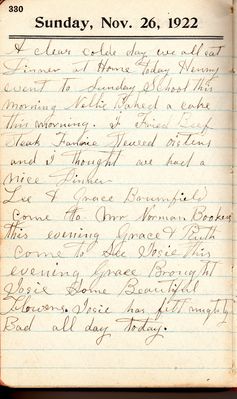 A clear colde day. We all eat dinner at home today. Henry went to Sunday School this morning. Nellie baked a cake this morning. I fried beef steak. Fannie stewed oisters and I thought we had a nice dinnner.
Lee & Grace Brumfield come to Mr Norman Bookers this evening. Grace & Ruth come to see Josie this evening. Grace brought Josie some beautiful flowers. Josie has felt mighty bad all day today.
Last edit almost 6 years ago by
mkstewart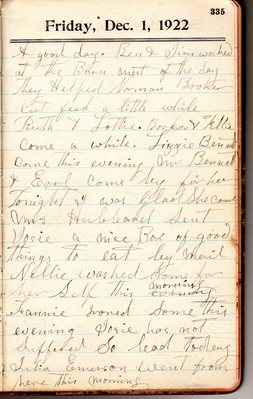 A good day. Ben & Jim worked at the barn most of the day. They helped Norman Booker cut feed a little while. Ruth & Lottie Booker & [?] come a while. Lizzie Bennett come this evening. Mr Bennett & Earl come by for her tonight. I was glad she come Mrs Hubbard sent Josie a nice box of good things to eat by mail. Nellie washed some for her self this morning. Fannie ironed some this evening. Josie has not suffered so bad today. Julia Emerson went from here this morning.
Last edit almost 6 years ago by
mkstewart
1923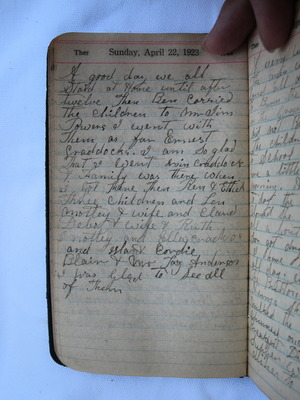 A good day. We all staid at home until after twelve. Then Ben carried the children to Mr. Jim Powers. I went with them as far Earnest Craddocks. I am so glad that I went. Irvin Craddock and family was there when I got there. Then Ken and Ethel three children and Len Motley and wife and Claud [Deboe?] and wife and Ruth Motley and Elley Craddock and Isla and Cordie Blair and Mr. Taz Anderson. I was glad to see all of them.
Last edit almost 7 years ago by
Nathani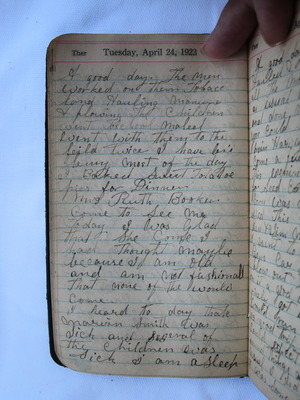 A good day. The men worked on their tobacco land hauling manure and plowing. The children went to school. Mabel went with them to the field twice. I have bin busy most of the day. I baked sweet potatoe pies for dinner. Mrs. Ruth Booker come to see me today. I was glad that she come. I had thought maybe because I am old and am not fashionable that none of the would come. I heard to day that Marvin Smith was sick and several of the children was sick. I am asleep.
Last edit almost 7 years ago by
Nathani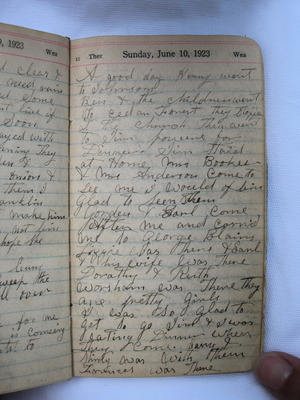 A good day. Henry went to Johnsons. Ben and the children went to Cedar Forest. They stoppe at the church. Then went to Jim Powers for dinner. Jim staid at home. Mrs. Booker and Mrs Anderson come to see me. I would of bin glad to seen them. Gordon and Earl come after me and carried me to George Blains. Lizzie was there and Earl and his wife was there. Dorathy and Ruth Worshan was there. They are pretty girls. I was so glad to get to go. Jim and I was eating dinner when they come. Cary and Shirly was with them. Frances was there.
Last edit over 6 years ago by
Nathani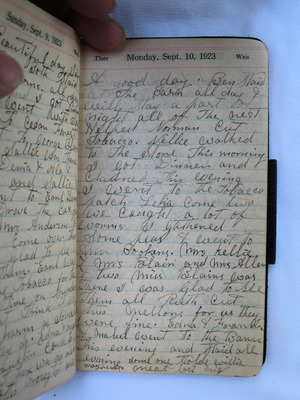 A good day. Ben staid at the barn all day and will stay a part of night. All of the rest helped Norman cut tobacco. Nellie walked to the store this morning. I got dinner and churned. This evening I went to the tobacco patch. Lelia come two. We caught a lot of worms. I gathered some peas and went to Mrs Bookers. Mrs Kellie and Mrs Blain and Mrs Allen and two Miss Blains was there. I was glad to see them all. Ruth cut two mellons for us. They were fine. Edna and Franklin and Mabel went to the barnes this evening and staid all evening. Some one sold Willie Mayhew meat last night.
Last edit over 6 years ago by
Nathani