Search for "and wife" Mrs*
1918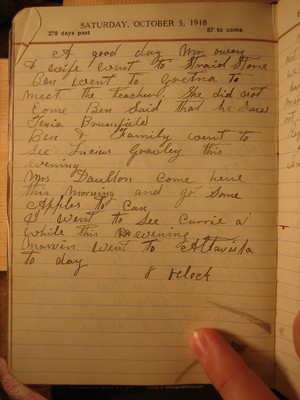 1919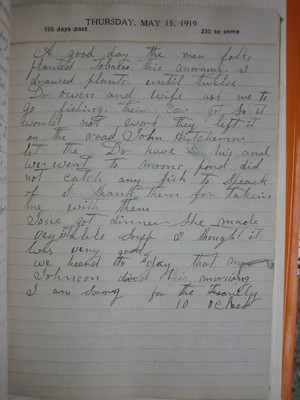 Last edit over 5 years ago by
dy957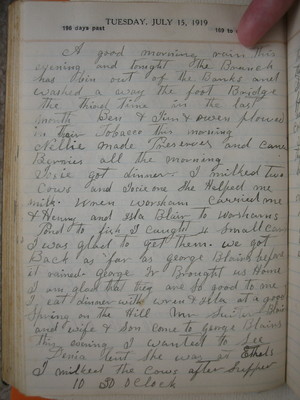 Last edit about 2 years ago by
Trisha
1920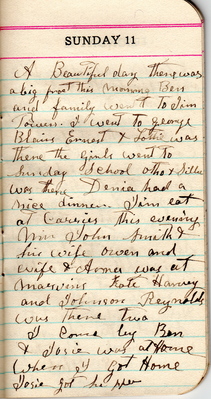 A beautiful day. There was a big frost this morning. Ben and family went to Jim Powers. I went to George Blairs. Ernest & Lottie was there. The girls went to Sunday School. Otho & was there. Denia had a nice dinner. Jim eat at Carries this evening. Mr John Smith & his wife Owen and wife & [?]was at Marvins. Kate Harvey and Johnson Reynolds was there two. I come by. Ben & Josie was at home when I got home. Josie got supper.
Last edit over 9 years ago by
Linda Tucker
1922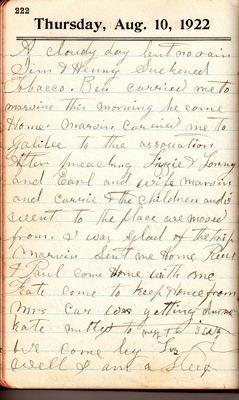 A cloudy day but no rain. Jim & Henry suckered tobacco. Ben carried me to Marvin's this morning. He come home. Marvin carried me to Galilee to the assosiation. After preaching Lizzie & Lonny[?] and Earl and wife Marvin and Carrie & the children and I went to the place we moved from. I was glad of the trip. Marvin sent me home. Russ[?] & Paul come home with me. Kate come to keep house from Mrs Car was getting dinner. Kate milked to [.......] we come by [Liz?] well I am a sleep.
Last edit about 5 years ago by
mkstewart
1923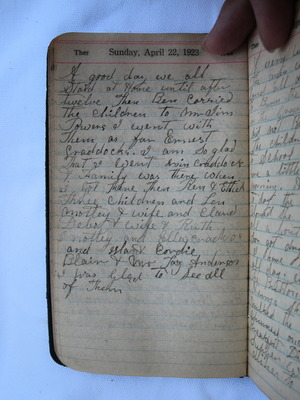 A good day. We all staid at home until after twelve. Then Ben carried the children to Mr. Jim Powers. I went with them as far Earnest Craddocks. I am so glad that I went. Irvin Craddock and family was there when I got there. Then Ken and Ethel three children and Len Motley and wife and Claud [Deboe?] and wife and Ruth Motley and Elley Craddock and Isla and Cordie Blair and Mr. Taz Anderson. I was glad to see all of them.
Last edit about 6 years ago by
Nathani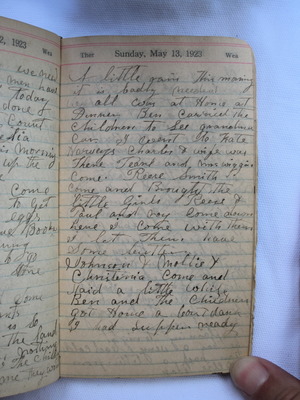 A little rain this morning. It is badly needed. We all was at home at dinner. Ben carried the children to see Grandma Carr. I went to Kate Harveys. Charles and wife was there. Pearl and Mrs Wiggins[?] come. Reese Smith come and brought the little girls. Reese and Paul and Roy come down here. I come with them. I let them have some butter. Johnson and Mollie and Christine come and staid a little while. Ben and the children got home about dark. I had supper ready.
Last edit almost 6 years ago by
Nathani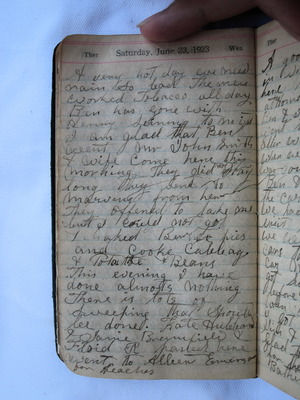 A very hot day. We need rain so bad. The men worked tobacco all day. Ben has gone with Henry seining to night. I am glad that Ben went. Mr. John Smith and wife come here this morning. They did not stay long. They went to Marvins from here. They offered to take me but I could not go. I baked berrie pies and cooke cabbag and potatoe and beans this evening. I have done almost nothing. There is lots of sweeping that should be done. Kate Hubbard and Janie Brumfield and Floid R passed here. Went to Alleen Emersons for peaches.
Last edit almost 6 years ago by
Nathani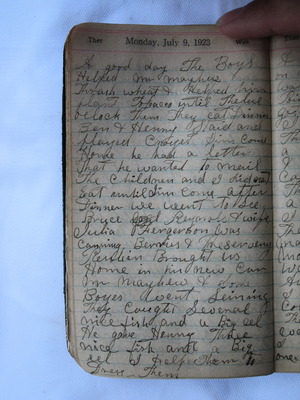 A good day. The boys helped Mr. Mayhew thrash wheat and helped him plant tobacco until twelve oclock. Then they eat dinner. Ben and Henry staid and played croqet. Jim come home. He had a letter that he wanted to mail. The children and I did not eat until Jim come. After dinner we went to see Bruce Reynols and wife. Julia Fergerson was canning berries and preserving. [Reubin?] brought us home in his new car. Mr. Mayhew and some boyes went seining. They caught several nice fish and a big eel. He gave Henry three nice fish and a big eel. I helped them to dress them.
Last edit almost 6 years ago by
Nathani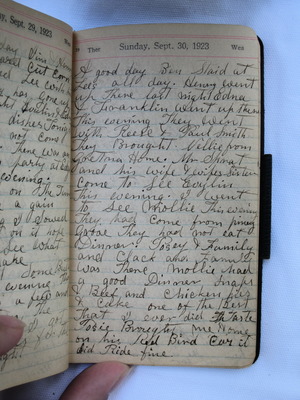 A good day. Ben staid at Lees all day. Henry went up there last night. Edna and Franklin went up there this evening. They went with Reese and Paul Smith. They brought Nellie from Gretna home. Mr. [Sprat?] and his wife and wife's sister come to see Evylin this evening. I went to see Mollie this evening. They had come from Piney Grove. They had not eat dinner. Posey and family and Clack and family was there. Mollie had a good dinner. Snaps and beef and chicken pies and cake. One of the best that I ever did taste. Posie brought me home on his Red Bird car. It did ride fine.
Last edit over 5 years ago by
Nathani