Search for cement*
1923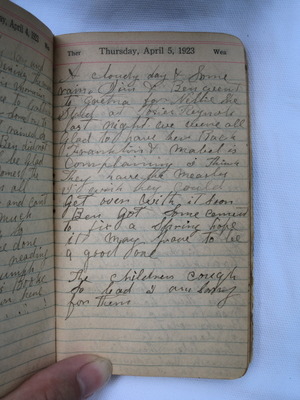 A cloudy day and some rain. Jim and Ben went to Gretna for Nellie. She staid at Posey Reynolds last night. We were all glad to have her back. Franklin and Mabel is complaining. I think they have the measles. I wish they could get over with it soon. Ben got some cement to fix a spring. Hope it may prove to be a good one. The children cough so bad I am sorry for them.
Last edit almost 7 years ago by
Nathani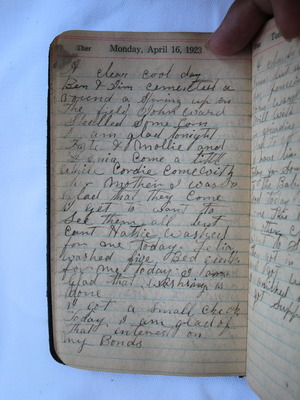 A clear cool day. Ben and Jim cemented a round a spring up in the field. John Ward shelled some corn. I am glad tonight. Fate[?] and Mollie and Denia come a little while Cordie come with her mother. I was so glad that they come. I get to want to see them all but cant. Hattie washed for me today. Lelia washed five bed quilts for me today. I am glad that washing is done. I got a small check today. I am glad of that interest on my bonds.
Last edit almost 7 years ago by
Nathani