Search for Mosman*
Allsop Diary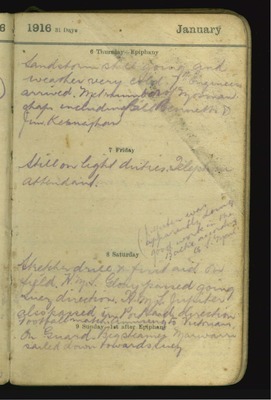 January 1916
6 Thursday
Sandstorm still going and weather very cold 7th engineers arrived. Met number of Mosman chaps including [Bill Bennett] & Jim Kernaghan
7 Friday
Still on light duties. Telephone attendant.
(Jupiter was apparently doing good work in the Baltic according to [?. Sy?])
8 Saturday
Stretcher drill & first aid on field. H.M.S Glory passed going Suez direction. H.M.S Jupiter also passed in Port Said direction Football match. Amusing to Victorian
9 Sunday
On guard. Big steamer Marwarri sailed down towards Suez
Last edit about 7 years ago by
twofruits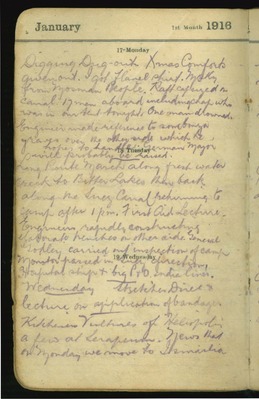 January 1916
17 Monday
Digging Dug-out. Xmas Comforts given out. I got flanel shirt. Mostly from Mosman people. Raft capsized in canal. 17 men aboard including chap who was in our tent tonight. One man drowned. Engineer made reference to some bonza graves over the other side which he hopes to handle. German Major will probably be [?]
18 Tuesday
Long Route March along fresh water creek to Bitter lakes then back along the Suez Canal retiring to camp after 1 pm. First Aid lecture Engineers rapidly constructing elaborate trenches on other side. General [Godley] carried out inspection of camp Monitor passed in Suez direction. Hospital ship & big P&O. India liner.
19 Wednesday
Stretcher drill & lecture on application of bandages. Kitchener's Vultures of Heliopolis a few at Serapeum. News that on Monday we move to Ismailia
Last edit over 3 years ago by
Lenore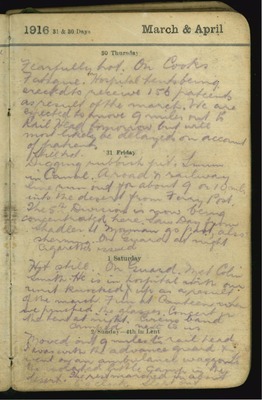 March & April 1916
30 Thursday
Fearfully hot. On Cooks Fatigue. Hospital tent being erected to receive 156 patients as result of the march. We are expected to move 9 miles out to Rail Head tomorrow but will most likely be delayed on account of patients.
31 Friday
Still hot. Digging rubbish pit. Swim in Canal. A road & railway line runs out for about 9 or 10 miles into the desert from Ferry Post. The 5th Division is now being concentrated here. Saw Day from Shadler St Mosman go past, also [sherring?]. On Guard at night Cigarettes issued
1 Saturday
Hot still. On Guard. Met Colin Smith. He is in hospital with our unit knocked up as a result of the march. Fun at Canteen when we pinched the glasses. Concert in the tent at night. Circus band camped next to us.
2 Sunday
Moved out 9 miles to Rail Head I was with the advance guard & went on an ambulance waggon the [?] but the camp in the desert. The rest marched in about 6 o'clock, slept out.
Last edit over 3 years ago by
Lenore
E.S. "Gordon" Lacey - Diary 2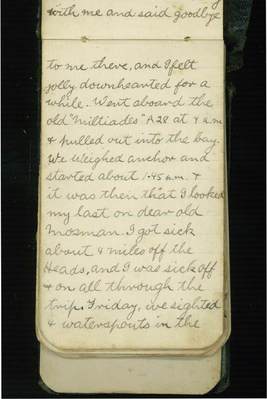 to me there, and I left jolly downhearted for a while. Went aboard the old "Miltiades" A28 at 7 a.m. & pulled out into the bay. We weighed anchor and started about 1.45 p.m. & it was then that I looked my last on dear old Mosman. I got sick about 4 miles off the Heads, and I was sick off & on all through the trip. Friday, we sighted 4 waterspouts in the
Last edit about 7 years ago by
twofruits
E.S. "Gordon" Lacey - Diary 3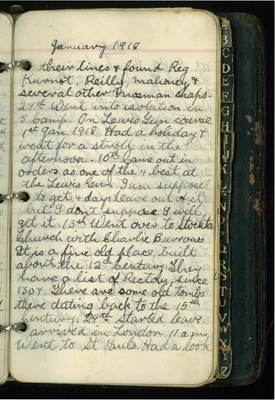 January 1918
their lines & found Reg Kurnot, Reilly, Mahoney & several other Mosman chaps. 27th Went into isolation in 5 Camp. On Lewis Gun course 1st Jan. 1918. Had a holiday & went for a stroll in the afternoon. 10th Came out in orders as one of the 4 best at the Lewis Gun. I am supposed to get 4 days leave out of it but I dont suppose I will get it. 13th Went over to Stockton Church with Charlie Burrows It is a fine old place, built about the 12th Century. They have a list of Rectors, since 1307. There are some old tombs there dating back to the 15th Century. 24th. Started leave arrived in London 11am Went to St Pauls. Had a look
Last edit about 7 years ago by
carolyw