Search for London*
E.S. "Gordon" Lacey - Diary 3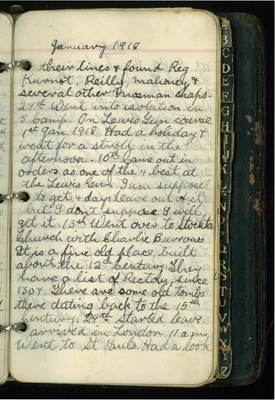 January 1918
their lines & found Reg Kurnot, Reilly, Mahoney & several other Mosman chaps. 27th Went into isolation in 5 Camp. On Lewis Gun course 1st Jan. 1918. Had a holiday & went for a stroll in the afternoon. 10th Came out in orders as one of the 4 best at the Lewis Gun. I am supposed to get 4 days leave out of it but I dont suppose I will get it. 13th Went over to Stockton Church with Charlie Burrows It is a fine old place, built about the 12th Century. They have a list of Rectors, since 1307. There are some old tombs there dating back to the 15th Century. 24th. Started leave arrived in London 11am Went to St Pauls. Had a look
Last edit almost 7 years ago by
carolyw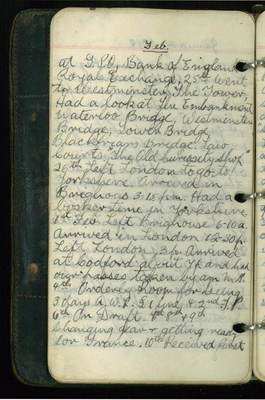 Feb.
at G.P.O., Bank of England, Royal Exchange. 25th Went to Westminster, The Tower, Had a look at The Embankment Waterloo Bridge, Westminster Bridge, Tower Bridge, Blackfriars Bridge. Law Courts. "The Old Curiousity Shop" 26th Left London to go to Yorkshire. Arrived in Brighouse 3.15pm. Had a bosker time in Yorkshire. 1st Feb. Left Brighouse 6.10a. Arrived in London 12.30p. Left London 3p. Arrived at Codford about 7p and had our passes taken by an [M.B.?] 4th Orderly Room for being 3 days A.W.L.? fine & 2nd F.P. 6th On Draft. 7th 8th & 9th Changing gear & getting ready for France. 10th Received first
Last edit almost 7 years ago by
carolyw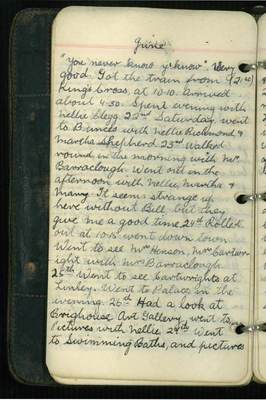 June
"You never know, y'know". Very good. Got the train from King's Cross, at 10-10. Arrived about 4-30. Spent evening with Nellie Clegg. 22nd Saturday. Went to Bunces with Nellie Richmond, & Martha Shepherd. 23rd Walked round in the morning with Mrs Barraclough. Went out in the afternoon with Nellie, Martha & Mary. It seems strange up here without Bill, but they give me a good time. 24th Rolled out at 10-15 went down town. Went to see Mrs Henson, Mrs Cartwr- -ight with Mrs Barraclough. 25th Went to see Cartwrights at Linley. Went to Palace in the evening. 26th Had a look at Brighouse Art Gallery, went to pictures with Nellie. 24th Went to Swimming Baths, and pictures
Last edit almost 7 years ago by
twofruits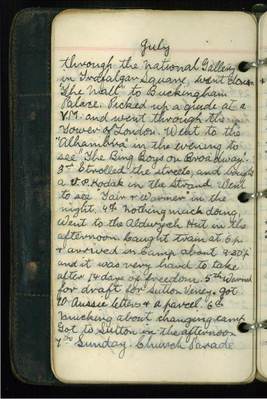 July
through the National Gallery in Trafalgar Square, went down 'The Mall' to Buckingham Palace. Picked up a guide at a V.M. and went through the Tower of London. Went to the "Alhambra" in the evening to see "The Bing Boys on Broadway". 3rd Strolled the streets, and bought a V.P. Kodak in The Strand. Went to see "Fair & Warmer" in the night. 4th Nothing much doing Went to the Aldwych Hut in the afternoon. Caught train at 6p. & arrived in Camp about 9-30 p. and it was very hard to take after 14 days of freedom. 5th Warned for draft for Sutton Veney. Got 10 Aussie letters & a parcel. 6th Mucking about changing camp Got to Sutton in the afternoon 7th Sunday. Church Parade
Last edit almost 7 years ago by
twofruits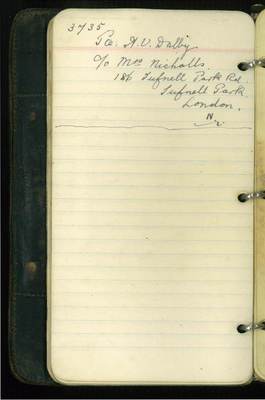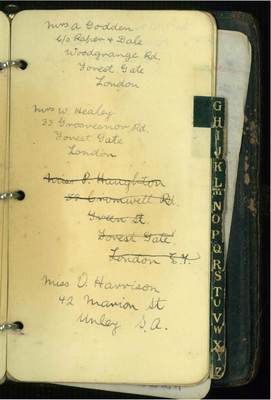 Mrs A Godden C/o Raper & Dale Woodgrange Rd. Forest Gate London
Mrs W. Healey 33 Grosvesnor Rd. Forest Gate London
[crossed out] Miss P. Haughton [crossed out] 58 Cromwell Rd. [crossed out] Green St. [crossed out] Forest Gate. [crossed out] London E.Y.
Miss D Harrison 42 Marion St Unley S.A.
Last edit almost 7 years ago by
twofruits