Search for "Suez Canal"
Allsop Diary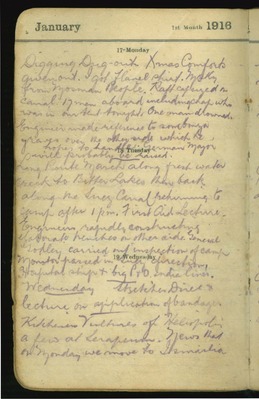 January 1916
17 Monday
Digging Dug-out. Xmas Comforts given out. I got flanel shirt. Mostly from Mosman people. Raft capsized in canal. 17 men aboard including chap who was in our tent tonight. One man drowned. Engineer made reference to some bonza graves over the other side which he hopes to handle. German Major will probably be [?]
18 Tuesday
Long Route March along fresh water creek to Bitter lakes then back along the Suez Canal retiring to camp after 1 pm. First Aid lecture Engineers rapidly constructing elaborate trenches on other side. General [Godley] carried out inspection of camp Monitor passed in Suez direction. Hospital ship & big P&O. India liner.
19 Wednesday
Stretcher drill & lecture on application of bandages. Kitchener's Vultures of Heliopolis a few at Serapeum. News that on Monday we move to Ismailia
Last edit about 3 years ago by
Lenore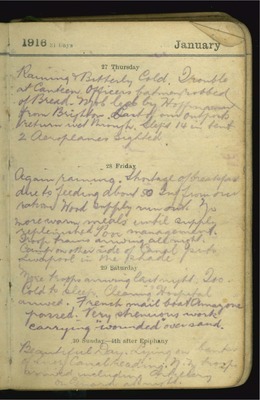 January 1916
27 Thursday
Raining & Bitterly Cold. Trouble at Canteen. Officers batman robbed of Bread. Mob [lead] by [Hoffmann ?] from Brighton. Last of our outposts return wet through. Slept 14 in tent. 2 Aeroplanes sighted
28 Friday
Again raining. Shortage of breakfast due to feeding about 50 Inf from our ration Wood supply run out. No more warm meals until supply replenished Poor management. Troop trains arriving all night. Camp on other side of Canal puts Liverpool in the shade
29 Saturday
More troops arriving last night. Too Cold to sleep. Clearing Hospital arrived. French mail boat Amazone passed. Very strenuous work carrying "wounded" over sand.
30 Sunday
Beautiful Day. Lying on banks of Suez Canal reading. N. Z. troops arrived including artillery on guard all night.
Last edit about 3 years ago by
Lenore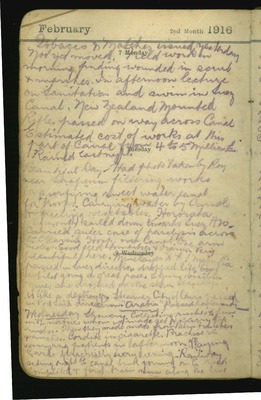 February 1916
7 Monday
Tobacco & Matches issued yesterday Not yet moved. Field work in morning finding wounded in scrub & marshes. In afternoon lecture on Sanitation and swim in Suez Canal. New Zealand Mounted Rifles passed on way across Canal Estimated cost of works at this part of Canal & down 4 to 5 million £ Rained last night.
8 Tuesday
Beautiful day. Had photo taken by Roy near Serapeum filtering works for purifying sweet water Canal for troops. Carrying water by Camels & peeling vegetables. Hororata (Plymouth) sailed down towards Suez A20. Carried queer case of paralysis across to Clearing Hosp. over Canal. One arm useless. Good feed tomatoes & oranges very plentiful here. Minelayer H.M.S. Magnolia passed in Suez direction, dropped life boat whilst going a great pace. 2 guns visible & mines were dropped over the sides. The ship is like a destroyer. Steamer City of Cairo passed in Port Said direction. "Arabia" passed afterwards.
9 Wednesday
Showering. Collecting rushes to [?] with natives whom we made get & carry the rushes. Then they made mats from palm branches & rushes. Cordite in cigarette. Practice in carrying patients in afternoon. Playing cards practically every evening. Railway siding right to Canal bank going on to road completed & first train run along the line.
Last edit about 3 years ago by
Lenore