Search for Serapeum*
Allsop Diary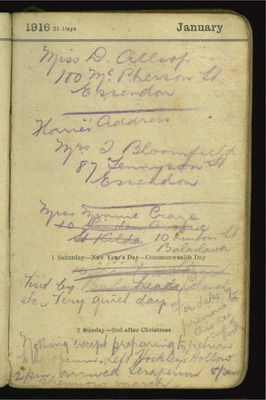 1916 January
Miss D. Allsop 180 Mc. Pherson St Essendon
[Horrie's] Address Mrs I Bloomfield 87 [Tennyston] St Essendon
Miss Minnie [Craze] [crossed out] 10 Linden Avenue [crossed out] St Kilda 10 Linton St Balaclava
1 Saturday
Visit by Colonel etc, very quiet day
Two dates previous to this see end of book
2 Sunday
Nothing except preparing to return to Serapeum. Left Hockley's Hollow 2km, arrived Serapeum 5pm strenuous march
Last edit about 3 years ago by
Lenore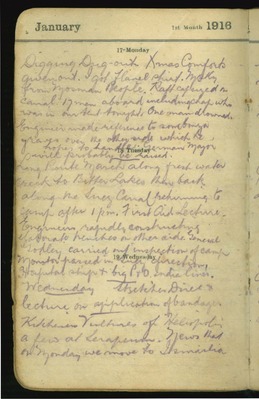 January 1916
17 Monday
Digging Dug-out. Xmas Comforts given out. I got flanel shirt. Mostly from Mosman people. Raft capsized in canal. 17 men aboard including chap who was in our tent tonight. One man drowned. Engineer made reference to some bonza graves over the other side which he hopes to handle. German Major will probably be [?]
18 Tuesday
Long Route March along fresh water creek to Bitter lakes then back along the Suez Canal retiring to camp after 1 pm. First Aid lecture Engineers rapidly constructing elaborate trenches on other side. General [Godley] carried out inspection of camp Monitor passed in Suez direction. Hospital ship & big P&O. India liner.
19 Wednesday
Stretcher drill & lecture on application of bandages. Kitchener's Vultures of Heliopolis a few at Serapeum. News that on Monday we move to Ismailia
Last edit about 3 years ago by
Lenore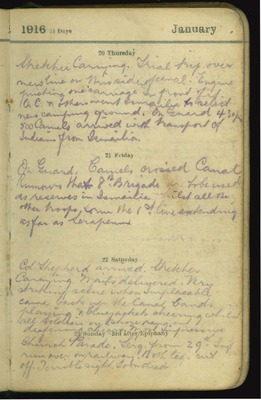 January 1916
20 Thursday
Stretcher Carrying. Trial trip over new line on this side of canal. Engine pushing one carriage in front of it. O.C. & others went Ismailia to select new camping ground. On Guard 4.30 pm. 500 Camels arrived with transport of Indians from Ismailia.
21 Friday
On Guard. Camels crossed Canal Rumours that 8th Brigade are to be used as reserves in Ismailia whilst all the other troops form the 1st line extending as far as Serapeum
22 Saturday
Col. Shepherd arrived. Stretcher Carrying. Mails delivered. Very striking scene when Implacable came back up the canal bands playing & bluejackets cheering whilst all soldiers on shore rang out deafening cheers. Most impressive
23 Sunday
Church Parade. Serg. from 29th Inf run over on railway. Both legs cut off. Terrible sight. Soon died.
Last edit almost 7 years ago by
twofruits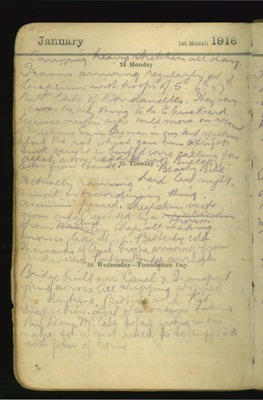 January 1916
24 Monday
Carrying heavy stretchers all day Trains arriving regularly out of Serapeum with troops of 5th, 6th & 7 Batt late of Dardanelles. They say it was the only thing to do to leave Dard. because neither side could move on account of Machine Guns. One man in our tent speaking about the rat which gave him a fright. Turk caught in barbed wire calling for Allah " soon riddled with bullets. Letter from Bank "Beachy Bill"
25 Tuesday
Actually raining hard last night A most extraordinary thing. Ascanius passed. Sheepskin vests given out - Presented by a [person] from Aust. Chaps all making noises like sheep. Bitterly cold. Thousands of Aust. troops arriving from Dardanelles Pontoon Bridge arrived
26 Wednesday
Bridge built over canal & transport going across all shipping stopped in daytime. Bitterly cold. Kit inspection. List of shortages taken Pay Day. McCabe when giving in his [name?] for a jest asked to be supplied with pair of horns.
Last edit about 3 years ago by
Lenore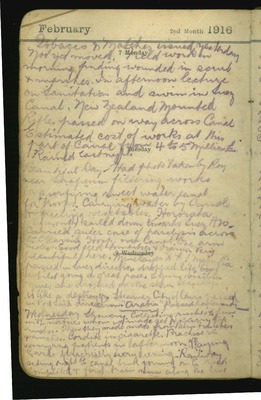 February 1916
7 Monday
Tobacco & Matches issued yesterday Not yet moved. Field work in morning finding wounded in scrub & marshes. In afternoon lecture on Sanitation and swim in Suez Canal. New Zealand Mounted Rifles passed on way across Canal Estimated cost of works at this part of Canal & down 4 to 5 million £ Rained last night.
8 Tuesday
Beautiful day. Had photo taken by Roy near Serapeum filtering works for purifying sweet water Canal for troops. Carrying water by Camels & peeling vegetables. Hororata (Plymouth) sailed down towards Suez A20. Carried queer case of paralysis across to Clearing Hosp. over Canal. One arm useless. Good feed tomatoes & oranges very plentiful here. Minelayer H.M.S. Magnolia passed in Suez direction, dropped life boat whilst going a great pace. 2 guns visible & mines were dropped over the sides. The ship is like a destroyer. Steamer City of Cairo passed in Port Said direction. "Arabia" passed afterwards.
9 Wednesday
Showering. Collecting rushes to [?] with natives whom we made get & carry the rushes. Then they made mats from palm branches & rushes. Cordite in cigarette. Practice in carrying patients in afternoon. Playing cards practically every evening. Railway siding right to Canal bank going on to road completed & first train run along the line.
Last edit about 3 years ago by
Lenore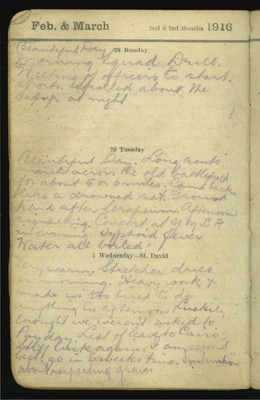 Feb. & March 1916
28 Monday
Beautiful Day Morning Squad Drill. Meeting of officers to start sports. Strolled about the [camp] at night
29 Tuesday
Beautiful Day. Long route march across the old battlefield for about 5 or 6 miles. Came back like a drowned rat. Ground hard after Serapeum. Afternoon signalling. Concert at Y.M.C.A in evening Typhoid fever Water all boiled
1 Wednesday
Very warm. Stretcher drill in morning. Heavy work & made us too tired to do anything in afternoon. Luckily enough we weren't asked to. Pay day. List of leave to Cairo Stiff luck again. I am second last go in 6 weeks time. Instruction about respecting graves.
Last edit about 3 years ago by
Lenore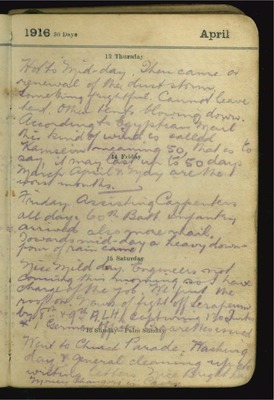 April 1916
13 Thursday
Hot to Mid-day, Then came a renewal of the dust storm. Something frightful. Cannot leave tent. Other tents blowing down. According to Egyptian mail this kind of wind is called Kamsein meaning 50, that is to say, it may last up to 50 days March, April & May are the worst months.
14 Friday
Assisting Carpenters all day. 60th Batt. Infantry arrived also more mail. Towards mid-day a heavy down- pour of rain came
15 Saturday
Nice mild day. Engineers not coming this morning so I have charge of the job. We put the roof on. News of fight off Serapeum by 8th & 9th A.LH capturing 130 turks & 1 German officer. Cigarettes issued
16 Sunday
Went to Church Parade. Washing day & general cleaning up etc. writing letters. Nice bright day Money changers in Cairo
Last edit almost 7 years ago by
twofruits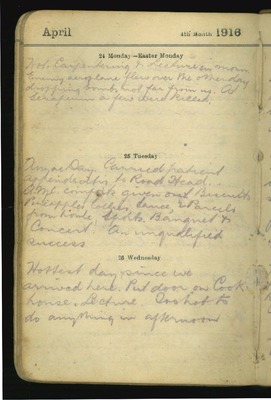 April 1916
24 Monday
Hot. Carpentering & Lecture in morn. Enemy aeroplane flew over the other day dropping bombs not far from us. At Serapeum a few were killed.
25 Tuesday
Anzac Day. Carried patient appendicitis to Road Head. A.M.C. comforts given out Biscuits Pineapples, Lollies, Sauce, 2 Parcels from home. Sports. Banquet & Concert. An unqualified success
26 Wednesday
Hottest day since we arrived here. Put door on Cook house. Lecture. Too hot to do anything in afternoon
Last edit almost 7 years ago by
twofruits