About
This volume contains all published documents which do not require transcription. They have OCR text that requires some clean up.
Works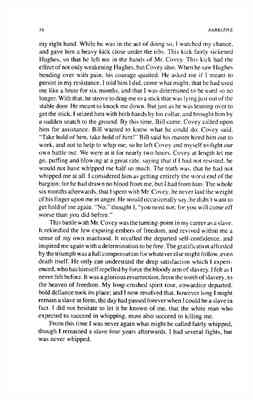 BRUTALITY AND DECEITFULNESS OF EDWARD COVEY. MUSINGS ON WHITE SAILS ON THE CHESAPEAKE. THOMAS AULD'S REFUSAL TO INTERVENE AGAINST COVEY. SUPERNATURAL ASSISTANCE FROM SANDY JENKINS. BATTLE WITH COVEY. REMAINING EMBERS OF FREEDOM REVIVED. END OF SERVICE UNDER COVEY. CHRISTMAS HOLIDAYS FOR SLAVES....
25 pages: 0% indexed, 28% corrected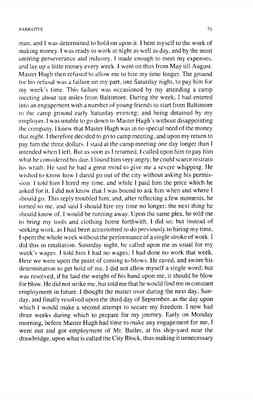 DISCONTENT AT BEING A SLAVE INCREASED WHILE HIRED OUT. DETAILS OF ESCAPE WITHHELD. ASSISTANCE FROM DAVID RUGGLES. MARRIAGE TO ANNA MURRAY. SETTLEMENT IN NEW BEDFORD, MASSACHUSETTS. CHANGE OF NAME. COMPARISON OF NORTHERN AND SOUTHERN ECONOMIES. INTRODUCTION TO THE ABOLITIONISTS.
11 pages: 0% indexed, 91% corrected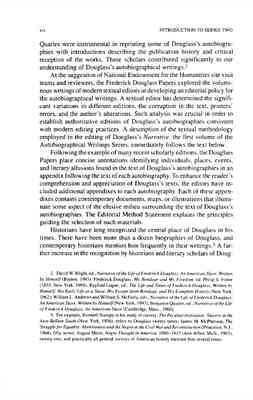 4 pages: 0% indexed, 25% corrected, 25% needs review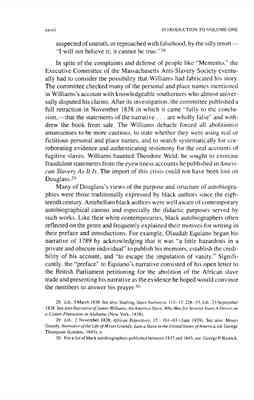 34 pages: 0% indexed, 94% corrected
DOUGLASS'S FIRST SPEECH TO AN ABOLITIONIST MEETING. THE EFFECTIVE TESTIMONY OF DOUGLASS AND OTHER BLACK ABOLITIONISTS. DOUGLASS'S NARRATIVE RECOUNTS THE INHUMANE NATURE OF SOUTHERN SLAVERY (1 MAY 1845)
8 pages: 0% indexed, 38% corrected
Subject Categories