About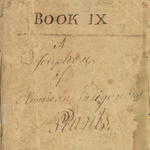 The collection from the Botany Libraries, Archives of the Gray Herbarium, includes
Manasseh Cutler papers, consisting of notebooks of observations of plants, notebooks of extracts from books and letters, dated from 1782 to 1808, and a small group of loose materials, which includes material created in 1856 after Cutler's death.
Stephen Elliott papers, consisting of manuscripts and research notes, some in Elliott's hand and some in other hands; subscription forms for his A sketch of the botany of South-Carolina and Georgia; and correspondence, mostly to Elliott from fellow botanists, dated from 1791 to 1829.
Colonial North America at Harvard Library provides access to remarkable and wide-ranging materials digitized as part of an ongoing, multi-year project. When complete, the project will make available to the world approximately 650,000 digitized pages of all known archival and manuscript materials in the Harvard Library that relate to 17th- and 18th-century North America. Each item is connected to countless stories—of lives lived quietly and extravagantly, of encounters peaceful and volatile, and of places near and far – providing an opportunity to travel back in time, to rethink familiar stories, and to discover new ones.
Works
Contains an undated broadside regarding the formation of the Literary and Philosophical Society of South Carolina in 1814; undated fragments and lists of books, medical texts, scientists, authors, and political figures; and lists of books and invoices, including an undated manuscript list of...
38 pages: 97% transcribed, 26% needs review
Correspondence from German entomologist and ornithologist Friedrich Boie (1789-1870) to Elliott in German, dated September 28, 1818. Included is a contemporary manuscript translation of the letter, which mentions Boie's Scandinavian travels to research birds, his interest in receiving American...
4 pages: 100% transcribed, 50% needs review
Correspondence in German from W.C. Stueve in Philadelphia, Pennsylvania, to Elliott, dated October 20, 1817, accompanied by a list of European plant names.
4 pages: 100% transcribed, 100% needs review
Manuscript notes on 280 species of plants by Stephen Elliott, with observations dated from 1810 to 1814 that were included in his A sketch of the botany of South-Carolina and Georgia, published from 1816 to 1824.
Some pages still need work. Help out!
261 pages: 37% transcribed, 1% needs review
Typed list of plant names from Stephen Elliott botanical manuscript, 1810-1814, and the dates, page numbers, and sometimes his descriptions, probably created by Arnold Arboretum Librarian Lazella Schwarten in circa 1947.
20 pages: 100% corrected, 65% needs review