About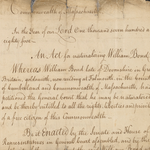 Colonial North America at Harvard Library provides access to remarkable and wide-ranging materials digitized as part of an ongoing, multi-year project. When complete, the project will make available to the world approximately 650,000 digitized pages of all known archival and manuscript materials in the Harvard Library that relate to 17th- and 18th-century North America. Each item is connected to countless stories—of lives lived quietly and extravagantly, of encounters peaceful and volatile, and of places near and far – providing an opportunity to travel back in time, to rethink familiar stories, and to discover new ones.
Works
All works are fully transcribed.
Contains an indenture and agreement for William Bond, Sr., to apprentice with a goldsmith in 1769; a naturalization certificate for William Bond, Sr., dated 1785; and a fragment of a document from 1809 possibly related to the will of Thomas Bond, witnessed by Plymouth, Massachusetts, Mayor...
12 pages: 100% complete (0% indexed, 100% transcribed)
Subject Categories