About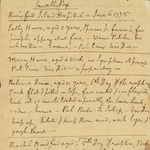 Colonial North America at Harvard Library provides access to remarkable and wide-ranging materials digitized as part of an ongoing, multi-year project. When complete, the project will make available to the world approximately 650,000 digitized pages of all known archival and manuscript materials in the Harvard Library that relate to 17th- and 18th-century North America. Each item is connected to countless stories—of lives lived quietly and extravagantly, of encounters peaceful and volatile, and of places near and far – providing an opportunity to travel back in time, to rethink familiar stories, and to discover new ones.
Works
Volume of notes for lectures by University of Pennsylvania Professor of Materia Medica Benjamin Smith Barton (1766-1815), circa 1796-1798. Includes an introduction and remarks on materia alimentaria (food), followed by lectures on astringents, tonics, emetics, stimulants, and other therapies....
674 pages: 99% complete (62% indexed, 100% transcribed)
Contains medicinal formulas recorded by Dr. Elijah Dix in 1768 while he studied medicine with Dr. William Greenleaf, a druggist in Boston, Massachusetts. Included are recipes for pills, electuaries, elixirs, ointments, and powders, using ingredients such as camphor, opium, oyxmel (honey and...
Collaboration is restricted.
106 pages: 21% complete (17% indexed, 24% transcribed, 2% needs review)
Contains three handwritten copies of an itemized bill to the town of Newbury, Massachusetts, that list the sundry expenses of Dr. David Little (1740-1805) during his attendance at a smallpox hospital between October 1793 and February 1794. The account statements are accompanied by a list of the...
20 pages: 45% complete (5% indexed, 100% transcribed, 55% needs review)
Contains eleven pages of notes on medicine and recipes in multiple hands, primarily from the seventeenth century, and several patient case histories from the eighteenth century. Also includes a typed twentieth century note on the contents of the material.
Collaboration is restricted.
23 pages: 56% complete (22% indexed, 83% transcribed, 26% needs review)
Contains medicinal recipes and directions for administering them, written in various hands, for illnesses including consumption, colic, and ague, in circa 1737. There are also instructions for compounding syrup of snails and for treating a rabies bite.
Collaboration is restricted.
32 pages: 25% complete (22% indexed, 47% transcribed, 22% needs review)
Diary entries containing observations on and properties of local wildflowers, presumably near Gloucester, Massachusetts, written by Dr. Henry Phelps (1766-1852). The entry on geranium maculatum notes that particular plant is "powerfully astringent," and when used in conjunction with the plant...
Collaboration is restricted.
7 pages: 28% complete (0% indexed, 29% transcribed)
The Suffolk Medical Society records, 1785-1789 (inclusive), consist of: a 1785 manuscript proposing the formation of the society; 1788-1789 record of meetings; 1787-1788 records of transactions of a council of the society; records of votes and proceedings dated from 1785 to 1789; several...
Collaboration is restricted.
72 pages: 12% complete (1% indexed, 28% transcribed, 15% needs review)
Volume containing lecture notes of Harvard Medical School Professor John Warren (1753-1815) beginning on 10 December 1783 for the first course in anatomy he taught. The lectures were delivered in Harvard Yard, probably in Holden Chapel. Warren offers an overview of the history of medicine and...
Collaboration is restricted.
254 pages: 58% complete (17% indexed, 64% transcribed, 6% needs review)
Notebook contains kept by Benjamin Waterhouse (1754-1846) while he was attending medical lectures and studying at St. Thomas's Hospital in London, England, in 1775. Waterhouse's notes include lists of symptoms to be attended to in all cases, such as checking the pulse, eyes, tongue, and urine,...
Collaboration is restricted.
92 pages: 11% complete (7% indexed, 13% transcribed, 1% needs review)
Letter book containing fragments of correspondence and essays written by Benjamin Waterhouse (1754-1846) between 1790 and the mid 1830s. The correspondence was mainly addressed to United States Treasury Secretary Albert Gallatin concerning Waterhouse's position as superintendent of the United...
Collaboration is restricted.
98 pages: 5% complete (5% indexed, 21% transcribed, 16% needs review)
Subject Categories