About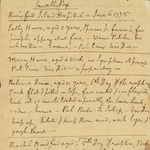 Colonial North America at Harvard Library provides access to remarkable and wide-ranging materials digitized as part of an ongoing, multi-year project. When complete, the project will make available to the world approximately 650,000 digitized pages of all known archival and manuscript materials in the Harvard Library that relate to 17th- and 18th-century North America. Each item is connected to countless stories—of lives lived quietly and extravagantly, of encounters peaceful and volatile, and of places near and far – providing an opportunity to travel back in time, to rethink familiar stories, and to discover new ones.
Works
Undated draft manuscript by William Heberden about the state of medical care and progress in the field of medicine, treatment of various diseases, and physicians' skills.
32 pages: 56% indexed, 84% transcribed, 16% needs review
Ledger containing accounts of smallpox inoculation by Dr. John Jeffries (1745-1819) at Rainsford Island Hospital in Boston, Massachusetts, from June to July 1775; at a West Boston smallpox hospital in July 1775; and in Halifax, Nova Scotia, between 1776 and 1779. The accounts include dates,...
44 pages: 20% indexed, 23% transcribed, 77% needs review
Contains three handwritten copies of an itemized bill to the town of Newbury, Massachusetts, that list the sundry expenses of Dr. David Little (1740-1805) during his attendance at a smallpox hospital between October 1793 and February 1794. The account statements are accompanied by a list of the...
20 pages: 5% indexed, 30% transcribed, 70% needs review
Contains autobiographical information and copies of correspondence written by Benjamin Waterhouse (1754-1846) from the 1790s to the early 1800s. Passages include notes on Waterhouse's tenure as Professor of Natural History at Harvard, and notes on botany, in addition to correspondence regarding...
62 pages: 66% indexed, 89% transcribed, 11% needs review
Contains an itemized bill, dated 18 November 1758, to the Province of Massachusetts Bay for sundry expenses of Dr. Thomas Williston during his attendance at a smallpox hospital in Boston in 1757. Provisions for his patients included beer, milk, butter, run, fish, pork, and assorted...
3 pages: 0% indexed, 67% transcribed, 33% needs review
Subject Categories