About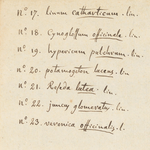 Colonial North America at Harvard Library provides access to remarkable and wide-ranging materials digitized as part of an ongoing, multi-year project. When complete, the project will make available to the world approximately 650,000 digitized pages of all known archival and manuscript materials in the Harvard Library that relate to 17th- and 18th-century North America. Each item is connected to countless stories—of lives lived quietly and extravagantly, of encounters peaceful and volatile, and of places near and far – providing an opportunity to travel back in time, to rethink familiar stories, and to discover new ones.
Works
Correspondence from British naturalist and botanist Sir Joseph Banks (1743-1820) to surveyor John Churchman (1753-1805) in Philadelphia, Pennsylvania, dated September 1, 1787, regarding Churchman's publication describing a process for determining longitude using a combination of latitude and...
2 pages: 0% indexed, 50% transcribed, 50% needs review
Correspondence in Latin from Swedish botanist Carl von Linné (1707-1778) to Swiss anatomist and naturalist Albrecht von Haller (1708-1777). One letter, dated December 23, 1736, is entitled "Botanico Consummatissimo," or perfect botanist. The other letter, dated September 26, 1749, offers...
5 pages: 0% indexed, 0% translated
Correspondence in Latin from Swedish botanist Carl von Linné (1707-1778) to Italian physician and naturalist Giovanni Antonio Scopoli (1723-1788), dated October 16, 1774. Also contains a message in French from a member of the Linnean Society in 1822. Biographical Notes Carl Linnaeus (1707-1778)...
2 pages: 0% indexed, 0% translated
Subject Categories