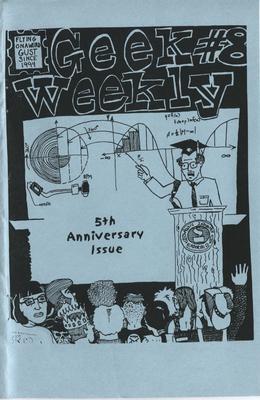 Geek Weekly #8
Flying on a weird gust since 1994
Last edit almost 6 years ago by
Jennifer Hecker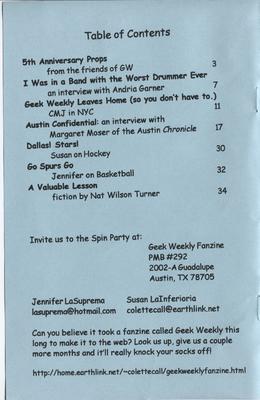 Table of Contents
5th Anniversary Props from the friends of GW 5
I Was in a Band with the Worst Drummer Ever an interview with Andria Garner 7
Geek Weekly Leaves Home (so you don't have to.) CMJ in NYC 11
Austin Confidential: an interview with Margaret Moser of the Austin Chronicle 17
Dallas! Stars! Susan on Hockey 30
Go Spurs Go Jennifer on Basketball 32
A Valuable Lesson fiction by Nat Wilson Turner 34
Invite us to the Spin Party at:
Geek Weekly Fanzine PMB #292 2002-A Guadalupe Austin, TX 78705
Jennifer LaSuprema Susan LaInferioria lasuprema@hotmail.com colettecall@earthlink.net
Can you believe it too a fanzine called Geek Weekly this long to make it to the web? Look us up, give us a couple more months and it'll really knock your socks off!
http://home.earthlink.net/~colettecall/geekweeklyfanzine.html
Last edit about 1 year ago by
Rose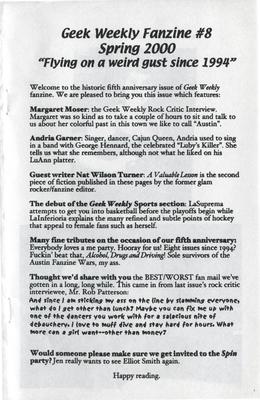 Geek Weekly Fanzine #8 Spring 2000 "Flying on a weird gust since 1994"
Welcoem to the historic fifth anniversary issue of Geek Weekly fanzine. We are pleased to bring you this issue which features:
Margaret Moster: the Geek Weekly Rock Critic Interview, Margaret was so kind as to take a couple of hours to sit and talk to use about her colorful past in this town we like to call "Austin".
Andria Garner: Singer, dancer, Cajun Queen, Andria used to sing in a band with George Hennard, the celebreated "Luby's Killer". She tells us what she remembers, although not what he liked on his LuAnn platter.
Guest writer Nat Wilson Turner: A Valuable LEsson is the secon piece of fiction published in these paged by the former glam rocker/fanzine editor.
The debut of the Geek Weekly Sports section: LaSuprema attempts to get you into basketball before the playoffs begin while LaInferioria explains the many refined and subtle points of hockey that appeal to female fans such as herself.
Many fine tributes on the occasion of our fifth anniversary: Everybody loves a me party. Hooray for us! Eight issues since 1994? Fuckin' beat that, Alcohol, Drugs, and Driving! Sole survivors of the Austin Fanzine Wars, my ass.
Thought we'd share with you the BEST/WORST fan mail we've gotten in a long, long while. This came in from last issue's rock critic interviewee, Mr. Rob Patterson:
And since I am sticking my ass on the line by slamming everyone, what do I get other than lunch? Maybe you can fix me up with one of the dancers with you work with for a salacious nite of debauchery. I love to muff dive and stay hard for hours. What more can a girl want--other than money?
Would someone please make sure we get invited to the Spin party? Jen really wants to see Elliot Smith again.
Happy reading.
Last edit about 1 year ago by
Rose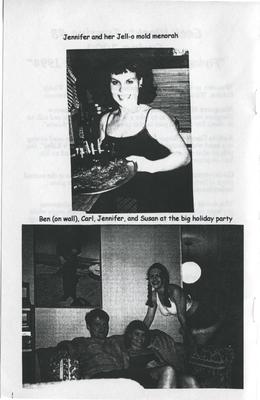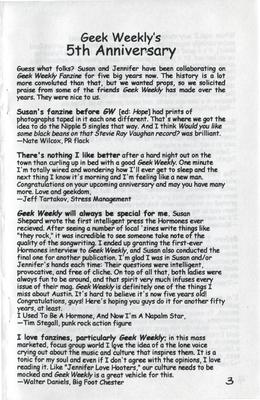 Guess what folks? Susan and Jennifer have been collaborating on Geek Weekly Fanzine for five big years now. The history is a lot more convoluted than that, but we wanted props, so we solicited praise from some of the friends Geek Weekly has made over the years. They were nice to us.
Susan's fanzine before GW [ed: Hope] had prints of photographs taped in it each one different. That's where we got the idea to do the Nipple 5 singles that way. And I think Would you like some black beans on that Stevie Ray Vaughan record? was brilliant. --Nate Wilcox, PR flack
There's nothing I like better after a hard night out on the town than curling up in bed with a good Geek Weekly. One minute I'm totally wired and wondering howI'll ever get to sleep and the next thing I know it's morning and I'm feeling like a new man. Congratuations on your upcoming anniversary and may you have many more. Love and geekdom. --Jeff Tartakov, Stress Management
Geek Weekly will always be special for me. Susan Shepard wrote the first intelligent press the Hormones ever recieved. After seeing a number of local 'zines write things like "they rock," it was incredible to see someone take note of the quality of the songwriting. I ended up granting the first-ever Hormones interview to Geek Weekly, and Susan also conducted the final one for another publication. I'm glad I was in Susan and/or Jennifer's hands each time: Their questions were intelligent, provocative, and free of cliche. On top of all that, both ladies were always fun to be around, and that spirit very much infuses every issue of their mag. Geek Weekly is definitely one of the things I miss about Austin. It's hard to believe it's n ow five years old! Congratuations, guys! Here's hoping you guys do it for another fifty years, at least. I used To Be A Hormone, And Now I'm A Napalm Star. --Tim Stegall, punk rock action figure
I love fanzines, particularly Geek Weekly: in this mass marketed, focus group world I love the idea of a the lone voice crying out about the music and culture that inspires them. It is a tonic for my soul and even if I don't agree with the opinions, I love reading it. "Jennifer Love Hooters," our culture needs to be mocked and Geek Weekly is a great vehicle for this. --Walter Daniels, Big Foot Chester
3
Last edit about 2 years ago by
terriertle17