About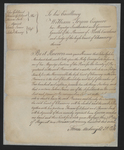 About the TranscribeNC Project
Colonial Court Records contain information regarding the court records of North Carolina during the colonial period (late 1600s through the 1700s) when the colony was controlled by the lords proprietors and later the crown.
How to Help Transcribe Documents
The transcription conventions, or "rules," are located at the bottom of every page in the transcription view.
For more information, check out our Colonial Court Records Training Session with related Resource Documents or the State Archives's general Transcription Guide and FromThePage's general transcription demo video
About Us
The State Archives of North Carolina collects, preserves, manages and provides access to information that protects citizen rights, documents North Carolina history and culture, promotes transparency, and encourages stewardship of government records.
Thank you for helping us improve public access to historic documents and materials through your transcription efforts.
For more information, please visit the State Archives website
Questions?
Contact our transcription archivist - Please be sure to fill out the subject field as specifically as possible.
Works
6 pages: 0% indexed, 100% transcribed
2 pages: 0% indexed, 100% transcribed
25 pages: 0% indexed, 60% transcribed, 40% needs review
4 pages: 0% indexed, 75% transcribed, 25% needs review
14 pages: 0% indexed, 71% transcribed
20 pages: 0% indexed, 30% transcribed, 60% needs review
30 pages: 0% indexed, 23% transcribed, 3% needs review
152 pages: 1% indexed, 20% transcribed, 2% needs review
10 pages: 0% indexed, 80% transcribed, 20% needs review
5 pages: 0% indexed, 80% transcribed, 20% needs review
Displaying Work 1 - 10 of 60 in total
Subject Categories