The Marshall family of Nantucket, Mass., included teacher Helen Marshall (1851–1939); her father, whaling captain Joseph Marshall (1811–1879); and his second wife and Helen's mother, Malvina Pinkham Marshall (1820–1885). The Pinkham family of Nantucket, Mass., included whaling captain Seth...
Start Transcribing
Obed Macy (1762–1844) was a Nantucket Quaker merchant and writer whose long and varied career included work as a whaleman, shoemaker, blacksmith, and farmer. He and his brother Silvanus manufactured soap and spermaceti candles, and served as shipping agents and ship owners. In 1835, he published...
Start Transcribing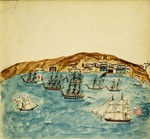 This is a collection of ships' logs and shipboard journals assembled by the Nantucket Historical Association. Logs, generally kept by captains or first mates of vessels, include daily observations of position (latitude and longitude), weather, vessels sighted, and ports visited. For whaling...
Start Transcribing