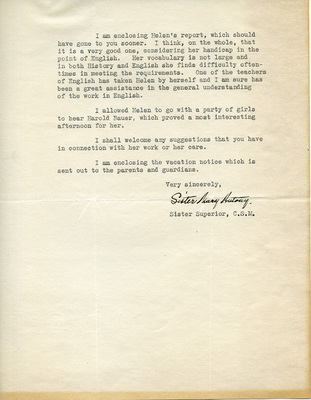 I am enclosing Helen's report, which should have gone to you sooner. I think, on the whole, that it is a very good one, considering her handicap in the point of English. Her vocabulary is not large and in both History and English she finds difficulty oftentimes in meeting the requirements. One of the teachers of English has taken Helen by herself and I am sure has been a great assistance in the general understanding of the work in English.
I allowed Helen to go with a party of girls to hear Harold Bauer, which proved a most interesting afternoon for her.
I shall welcome any suggestions that you have in connection with her work or her care.
I am enclosing the vacation notice which is sent out to the parents and guardians.
Very sincerely [signature Sister Mary Antony] Sister Superior, C.S.M.
Last edit 6 months ago by
Jannyp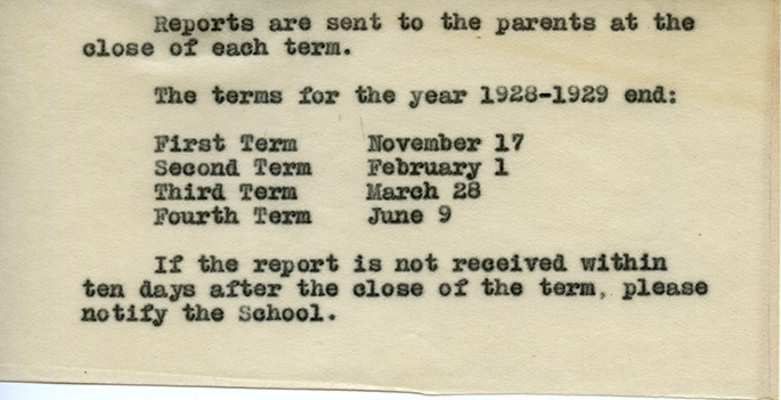 Reports are sent to the parents at the close of each term.
The terms for the year 1928-1929 end:
First Term November 17 Second Term February 1 Third Term March 28 Fourth Term June 9
If the report is not received within ten days after the close of the term, please notify the School.
Last edit 6 months ago by
Jannyp
SAINT MARY'S SCHOOL MOUNT SAINT GABRIEL, Peekskill, N.Y.
December 4, 1928
My dear Dr Stearns:
The vacation begins ... Thursday, December 20 ...
We will put your daughter ward on the train arriving at the Grand Central Station at ... 9.15 a.m. ...
She will be chaperoned across the city and will take the train leaving .......... ..................... and arriving ..........
Will you kindly notify us that she will be met or let us know if you wish to make other arrangements for her? Please acknowledge receipt of this notice by at your earliest convenience
Pupils who live at a distance are not permitted to remain in New York nor to cross the city unchaperoned.
School re-opens ... Monday Jan. 7 ... A special car will leave the Grand Central Station at ... 4.03 ...
Pupils are expected to take the special car: otherwise the school must be notified of the train by which pupil will arrive.
Yours sincerely, THE SISTERS OF SAINT MARY.
Last edit 6 months ago by
Jannyp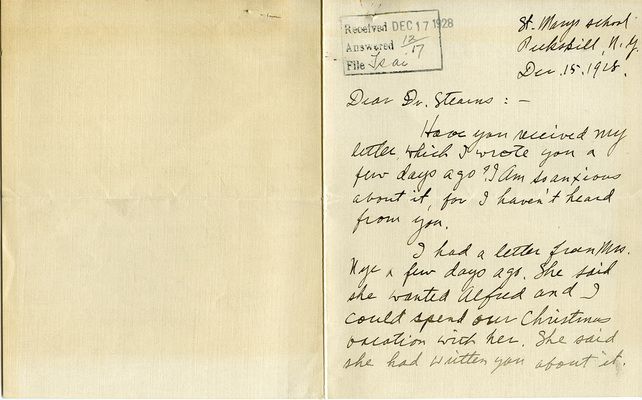 [rubber stamp Received DEC 17 1928 Answered 12/17 File Tsai]
St. Marys school Peekskill, N.Y. Dec. 15. 1928.
Dear Dr. Stearns:-
Have you received my letter which I wrote you a few days ago? I am so anxious about it, for I haven't heard from you.
I had a letter from Mrs. Nye a few days ago. She said she wanted Alfred and I could spend our Christmas vacation with her. She said she had written you about it.
Last edit 6 months ago by
Jannyp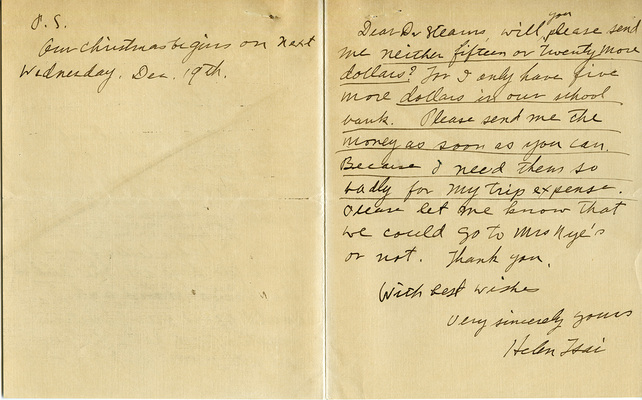 [left page] P.S. Our Christmas begins on next Wednesday, Dec. 19th.
[right page] Dear Dr Stearns, will you please send me neither fifteen or twenty more dollars? For I only have five more dollars in our school bank. Please send me the money as soon as you can. Because I need them so badly for my trip expense. Please let me know that we could go to Mrs Nye's or not. Thank you,
With best wishes
Very sincerely yours Helen Tsai
Last edit 6 months ago by
Jannyp
Displaying Page 6 - 10 of 330 in total