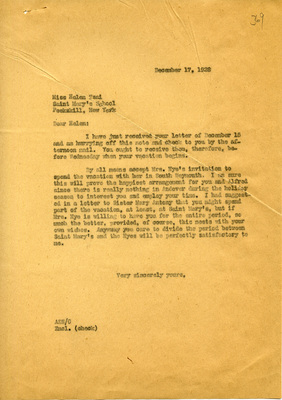 December 17, 1928
Miss Helen Tsai Saint Mary's School Peekskill, New York
Dear Helen:
I have just received your letter of December 15 and am hurrying off this note and check to you by the afternoon mail. You ought to receive them, therefore, before Wednesday when your vacation begins.
By all means accept Mrs. Nye's invitation to spend the vacation with her in South Weymouth. I am sure this will prove the happiest arrangement for you and Alfred since there is really nothing in Andover during the holiday season to interest you and employ your time. I had suggested in a letter to Sister Mary Antony that you might spend part of the vacation, at least, at Saint Mary's, but if Mrs. Nye is willing to have you for the entire period, so much the better, provided, of course, this meets with your own wishes. Anyway you care to divide the period between Saint Mary's and the Nyes will be perfectly satisfactory to me.
Very sincerely yours,
AES/C Encl. (check)
Last edit 6 months ago by
Jannyp
Deember 12, 1928
Mr. Alfred Tsai 59 Salem Street Andover, Mass.
Dear Alfred:
By all means, secure a good winter suit, and from the Burns Company if you desire. I presume that you must need a new one by this time.
Faithfully yours,
AES/C
Last edit 6 months ago by
Jannyp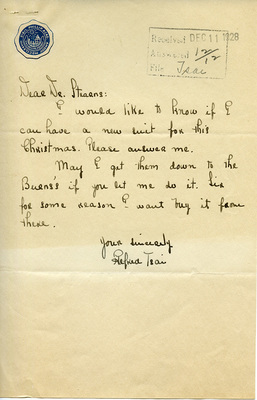 [seal of Phillips Academy] [rubber stamp Received DEC 11 1928 Answered 12/12 tick symbol File Tsai]
Dear Dr. Stearns,
I would like to know if I can have a new suit for this Christmas. Please answer me. May I get them down to Burns's if you let me do it. [Illegible] for some reason I won't buy it from there.
Your sincerely,
Alfred Tsai
Last edit 3 months ago by
Phillips Academy Archives and Special Collections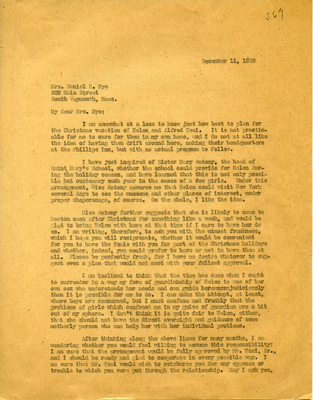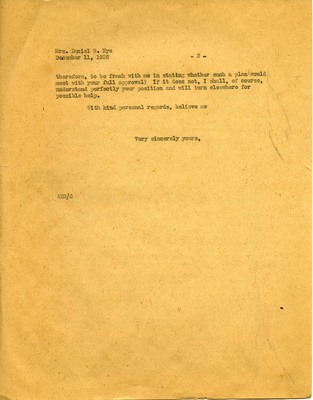 Displaying Page 11 - 15 of 330 in total