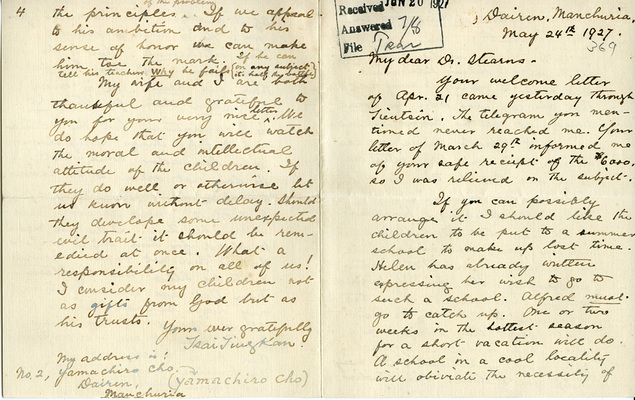 [right page]
[Rubber stamp Received June 20, 1927 Answered 7/18 File Tsai]
Darien, Manchuria May 24th, 1927
My dear Dr. Stearns,
Your welcome letter of Apr. 21 came yesterday through Tientsin. The telegram you mentioned never reached me. Your letter of March 29th informed me of your safe receipt of the $6,000 so I was relieved on the subject. If you can possibly arrange it I should like the children to be put to a summer school to make up lost time. Helen has already written expressing her wish to go to such a school. Alfred must go to catch up. One or two weeks in the hottest season for a short vacation will do. A school in a cool locality will obviate the necessity of
[left side]
4 the priciples of the problem. If we appeal to his ambition and to his sense of honor we can make him toe the mark. If he can tell his teachers why he fails (on any subject it's half the battle). My wife and I are both thankful and grateful to you for your very nice letter. We do hope that you will watch the moral and intellectual attitude of the children. If they do well or otherwise let us know without delay. Should they develop some unexpected evil trait it should be remedied at once. What a responsibility on all of us! I consider my children not as gifts from God but as his trusts. Yours ever gratefully Tsai Ting Kan
My address is: No. 2, Yamachiro Cho Darien, Manchura
Last edit 3 months ago by
Phillips Academy Archives and Special Collections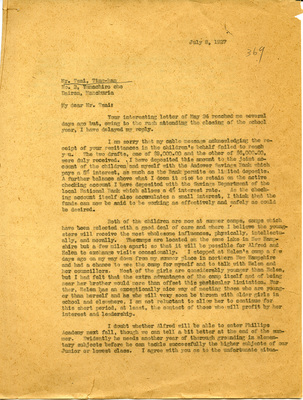 July 8, 1927
Mr. Tsai, Ting-Kan No. 2, Yamachiro cho Dairen, Manchuria
My dear Mr. Tsai:
Your interesting letter of May 24 reached me several days ago but, owing to the rush attending the closing of the school year, I have delayed my reply.
I am sorry that my cable message acknowledging the receipt of your remittances in the children's behalf failed to reach you. The two drafts, one of $9,000.00 and the other of $6,000.00, were duly received. I have deposited this amount to the joint account of the children and myself with the Andover Savings Bank which pays a 5% interest, as much as the Bank permits on limited deposits. A further balance above what I deem it wise to retain on the active checking account I have deposited with the Savings Department of the local National Bank which allows a 4% interest rate; As the checking account itself also accumulates a small interest, I think that the funds can now be said to be working as effectively and safely as could desired.
Both of the children are now at summer camps, camps which have been slected with a good deal of care and where I believe the youngsters will receive the most wholesome influences, physically, intellectually, and morally. The camps are located on the same lake in New Hampshire but a few miles apart: that it wil be possible for Alfred and Helen to exchange visits occasionally. I stopped at Helen's camp a few days ago on my way down from my summer palace in northern New Hampshire and had a chance to see the camp for myself and to talk with Helen and her councillors. Most of the girls are considerably younger than Helen, but I had felt that the extra advantages of the camp itself and of being near her brother would more than offset this particular limitation. Further, Helen has an exceptionally nice way of meeting those who are younger than herself and as she will very soon be thrown iwht older girls in school and elsewhere, I am not reluctant to allow her to continue for this short period, at least, the contact of those who will profit by her interest and leadership.
I doubt whether Alfred will be able to enter Phillips Academy next fall, though we can tell a bit better at the end of summer. Evidently he needs another year of thorough grounding in elementary subjects before he can tackle successfully the higher subjects of our Junior or lowest class. I agree with you as to the unfortunate situa-
Last edit 3 months ago by
bfu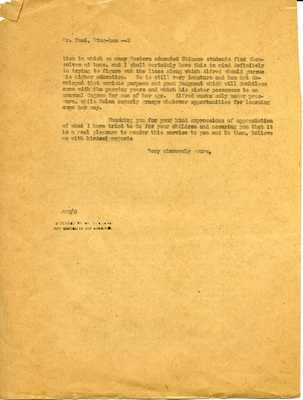 Mr. Tsai, Ting-kan --2
tion in which so many Western educated Chinese students find themselves at home, and I shall certainly have this in mind definitely in trying ot figure out the lines along which Alfred should pursue his higher educaiton. He is still very immature and has not developed that serious purpose and good judgement which will doubtless come with the passing years and which his sister possesses to an unsual degree for one of her age. Alfred works only under pressure, while Helen eagerly grasps whatever opportunities for learning come her way.
Thanking you for your kind expressions of appreciation of what I have tried to do for your children and [assuring?] you that it is a real pleasure to render this service to you and to them, believe me with kindest regards
Very sincerely yours, AES/G
[stamped: dictated by Mr. Stearns but signed in his absence.]
Last edit 3 months ago by
bfu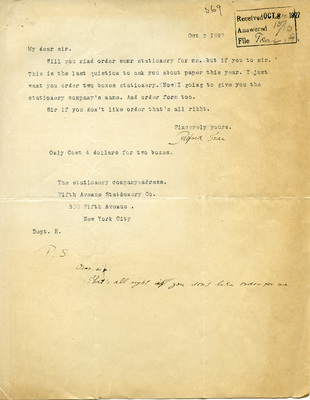 Displaying Page 326 - 330 of 330 in total