Description
Sir Richard Graves MacDonnell (1814-1881), governor, was born on 3 September 1814 in Dublin, the eldest son of Dr Richard MacDonnell (1787-1867), fellow and from 1852 provost of Trinity College, and his wife Jane, second daughter of the dean of Ardagh, Richard Graves (1763-1829). Privately tutored, in 1829 he entered Trinity College (B.A., 1835; M.A., 1836; LL.B., 1845; LL.D., 1862). Called to the Irish Bar in 1838 and to Lincoln's Inn in 1841, he practised in London until he was appointed chief justice of Gambia on 20 July 1843. Despite the climate he was a competent judge. In October 1847 he became governor of the British settlements on the Gambia, where he organized several expeditions into the interior and among his adventures survived an assassination attempt. In 1852 he was transferred to St Lucia and in 1853 to St Vincent as administrator.
MacDonnell's next appointment was governor of South Australia, a surprising choice for a colony about to gain responsible government. With a reputation for severity he arrived at Port Adelaide on 9 June 1855 and took over from B. T. Finniss, who had acted as governor since Sir Henry Fox Young had left in December 1854. MacDonnell was promptly active in the deliberations on the 1853 Constitution bill which the Colonial Office had returned to the Legislative Council for reconsideration. His eagerness to show colonials that he knew what was best for them brought him into heated conflict with some of South Australia's reformers.
https://adb.anu.edu.au/biography/macdonnell-sir-richard-graves-4084
Related Subjects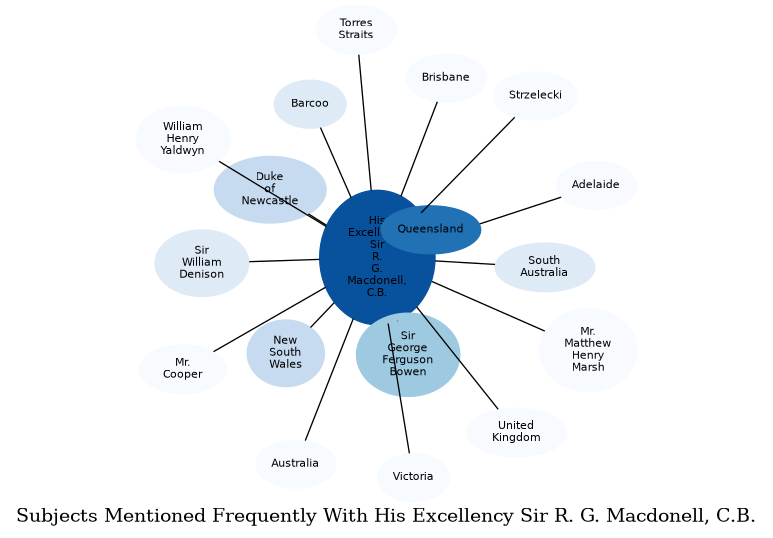 The graph displays the other subjects mentioned on the same pages as the subject "His Excellency Sir R. G. Macdonell, C.B.". If the same subject occurs on a page with "His Excellency Sir R. G. Macdonell, C.B." more than once, it appears closer to "His Excellency Sir R. G. Macdonell, C.B." on the graph, and is colored in a darker shade. The closer a subject is to the center, the more "related" the subjects are.