Description
Chichester Samuel Parkinson-Fortescue, 2nd Baron Clermont and 1st Baron Carlingford KP PC (18 January 1823 – 30 January 1898), known as Chichester Fortescue until 1863 and as Chichester Parkinson-Fortescue between 1863 and 1874 and Lord Carlingford after 1874, was a British Liberal politician of the 19th century.
In 1847, Carlingford was elected to parliament for Louth as a Liberal. He became a junior Lord of the Treasury in 1854 under Lord Palmerston, a post he held until 1855, and was later Under-Secretary of State for the Colonies under Palmerston between 1857 and 1858 and 1859 and 1865. He was admitted to the Privy Council in 1864 and the following year he was made Chief Secretary for Ireland under Lord Russell, a post which he again occupied under William Ewart Gladstone from 1868 to 1871 (this time with a seat in the cabinet). In 1866, he was also admitted to the Irish Privy Council. He was then President of the Board of Trade between 1871 and 1874. The latter year he was elevated to the peerage as Baron Carlingford, of Carlingford in the County of Louth.[1]
Carlingford later served under Gladstone as Lord Privy Seal between 1881 and 1885 and as Lord President of the Council between 1883 and 1885. In 1882, he was appointed a Knight of the Order of St Patrick. He parted from Gladstone on the question of Irish Home Rule, but in earlier years he was his active supporter on Irish questions.
Related Subjects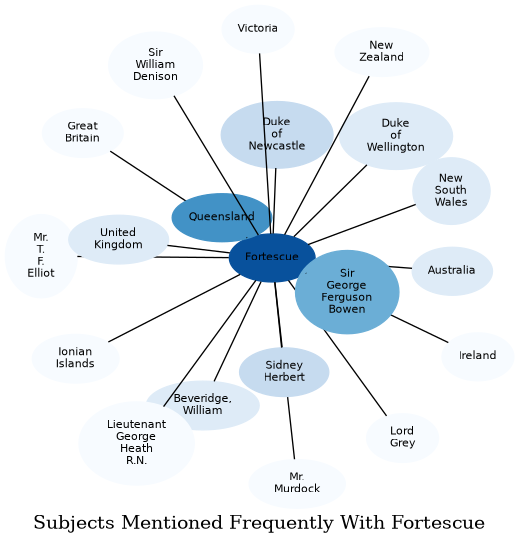 The graph displays the other subjects mentioned on the same pages as the subject "Fortescue". If the same subject occurs on a page with "Fortescue" more than once, it appears closer to "Fortescue" on the graph, and is colored in a darker shade. The closer a subject is to the center, the more "related" the subjects are.