Description
Sir George Ferguson Bowen (1821-1899), governor, was born on 2 November 1821 in Ireland, the eldest son of Edward Bowen, rector of Taughboyne, County Donegal. He went to Charterhouse, won a scholarship to Trinity College, Oxford, where he was twice president of the union and took first-class honours in classics (B.A., 1844; M.A., 1847), and began to read law at Lincoln's Inn. In 1846 he had some naval training, serving for sixteen days in the Victory. In 1847-51 he was rector of the Ionian University at Corfu, and joined the colonial service as political secretary to the government of the Ionian Islands. In 1856 he married Diamantina, daughter of Count Candiano di Roma, president of the Senate of the Ionian Islands.
Bowen had been elected to a fellowship at Brasenose, which he held in 1851-54. In the 1852 elections he campaigned vigorously for Gladstone, through whose patronage he was appointed in 1859 the first governor of Queensland. On 10 December Bowen was welcomed in Brisbane as a friendly tutor in the enjoyment of the fruits of separation from New South Wales. His influence was greater than that of the governors in other Australian colonies which already had responsible government, and much of it stemmed from (Sir) Robert Herbert, who accompanied him from England, became colonial secretary and was premier in 1860-66. Because of Bowen's friendship Herbert's influence and ideas were reflected in the legislation they drafted together.
Related Subjects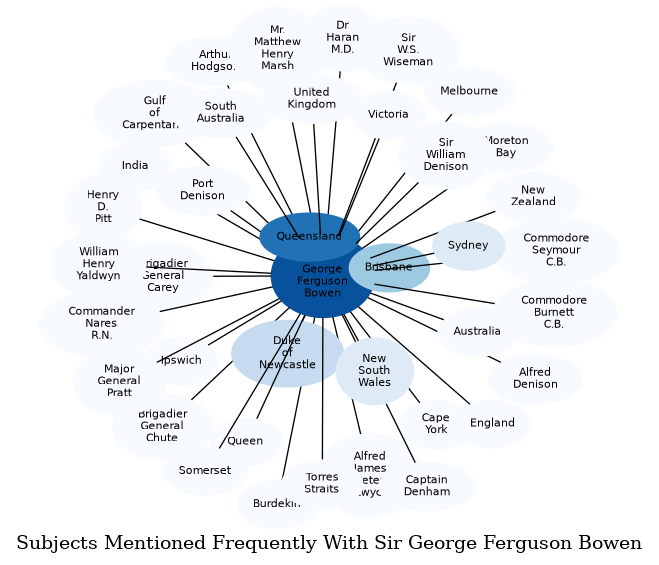 The graph displays the other subjects mentioned on the same pages as the subject "Sir George Ferguson Bowen". If the same subject occurs on a page with "Sir George Ferguson Bowen" more than once, it appears closer to "Sir George Ferguson Bowen" on the graph, and is colored in a darker shade. The closer a subject is to the center, the more "related" the subjects are.