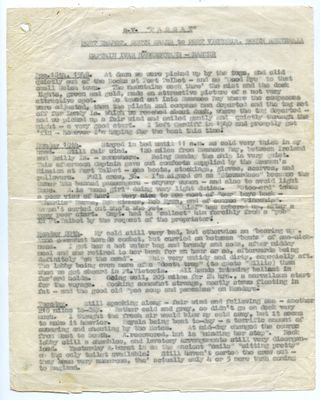 E. V. "PASSAT" PORT TALBOT. SOUTH WALES to PORT VICTORIA. SOUTH AUSTRALIA CAPTAIN IVAR HAGERSTRAND- MASTER
Dec. 18th. 1948. At dawn we were picked up by the tugs,and slid quietly out of the Docks at Port Talbot -and so "Good Bye" to that small Welsh town. The mountains seen thro' the mist and the dock lights, green and gold, made an attractive picture of a not very attractive spot. We turned out into Swansea Bay where the compasses were adjusted, then the pilots and compass man departed and the tug set off for Lundy Is. Which we reached about dusk, where the tug departed and we picked up a fair wind and sailed gently and quietly through the night- a very good start. I left Cardiff in 1940 and promptly got 'flu - however I'm hoping for the best this time!
Sunday 19th. Stayed in bed until 11 a.m. as cold very thick in my head. Still fair wind. 120 miles from Swansea Bay, between Ireland and Scilly Is. - somewhere. Being Sunday the ship is very quiet. This afternoon Captain gave out comforts supplied by the Seamen's Mission at Port Talbot - sea boots, stockings, gloves, scarves, and pullovers. Full crew 36. I'm signed on as "Stewardess" because the Owner has banned passengers - anyway women - and also to avoid light [dues?]. A. is "mess girl" doing very light duties. " Stoo-erd" takes a poor view of her! Very nice to see most of "our" boys back - "Charlie" Burns, Bob [?immer], Rob Ryan, and of course "Pinocchio". Haven't sorted out who's who yet. "Chief" has sobered up, after a very poor start. Capt. had to "collect" him forcibly from a "pub" in Pt. Talbot by the request of the proprietor!
Monday 20th. My cold still very bad, but otherwise am bearing up. Anne somewhat hors de combat, but carried on between "bouts" of sea-sickness. I got her a hot water bag and brandy and soda, after midday meal and she retired to her bunk for an hour or so, afterwards being definitely "on the mend". Ship very untidy and dirty, especially aft. The lobby being even more of a "death trap" ( to quote "Willie) than when we got aboard in Pt. Victoria. All hands trimming ballast in for'ard holds. Going well, 205 miles for 24 hrs., a marvellous start for the voyage. Cooking somewhat strange, mostly stews floating in fat - and the good old "pea soup and pancakes" on Mondays!
Tuesday. Still spanking along - fair wind and following sea - another 210 miles to-day. Rather cold and grey, so didn't go on deck very much. I thought the fresh air would blow my cold away, but it seems to make it heavier. Royals being bent to-day - a terrific amount of swearing and shouting by the Mates. At mid-day changed the course from West to South. A. recovered, but is " minding her step". Back lobby still a shambles, and lavatory arrangements still very disorganised. Yesterday A. burst in on the ancient "sails" "sitting pretty" on the only toilet available! Still haven't sorted the crew out - they seem very numerous, tho' actually only 4 or 5 more than coming to England.
Last edit 4 months ago by
jckhahn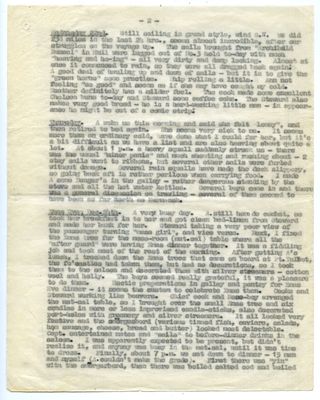 -2-
Wednesday 22nd. Still sailing in grand style, wind S.W. We did 238 miles in thte last 24 hrs., seems almost incredible, after our struggles on the voyage up. The sails brought from "Archibald Russel in Hull were lugged out of No.3 hold today with much "heaving and ho-ing" - all very dirty and damp looking. Almost at once it commenced to rain, so they were all dragged back again! A good deal of hauling up and down of sails - but it is to give the "green horns" some practice. Ship rolling a little. Ann not feeling "so good" and seems as if she may have caught my cold. Weather definitely has a milder feel. The cook made some excellent Chelsea buns today and Steward some coffee cake. The Steward also makes very good bread - he is a hard working little man - in appearance he might be out of a comic strip!
Thursday. A woke me this morning and said she felt "lousy", and then retired to bed again. She seems very sick to me. It seems more than an ordinary cold, have done what I could for her, but it's a bit difficult as we have a list and are heaving about quite a lot. At about 1p.m. a heavy squall suddenly struck us - there was the usual "minor panic" and much shouting and rushing about - 2 stay sails went to ribbons, but several other sails were furled without damage. Several rain squalls have made the deck slippery, so going back aft is rather perilous when carrying food. I made A some Benger's in the galley -rather dangerous standing by the stove and all the hot water kettles. Several boys came in and there was a general discussion on trawling - several of them seemed to have been as far north as [Martianak?]
Xmas Eve, Dec. 24th. A very busy day. A still hors de combat, so took her breakfast in to her and got clean bed linen from Steward and made her bunk for her. Steward taking a very poor view of the passenger turning "mess girl", and vice versa. Next, I fixed the Xmas tree for the mess-room (mat.sal) table where all the "after guard" were having Xmas dinner together. It was a fiddling job and took most of the rest of the morning. After getting A's lunch, I tracked down the Xmas trees that come on board at Pt. Talbot, the fo'castles had taken them, but had no decorations, so I took them to the saloon and decorated them with silver streamers - cotton wool and holly. The boys seemed really grateful, it was a pleasure to do them. Hectic preparations in galley and pantry for Xmas Eve dinner - it seems the custom to celebrate Xmas then. Cooks and Steward working like beavers. Chief cook and Mess-boy arranged the mat-sal table, so I brought over the small Xmas tree and six candles in more or less improved candle-sticks, also decorated port-holes with greenery and silver streamers. It all looked very fesstive and the smorgasbord (various tinned fish, caviare, salads, ham, sausage, cheese, bread and butter) looked most delectable. Capt. entertained mates and "sails" to before-dinner drinks in the saloon. I was apparently expected to be present, but didn't realise it, and anyway was busy in the mat.sal, until it was time to dress. Finally, about 7p.m. we sat down to dinner - 15 men and myself (A. couldn't make the grade). First there was "yin" with the smorgasboard, then there weas boiled salted cod and boiled
Last edit 4 months ago by
jckhahn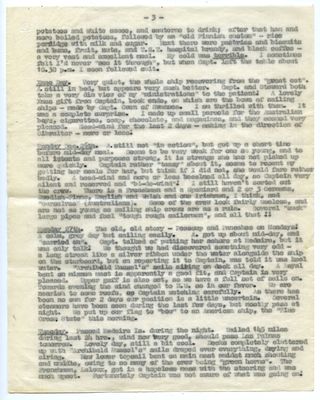 -3-
potatoes and white sauce, and sauterne to drink; after that ham and more boiled potatoes, followed by an "old Finnish custom" - rice porridge with milk and sugar. Next there were pastries and biscuits and buns, fruit, nuts and T.S.T. hospital brandy, and black coffee - a very vast and excellent meal. My cold was terrible. I sometimes felt I'd never "see it through", but when Capt. left the table about 10:30 p.m. I soon followed suit.
Xmas Day. Very quiet, the whole ship recovering from the "great eat". A. still in bed, but appears very much better. Capt. and Steward both take a very dim view of my "ministrations" to the patient! A lovely Xmas gift from Captain, book ends, on which are the bows of sailing ships - made by Capt. Owen of Swansea. I am thrilled with them. It was a complete surprise. I made up small parcels for the Australian boys, cigarettes, soap, chocolate, and magazines, and they seemed very pleased. Head-wind for the last 2 days - making in the direction of Gibraltar - more or less!
Monday Dec. 26th. A. still not "in action", but got up a short time before mid-day meal. Seems to be very weak for one so young, and to all intents and purposes strong, it is strange she has not picked up more quickly. Captain rather "tessy" about it, seems to resent my getting her meals for her, but think if I did not, she would fare rather badly. A head-wind and more or less becalmed all day, so Captain very silent and reserved and "bi-de-wind". I still haven't sorted out the crew. There is a Frenchman and a Spaniard and 2 or 3 Germans, Swedish-Finns, English and Welsh and one Irishman, I think, and "ourselves" (Australians). Some of the crew look fairly useless, and are not as young as sailing ship crews are as a rule. Several "suck" large pipes and fuel "tough rough sailormen", and all that!!
Monday 27th. The old, old story - Peasoup and Pancakes on Mondays! A calm, grey day but sailing easily. A. got up about mid-day and "carried on". Capt. talked of putting her ashore at Madeira, but it was only talk! We thought we had discovered something very odd a long streak like a silver ribbon under the water alongside the ship on the starboard, but on reporting it to Captain, was told it was keel water. "Archibald Russel's" sails airing on deck all day. A Royal bent on mizzen mast is apparently a good fit, and Captain is very pleased. Upper gaff is also set, so we have a full set of sails on. Towards evening the wind changed to N.W so in our favor. We are nearish to some reefs, so Captain watching carefully. As there has been no sun for 2 days our position is a little uncertain. Several steamers have been seen during the last few days, but mostly pass at night. We put up our flag to "bow" to an American ship, the "Blue Grass State" this morning.
Tuesday. Passed Madeira Is. during the night. Sailed 145 miles during last 24 hours, wind now very good, should pass Las Palmas tommorrow. Lovely day, still a bit cool. Decks completely cluttered up with "Archibald Russel's" sails draped over everything, drying and airing. New lower topsail bent on main mast amidst much shouting and muddle, owing to so many of the crew being "green horns". The Frenchman, Laloux, got in a hopeless mess with the steering and was much upset. Fortunately Captain was not aware of what was going on!
Last edit 4 months ago by
jckhahn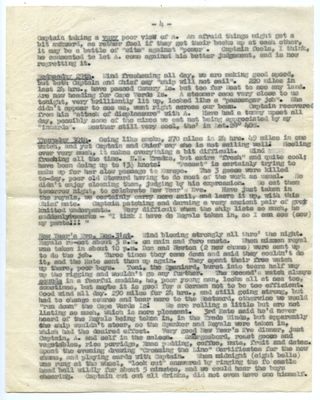 - 4 Captain taking very poor view of A. Am afraid things might get a bit awkward, as rather feel if they get their backs up at each other, it may be a battle of "wits" against "power". Captain feels, I think, he consented to let A. come against his better judgement, and is now regretting it.
Wednesday 29th. Wind freshening all day, we are making good speed, but both Captain and Chief say "ship will not sail". 220 miles in last 24 hrs., have passed Canary Is. but too far West to see any land. Are now heading for Cape Verde Is. A steamer came very close to us tonight, very brilliantly lit up, looked like a "passenger job". She didn't appear to see us, went right across our bows. Captain recovered from his "attack of displeasure" with A. Have had a tummy upset all day, possibly some of the mixes we eat not being appreciated by my "innards". Weather still very cool, tho' in Lat. 28 [degrees] 40 s.
Thursday 30th. Going like smoke, 270 miles in 24 hours. 49 miles in one watch, and yet Captain and Chief say she is not sailing well! Heeling over very much, it makes everything a bit difficult. Wind freshing all the time. N.E. Trades, but extra "fresh" and quite cool; have been doing up to 13 1/2 knots! "Passat" is certainly trying to make up for her slow passage to Europe. The 3 geese were killed to-day, poor old Steward having to most of the work as usual. He didn't enjoy cleaning them, judging by his expression. We eat them tomorrow night, to celebrate New Year's Eve. Have just taken in the royals, we certainly carry more sail, and leave it up, with this Chief mate. Captain patching and darning a very ancient pair of grey knitted underpants. Very difficult when the ship lists so much, he suddenly remarks - "I tink I have do Royals taken in, so I can see (sew) my pants!!!"
New Year's Eve, Dec. 31st. Wind blowing strongly all thro' the night. Royals re-set about 3 a.m. on main and fore masts. When mizzen royal was taken in about 10 p.m. Don and Newton (2 new chums) were sent up to do the job. Three times they came down and said they couldn't do it, and the Mate sent them up again. They spent their free watch up there, poor boys. Toni, the Spaniard, burst into tears half way up the rigging and wouldn't go any further. The Second's watch always sounds in a fearful muddle, he, poor young man, looks all at sea too, sometimes, but maybe it is good for a German not to be too efficient. Good wind all day. 290 miles for 24 hrs., and still going strong, but had to change course and bear more to the Westward, otherwise we would "run down" the Cape Verde Is! We are rolling a little but are not listing so much, which is more pleasant. 3rd Mate said he'd never heard of the Royals being taken in, in the Trade Winds, but apparently the ship wouldn't steer, so the Spanker and Royals were taken in, which had the desired effect. Very good New Year's Eve dinner, just Captain, A. and self in saloon. Smorgasbord, roast goose and vegetables, rice porridge, Xmas pudding, coffee, nuts, fruit and dates. Spent the evening drawing "Crossing the Line" Certificates for the new chums, and playing cards with the Captain. When midnight (eight bells) was rung at the wheel, "look out" answered by ringing the fo'castle head bell wildly for about 5 minutes, and we could hear the boys cheering. Captain cut out all drinks, did not even have one himself.
Last edit 4 months ago by
jckhahn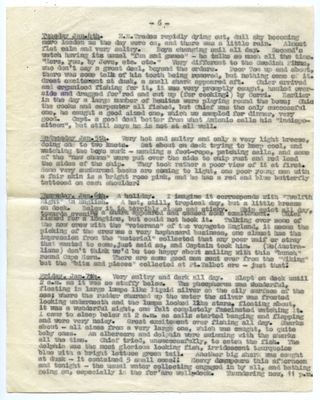 -6-
Tuesday Jan. 4th. N.E trades rapidly dying out, dull sky becoming more leaden as the day wore on, and there was a little rain. Almost flat calm and very sultry. Boys changing sail all day. Second's watch having its usual "fun and games" - he talks so much all the time. "Here, you by Jove, etc etc". Very different to the Swedish Finns who don't say a great deal, beyoung the orders. Poor Tom up and about, there was some talk of his tooth being removed, but nothing came of it. Great excitment at dusk, a small shark appeared aft. Chier arrived and organised fishing for it, it was very promptly caught, hauled overside and dragged for'red and cut up (for cooking!) by Corri. Earlier in the day a large number of Bonitas were playing round the bows: Chief the cooks and carpenter all fished, but Chief ws the only sucessful one, he caught a good sized one, which we sampled for dinner, very good. Capt. a good deal better from what Antonie calls hs "indispositeen", but still says he is not at all well.
Wednesday Jan. 5th. Very hot and sultry and only a very light breeze, doing one to two knots. Sat about on deck trying to keep cool, and watching the boys work - mending a foot-rope, patching sails, and some of the "new chums" were put over the side to chip rust and red lead the sides of the ship. They took rather a poor view of it at first. Some very sunburned backs are coming to light, one poor young man with a fair skin is a bright rose pink, and he has a red and blue butterfly tattooed on each shoulder!.
Thursday Jan. 6th. A holiday. I imagine it corresponds with "Twelfth Night" in English. A hot, still, tropical day, but a little breeze on deck. Below it is terribly close and sticky. Ship quiet all day, towards evening a shark appeared and caused some excitement. Chief fished for a long time, but could not hook it. Talking over some of the new crew with the "veterans" of the voyage to England, it seems the picking of the crew was a very haphazard business, one almost has the impression from the "material" collected that any poor waif or stray that wanted to come, just said so, and Captain took him. (We Australians) don't think we'd be too happy about sailing with this 'bunch" round Cape Horn. There are some good men sent over from the "Viking" but the "bits and pieces" collected at Pt. Talbot are - just that!
Friday Jan. 7th. Very sultry and dark all day. Slept on deck until 2 a.m. as it was so stuffy below. The phosphorous was wonderful, floating in large lumps like liquid silver on the oily surface of the sea; where the rudder churned up the water the silver was frosted looking underneath and the lumps looked like stars, floating about, it was a wonderful sight, one felt completely fascinated watching it. I came to sleep below at 2 a.m. as sails started banging and flapping and were very noisy. Great excitment over fishing all day. Sharks about - all sizes from a very large one, which was caught, to quite baby ones. An albercore and dolphin were swimming with the sharks all the time. Chief tried, unsucesfully to catch the fish. The dolphin was the most glorious looking fish, irridescent tourquoise blue with a bright lettuce green tail. Another big shark was caught at dusk - it contained 5 small ones!! Heavy downpours this afternoon and tonight - the usual water collecting engaged in by all, and bathing going on, especially in the for' are well-deck. Thundering now, 11 p.m.
Last edit 4 months ago by
jckhahn