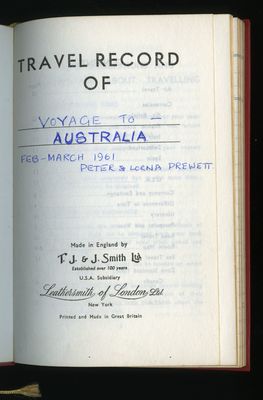 TRAVEL RECORD OF VOYAGE TO - AUSTRALIA FEB - MARCH 1961 PETER & LORNA PREWETT
Made in England by T. J. Smith Ltd Established over 100 years U.S.A Subsidiary
Leathersmith of London Ltd New York
Printed and Made in Great Britain
Last edit 10 months ago by
South Australian Maritime Museum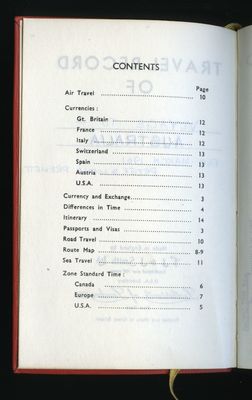 CONTENTS
Page Air Travel 10
Currencies: Gt. Britain 12 France 12 Italy 12 Switzerland 13 Spain 13 Austria 13 U.S.A 13
Currency and Exchange 3 Difference in Time 4 Itinerary 14 Passports and Visas 3 Road Travel 10 Route Map 8-9 Sea Travel 11
Zone Standard Time: Canada 6 Europe 7 U.S.A 5
Last edit 10 months ago by
Anni Telford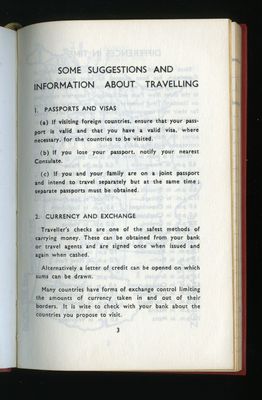 SOME SUGGESTIONS AND INFORMATION ABOUT TRAVELLING
1. PASSPORTS AND VISAS
(a) If visiting foreign countries ensure that your passport is valid and that you have a valid visa, where necessary, for the countries to be visited.
(b) If you lose your passport, notify your nearest Consulate.
(c) If you and your family are on a joint passport and intend to travel separately but at the same time; separate passports must be obtained.
2. CURRENCY AND EXCHANGE
Traveller's checks are one of the safest methods of carrying money. These can be obtained from your bank or travel agents and are signed once when issued and again when cashed.
Alternatively a letter of credit can be opened on which sums can be drawn.
Many countries have forms of exchange control limiting the amounts of currency taken in and out of their borders. It is wise to check with your bank about the countries you propose to visit.
3
Last edit 10 months ago by
South Australian Maritime Museum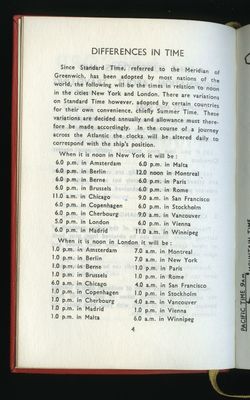 DIFFERENCES IN TIME
Since Standard Time, referred to the Meridian of Greenwich, has been adopted by most nations of the world, the following will be the times in relation to noon in the cities New York and London. There are variations on Standard Time however, adopted by certain countries for their own convenience, chiefly Summer Time. These variations are decided annually and allowance must there-fore be made accordingly. In the course of a journey across the Atlantic the clocks will be altered daily to correspond with the ship's position.
When it is noon in New York it will be : 6.0 p.m. in Amsterdam 6.0 p.m. in Malta 6.0 p.m. in Berlin 12.0 noon in Montreal 6.0 p.m. in Berne 6.0 p.m. in Paris 6.0 p.m. Brussels 6.0 p.m. in Rome 11.0 a.m. in Chicago 9.0 a.m. in San Francisco 6.0 p.m. in Copenhagen 6.0 p.m. in Stockholm 6.0 p.m. in Cherbourg 9.0 a.m. in Vancouver 5.0 p.m. in London 6.0 p.m. in Vienna 6.0 p.m. in Madrid 11.0 a.m. in Winnipeg
When it is noon in London it will be : 1.0 p.m. in Amsterdam 7.0 a.m. in Montreal 1.0 p.m. in Berlin 7.0 a.m. in New York 1.0 p.m. in Berne 1.0 p.m. in Paris 1.0 p.m. in Brussels 1.0 p.m. in Rome 6.0 a.m. in Chicago 4.0 a.m. in San Francisco 1.0 p.m. in Copenhagen 1.0 p.m. in Stockholm 1.0 p.m. in Cherbourg 4.0 a.m. in Vancouver 1.0 p.m. in Madrid 1.0 p.m. in Vienna 1.0 p.m. in Malta 6.0 a.m. in Winnipeg
4
Last edit 10 months ago by
South Australian Maritime Museum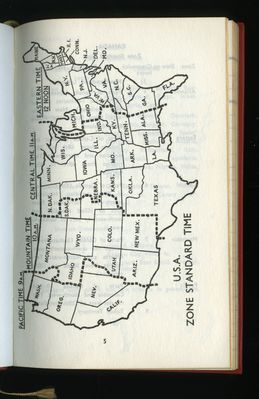 [map of u.s.a.]
PACIFIC TIME 9 A.M. MOUNTAIN TIME 10 A.M. CENTRAL TIME 11 A.M. EASTERN TIME 12 NOON
U.S.A. ZONE STANDARD TIME
5
Last edit 10 months ago by
Anni Telford