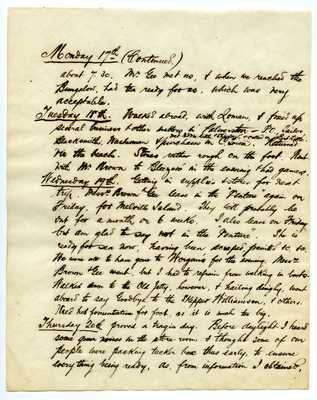 Monday 17th. [underlined](Continued) about 7.30. Mr. Gee met us, & when we reached the Bungalow, had tea ready for us, which was very acceptable. Tuesday 18th. [underlined] Walked abroad , with Loman, & fixed up several business & other matters in Palmerston - P.O., Tailor, Blacksmith, Washerman & purchases in C. Town. Met Eddie Little & Shierlaw & called on Bert Little. Returned via the beach. Stones rather rough on the foot. Went with Mr. Brown to Bleezer's in the evening & had games. Wednesday 19th. [underlined] Getting in supplies & stores for next trip. Messrs Brown & Gee leave in the "Venture" again on Friday, for Melville Island. They will probably be out for a month or 6 weeks. I also leave on Friday but am glad to say not in the "Venture". She is ready for sea now, having been scraped, painted etc. etc. We were all to have gone to Worgan's for the evening. Messrs Brown & Gee went, but I had to refrain from walking in boots. Walked over to the Old Jetty, however, & hailing dinghy, went aboard to say Goodbye to the Skipper Williamson, & others. Used hot fomentation for foot as it is much too big. Thursday 20th. [underlined] proved a tragic day. Before daylight I heard some queer noises in the store-room & thought some of our people were packing tucker box thus early, to ensure everything being ready, as, from information I obtained,
Last edit 7 months ago by
jckhahn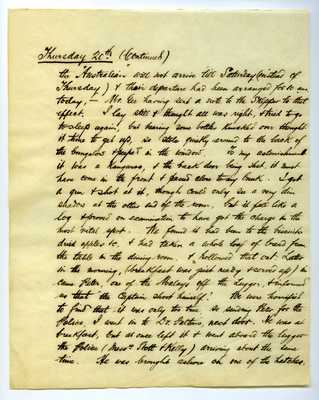 Thursday 20th [underlined] (Continued) the "Australian" will not arrive 'till Saturday (instead of Thursday) & their departure had been arranged for 10 am today, - Mr. Gee having sent a note to the Skipper to that effect. I lay still & thought all was right, & tried to go to sleep again, but hearing some bottles knocked over thought it time to get up, so stole quietly around to the back of the bungalow & peeped in the window. To my astonishment it was a kangaroo, & the back door being shut, it must have come in the front & passed close to my bunk. I got a gun & shot at it, though could only see a very dim shadow at the other end of the room, but it felt like a log & proved on examination to have got the charge in the most vital spot. We found it had been to the biscuits dried apples etc, & had taken a whole loaf of bread from the table in the dining room, & hollowed that out. Later in the morning. (breakfast was just ready & served up) in came Peter, one of the Malays off the Lugger, & informed us that "the Captain shoot himself". We were horrified to find that it was only too true, so sending Peter for the Police, I went in to Dr. Fulton's, next door. He was at breakfast, but at once left it & went aboard the lugger the Police (Messrs Scott & Kelly) arriving about the same time. He was brought ashore on one of the hatches,
Last edit 7 months ago by
jckhahn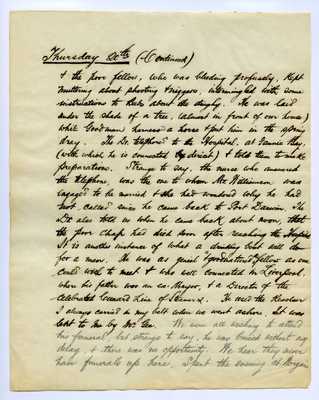 Thursday 20th [underlined] (Continued) & the poor fellow, who was bleeding profusely, kept muttering about shooting & niggers, intermingled with some instructions to Bubs about the dinghy. He was laid under the shade of a tree, (almost in front of our house) while Goodman harnessed a horse & put him in the spring dray. The Dr. telephoned to the Hospital, at Fannie Bay, (with which he is connected direct) & told them to make preparations. Strange to say, the nurse who answered the telephone, was the one to whom Mr. Williamson was engaged to be married & she had wondered why he had not called since he came back to Port Darwin. The Dr. also told us when he came back about noon, that the poor chap had died soon after reaching the Hospital. It is another instance of what a drinking bout will do for a man. He was as genial & good natured a fellow as one could wish to meet & was well connected in Liverpool, where his father was an ex-Mayor & a Director of the celebrated Cunard Line of Steamers. He used the revolver I always carried in my belt when we went ashore. It was lent to me by Mr. Gee. We were all wishing to attend his funeral, but strange to say, he was buried without any delay, & there was no opportunity. We hear they never have funerals up here. Spent the evening at Worgans.
Last edit 7 months ago by
jckhahn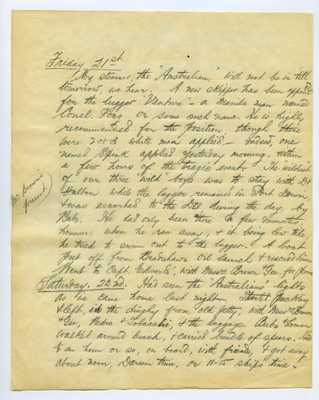 Friday 21st [underlined] Mr. Brown's present [text in left margin] My steamer, the "Australian," will not be in 'till tomorrow we hear. A new skipper has been appointed from the lugger "Venture" - a Manila man named Conel Pong or some such name. He is highly recommended for the position, though there were 2 or 3 white men applied, - indeed, one named Spink applied yesterday morning, within a few hours of the tragic event. The "wildest" of our three "wild" boys was to stay with Dr. Fulton while the lugger remained in Port Darwin, & was escorted to the Drs during the day, by Bubs. he had only been there a few minutes, however, when he ran away, & it being low tide, he tried to swim out to the lugger. A boat put off from Bradshaws oil launch & recued him. Went to Capt. Edwards', with Messrs Brown & Gee for p.m. Saturday 22nd [underlined] Had seen the "Australians" lights as we came home last night. Started packing & left, in the dinghy from old jetty, with Messrs Brown & Gee, Pedro & Tobacchi, & the luggage. Bubs & Loman walked around beach, & carried bundle of spears. Had 1/2 an hour or so, on board, with friends, & got away about noon, Darwin time, or 11-15 ships time.
Last edit 7 months ago by
jckhahn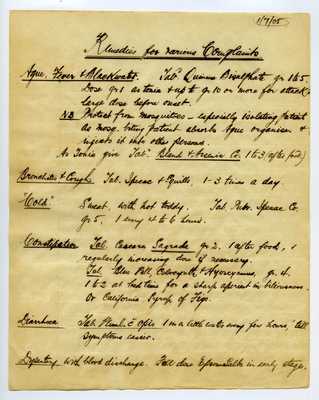 1/7/05 Remedies for various Complaints [underlined] Ague, Fever & Blackwater [underlined] Tab. Quinine Bisulphate gr 1 to 5. Dose gr 1 as tonic & up to gr 10 or more for attacks large dose before onset. NB Protect from mosquitoes - especially isolating patient as mosq. biting patient absorbs Ague organism & injects it into other persons. As tonic give Tab. Bland & Arsenic Co. 1 to 3 (after food)
Bronchitis & Cough [underlined] Tab. Ipecac & Squills, 1-3 times a day.
"Cold" [underlined] Sweat, with hot toddy. Tab. Pulv. Ipecac Co. gr 5, 1 every 4 to 6 hours
Constipation [underlined] Tab. Cascara Sagrada gr 2. 1 after food, & regularly increaing dose if necessary. Tab. Blue Pill, Colocynth & Hyoscyamus, gr. 4. 1 to 2 at bed time for a sharp aperient in biliousness. or California Syrup of Figs.
Diarrhoea [underlined] Tab. Plumb. c Opio 1 in a little water every few hours, 'till symptoms easier.
Dysentry [underlined] with blood discharge. Full dose Epsom Salts in early stage.
Last edit 7 months ago by
jckhahn