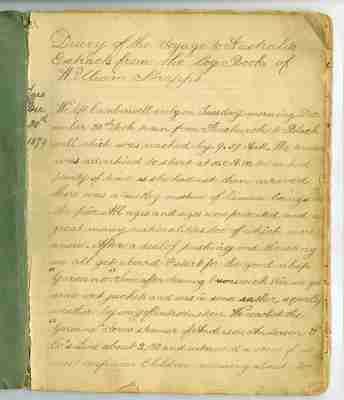 Diary of the voyage to Australia Extracts from the log book of William Strapps
Tues Dec 30th 1879 We left Camberwell early on Tuesday morning Dec ember 30th. Took train from Fenchurch to Black wall which was reached by 9.59 A.M. The tender was advertised to start at 10.0 A.M but we had plenty of time as she had not then arrived. There was a motley mixture of human beings on the pier. All ages and sizes were presented and a great many nationalities too of which more anon. After a deal of pushing and thrusting we all get aboard & start for the good ship "Garonne". Soon after leaving brunswick Pier we got some wet jackets and was in some rather squally weather by way of introduction. We reached the "Garonne" Screw steamer of Anderson Anderson & Co's Line about 2.30 and witnessed a scene of ut most confusion. Children running about to
Last edit 9 months ago by
HelenS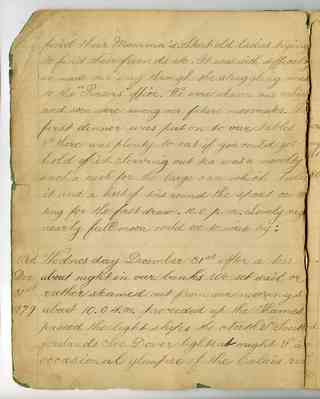 find their Mamma's. Stout old ladies trying to find their friends etc. It was with difficulty we made our way through the struggling mass to the "Pursers" office. We were shown our cabin and soon were among our future messmates. The first dinner was put on to our tables & there was plenty to eat if you could get hold of it. Serving out tea was a novelty such a rush for the large can which held it and a host of tins round the spout contend ing for the first draw. 10.0 p.m. Lovely night nearly full moon could see to write by:
Wed Dec 31st 1879 Wednesday December 31st After a toss about night in our bunks we set sail or rather steamed out from our moorings about 10.0 A.M. proceeded up the Thames passed the light ships the North & South forelands. See Dover lights at night & an occasional glimpse of the Calais rev
Last edit 9 months ago by
HelenS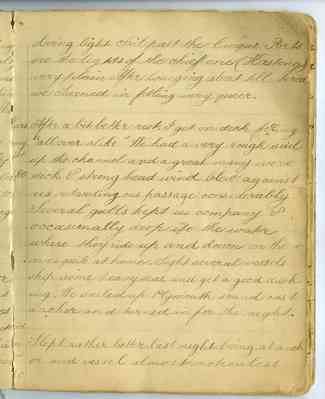 volving light. Sail past the Cinque Ports see the lights of the chief one (Hastings) very plain. After lounging about till tired we turned in feeling very queer.
After a better rest I get on deck feeling "all over alike". We had a very rough sail up the channel and a great many were sick & strong head wind blew against us retarding our passage considerably. Several gulls kept us company & occasionally drop into the water where they ride up and down on the w aves quite at home. Sight several vessels ship some heavy seas, and get a good duck ing. We sailed up Plymouth sound cast anchor and turned in for the night.
Slept rather better last night being at anch or and vessel almost motionless
Last edit 9 months ago by
HelenS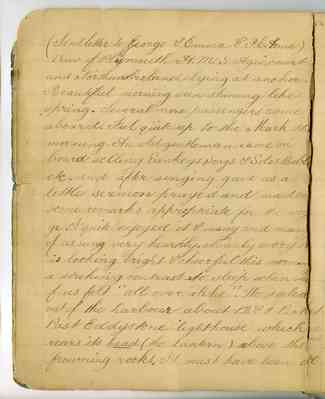 (Sent letter to George & Emma & P. C. [?ome] View of Plymouth H.M.S. Agincourt and Northumberland lying at anchor. Beautiful morning sun shining like spring. Several more passengers come aboard. Feel quite up to the mark this morning. An old gentleman came on board selling Sankeys Songs & Solos Bible etc and after singing gave us a little sermon prayed and made some remarks appropriate for the voya ge. I quite enjoyed it & many [and many] of us sung very heartily. Nearly every one is looking bright & cheerful this morning a striking contrast to sleep when none of us felt "all over alike". We sailed out of the harbour about 12 & [1 P ?] past Eddystone lighthouse which rears its head (the lantern) above the frowning rocks. It must have been a
Last edit 9 months ago by
HelenS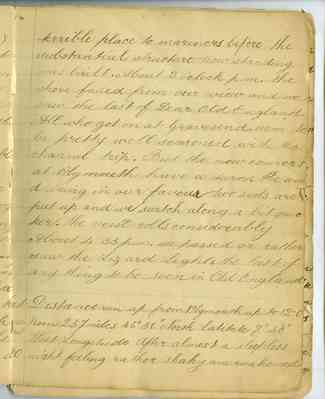 terrible place to mariners before the substantial structure now standing was built. About 2 o'clock p.m. the shore faded from our view and we saw the last of Dear Old England. All who got on at Gravesend seem to be pretty well seasoned with the channel trip. But the new comers at Plymouth have a turn. The win d being in our favour two sails are put up and we switch along a bit quic ker. The vessel rolls considerably. About 4.35 p.m. we passed or rather saw the Lizard Lights the last of anything to be seen in Old England.
Distance run up from Plymouth up to 12.0 noon 257 miles 46 degrees 50" North latitude 7 degrees 48" West Longitude. After almost a sleepless night feeling rather shaky am awakened
Last edit 9 months ago by
HelenS