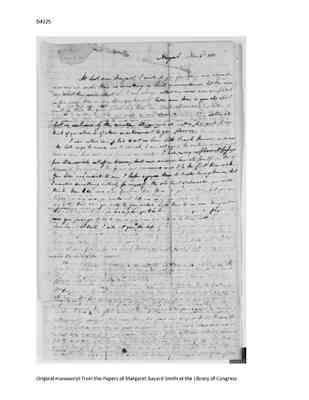 Newyork Nov: 2d 1800
At last, dear Margaret, I write to you from my own chamber and my own desk; there is something in local circumstances let the wise say what they will about it. I can always collect my ideas more completely in this place then in any other; yes Margaret better even than in your old apart ment for there the green fields and trees were constantly enticing me either to gladden my eyes [?] my home. But here while every external object is excluded by the venetian blinds, and all interior tranquil I can think of you alone, or of others as subservient to your pleasure.
I was called down & had to sit an hour with Frank Harison, and now the bell rings to invite us to church, I am not going. the walking is [vast?wet?], and I have a very bad cold, and pain in my chest. I had a very unpleasant passage from Brunswick set off on tuesday last and arrived here at four Oc in the afternoon of Wednesday. the passengers numerous, and I, for the first time sick. Your letter was a cordial to me. I before enjoyed those to sister Jane & Maria, but I wanted something entirely for myself--the old part of character, you will think. Your letter was more pensive than those to your sisters, but you are happy you say, and you would not tell me so if you were not. What charming letters those were you wrote to your sisters. write them to me dear Margaret tell me what acquaintances you make & how you like them. What are your employments and your feelings, talk to me as you were wont to do in Pine street, in your chamber & [...] Scots. I will not give up the hope of being your real companion on the walks you have so much enjoyed some of my most pleasant [?] have been taken with you Margaret and it is not impossible but that I may at some future period visit Washington at least I will solace myself with the [?] of that [?]
All our little circle have returned except Mr Brown he is still in Philada uncertain whether he will return to Newyork or not [I] do not mention this however as it might perhaps injure his magazine. I have seen Maria Nicholson Mrs Brown, Jane Parsons Fanny Johnson, her brother, Mr Bleecker Mr M Ms Mills Drs Rodgers. Maria came down yesterday morning, and did not leave me till today. Mrs. Brown is quite sick with the ague & fever and out of spirits, she [...] herself on the prospect of meeting with you in Washington this winter. I was quite glad to meet Jane [...] and Fanny Johnson again, I could scarcely realized that more than two years have elapsed since I saw the latter, we met s cordially, our good dispositions towards each other seemed not to have lain dormant but increased. She spent friday afternoon with me, came at five Oc and did not leave me till ten it was like one of your visits, thou [...] it I thought of you at the time and wished she might make me [...]. We were alone till seven, we talked of Fanny Smith of her father
Last edit 3 months ago by
chickadee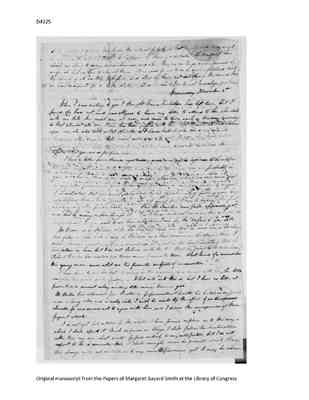 of her mother & sisters. You know the interest I take in that family and may easily imagine with what pleasure I listened to Fanny's details. Oh Margaret! how closely we cling to some remembrances, and when they are no longer accompanied by anguish how we love to cherish them. It is good for me to do so, such reflections teach the vanity of all earthly possession, and when by their not satisfying the mind then we were designed for a better state.-- and -- but I will not moralize just now.
Wednesday November 5th
When I was writing to you I thought Maria Nicholan had left town, but I found she had not, and was obliged to leave my letter to attend to her. She [st..?] with me till the next day at noon, and came to town early on Tuesday morning so that almost all my time has been passed with her. Mrs Brown too had charm upon me, she was sick, out of spirits, so I have been to see her every day now. Yesterday when Maria left me I was going to write to you, but I expected company, and I like to write to you at my ease, and not to hurry through a letter when you are so far from me.
I had a letter from Maria yesterday and am [?] rejoiced to hear that that your property arrived in safety, and that by this time you are probably in your own house. There is an idea of comfort attached to home which we can never feel in any other place, and good housewifery has been so long your favorite subject of investigation that you must be delighted by an opportunity of putting your long established theory into practice. Do not forget that I am to have the [first?] appearance of the prison [?]. Has Mr Smith's newspaper appeared yet? and has he many subscribers for it? You I know will not consider this question as impertinent for you well know how solicitous I am for the welfare of you both.
Mr Brown is in Philad: still, Mr [Shassless?] told me that he had heard Mr Brown had fallen in love with a lady in Philad and that occasioned his staying there. I seldom, however, credit reports and conjectures. It is not in the least unlikely that he has fallen in love, but I do not believe with Mr S-- that he is going to be married. Robert Barker has visited me twice since I came to town. What kind of a mind has this young man, and what are his favorite subjects of conversation?--?
I have been to see Mrs [Sert?]. I called in the morning, and dined with her, her little daughter has grown quite pretty; -- What vile ink this is, but I have no better at present, and cannot dely writing till mine becomes good. --
Mr Miller has returned from Boston in proper excellent health. His brother is suffering under a heavy cold, and is really sick. I wish he would try the effect an European climate, for ours seems not to agree with him, and I dread the consequences of these frequent attacks.--.--
I do not yet feel settled for the winter. I have formed no plan as to the way in which I shall spend it. Much depends on Eliza. I shall follow her inclinations rather than my own. Last winter passed entirely to my satisfaction, but I do not expect to be as domestic this. I shall mingle more in general society, though this change will not contribute to my social pleasures, yet it may be adven-
Last edit 3 months ago by
chickadee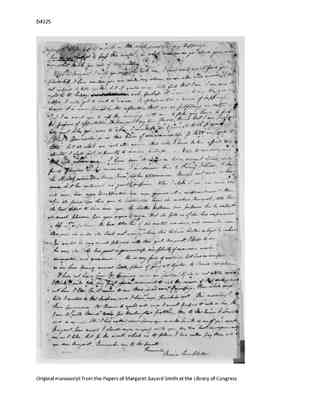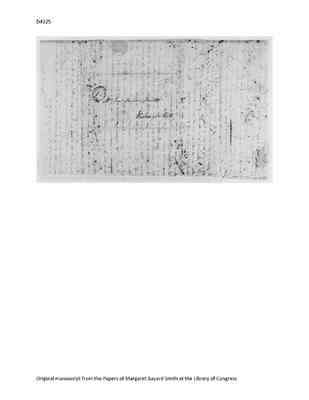 [stamp mark] NEW YORK NOV 5 [/stamp mark]
Mr. Sam Harrison Smith Washington City
Last edit 7 months ago by
heidimarie