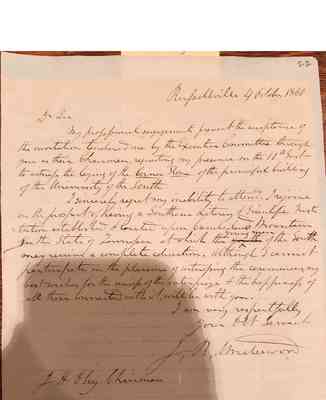 22 Rupellville 4 October 1860 D[ea]r Sir
My professional engagements prevent the acceptance of the invitation tendered me by the executive committee through you as their chairman, requesting my presence on the 10th [event? next?]-to witness the laying of the corner stone of the principal building of the University of the South.
I sincerely regret my inability to attend. I rejoice in the prospect of having a southern literary & scientific institution established & located upon Cumberland Mountain in the State of Tennessee at which the young men of the south may receive a complete education. Although I cannot participate in the pleasure of witnessing the ceremonies, my best wishes for the success of the enterprize & the happiness of all those connected with it, will be with you.
I am very respectfully your ob[edien]t servant J.R. [Melverson? Meterman?]
JH [Oby? Oley?] Chairman
Last edit 4 months ago by
Guest User