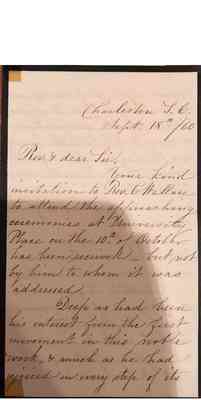 Charleston S. C.
Sept. 18th / 60
Rev. & dear Sir,
Your kind invitation to Rev. C Wallace to attend the approaching ceremonies at University Place on the 10th of October has been received __ but not by him to whom it was addressed.
Deep as had been his interest from the first movement in this noble work, & much as he had rejoiced in every step of its
Last edit 11 months ago by
Lane Oliver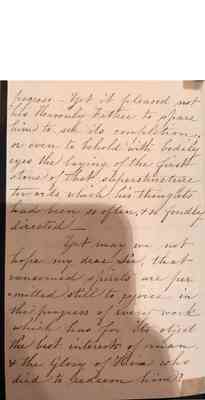 progress -- Yet it pleased not his Heavenly Father to spare him to see its completion, or even to behold with bodily eyes the laying of the first stone of that superstructure towards which his thoughts had been so often, & so fondly directed __
Yet may we not hope my dear Sir, that ransomed spirits are per =mitted still to rejoice in the progress of every work which has for its object the best interests of man, & the Glory of Him who died to redeem him?
Last edit 11 months ago by
Lane Oliver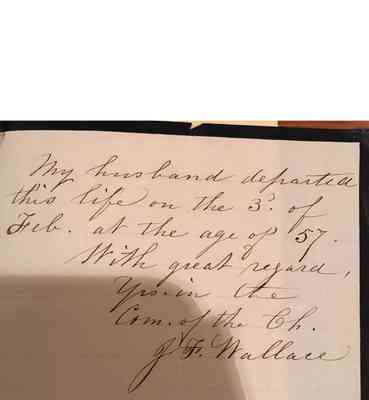 My husband departed this life on the 3d of Feb. at the age of 57.
With great regard,
Yrs in the
Com. of the Ch.
J. F. Wallace
Last edit 11 months ago by
Lane Oliver