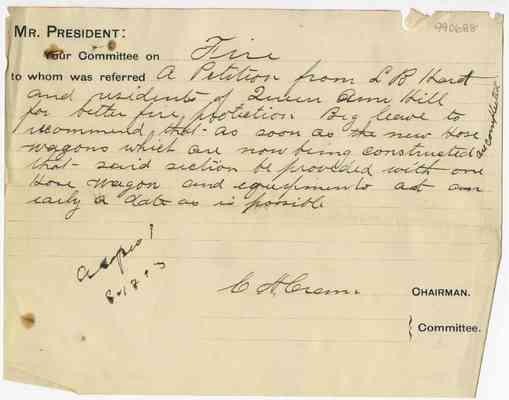 Mr. President:
Your Committee on Fire to whom was referred A Petition from L. B. Hart and residents of Queen Anne Hill for better fire protection. Beg leave to recommend that - as soon as the new Hose wagons which are now being constructed are completed that - said section be provided with one Hose Wagon and equipment at an early a date as possible.
[?]
8-12-93
C H Crane Chairman
Last edit 3 days ago by
led91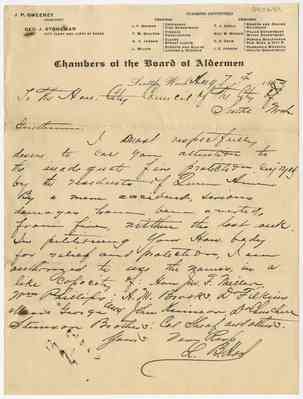 Chambers of the Board of Alfermen
Seattle, Wash. Aug 7th 1893
To the Hon. City Council of the City of Seattle Wash.
Gentlemen: I most respectfully desire to call your attention to the inadequate fire protection enjoyed by the residents of Queen Anne. By a mere accident, serious damages have been averted, from fire, within the last week. In petitioning Your Hon. body for relief and protection, I am authorized to use the names, in a like capacity of: Hon Jud. F. Miller, Wm Philips: A. M. Brooks, Dr. Filkins [?] George and John Kruise on Dr. ChurchillStevinson Brothers: Cal Sheaf and Allen S.
Your Very Resp
Last edit 3 days ago by
led91