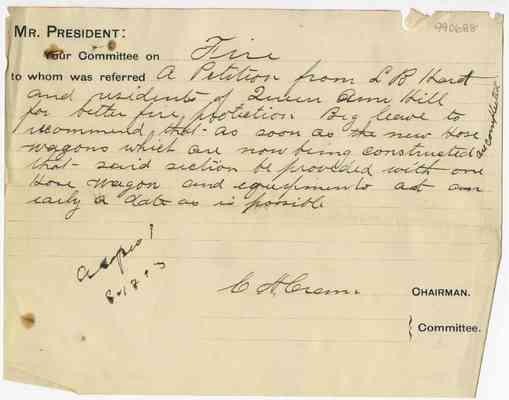 Mr. President:
Your Committee on Fire to whom was referred A Petition from L. B. Hart and residents of Queen Anne Hill for better fire protection. Beg leave to recommend that - as soon as the Hose wagons which are now being constructed are completed that - said section be provided with one Hpse Wagon and equipment at aa early a date as possible.
[?]
8-12-93
Last edit 19 days ago by
Mrs. HallerLake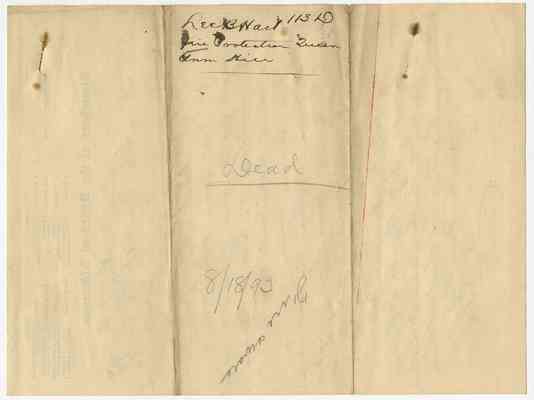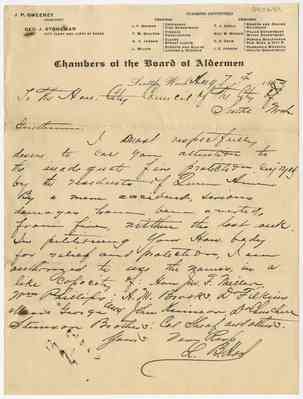 Chambers of the Board of Alfermen
Seattle, Wash. Aug 7th 1893
To the Hon. City Council of the City of Seattle Wash.
Gentlemen: I most respectfully desire to call your attention to the inadequate fire protection enjoyed by the residents of Queen Anne. By a mere accident, serious damages have been averted, from fire, within the last week. In petitioning Your Hon. body for relief and protection, I am authorized to use the names, in a like capacity of: Hon Jud. F. Miller, Wm Philips: A. M. Brooks, Dr. Filkins [?] George and John Kruise on Dr. ChurchillStevinson Brothers: Cal Sheaf and Allen S.
Your Very Resp
Last edit 19 days ago by
Mrs. HallerLake