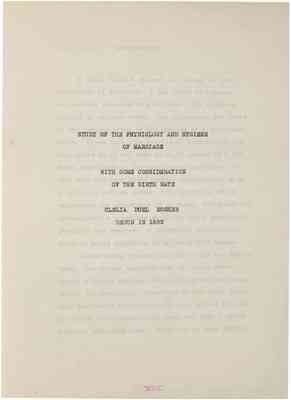 STUDY OF THE PHYSIOLOGY AND HYGIENE OF MARRIAGE
WITH SOME CONSIDERATION OF THE BIRTH RATE
CLELIA DUEL MOSHER
BEGUN IN 1892
Last edit over 2 years ago by
Stanford University Archives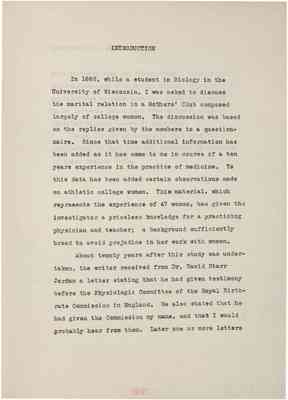 INTRODUCTION
In 1892, while a student in Biology in the University of Wisconsin, I was asked to discuss the marital relation in a Mothers' Club composed largely of college women. The discussion was based on the replies given by the members to a questionnaire. Since that time additional information has been added as it has come to me in course of a ten years experience in the practice of medicine. To this data has been added certain observations made on athletic college women. This material, which represents the experience of 47 women, has given the investigator a priceless knowledge for a practicing physician and teacher; a background sufficiently broad to avoid prejudice in her work with women.
About twenty years after this study was undertaken, the writer received from Dr. David Starr Jordan a letter stating that he had given testimony before the Physiologic Committee of the Royal Birthrate Commission in England. He also stated that he had given the Commission my name, and that I would probably hear from them. Later one or more letters
Last edit over 2 years ago by
vant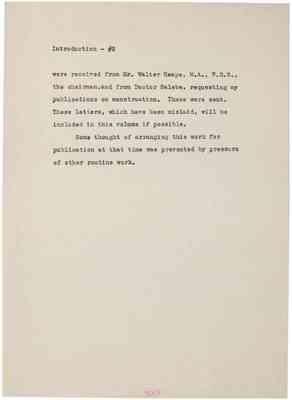 Introduction - #2
were received from Mr. Walter Heape, M.A., F.R.S., the chairman, and from Doctor Salebe, requesting my publications on menstruation. These were sent. These letters, which have been mislaid, will be included in this volume if possible.
Some thought of arranging this work for publication at that time was prevented by pressure of other routine work.
Last edit over 2 years ago by
vant