About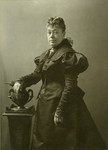 The papers of Jane L. Stanford pertain largely to the founding and administration of Stanford University, along with her personal and social affairs; included in the papers are correspondence, business records, legal and financial papers, speeches, news clippings, and biographical materials.
Works
Gilmore, Eleanor E. ALS anxious to see her Feb 1895 Gilmore, Eleanor E. ALS daughter Grace Mar 25, 1895 Gilmore, Eleanor E. Easter greetings Apr 13, 1895 Gilmore, Grace H., ALS working in D.C. Dec 16, 1894 Gilmore, Grace H., ALS clerking in Pension Office Apr 7, 1895 Gilmore, Grace...
20 pages: 0% indexed, 0% transcribed
ALS visit to University, interest in kindergartens, friend of Miss Peabody; Dec 13, 1894 ALS congratulations and support Mar 2, 1896 ALS thanks for gift, invitation to visit when in Boston, her own work June 20, 1903 Metadata: Available Online:...
6 pages: 0% indexed, 0% transcribed
Grant, Fannie C. (Mrs. Ulysses Jr.) ALS invitation to country Dec 19, 1890 ALS to call at Palo Alto Apr 4 1891 ALS leaving for the east Apr 13, 1891 Grant, Jesse R. calling card and clip. re: Tia Jauna gambling concession undated Grant, Julia (daughter of F.D.G.) ALS thanks for...
28 pages: 0% indexed, 0% transcribed
ALS trying for mission to China; Mar 12, 1889 ALS checks on antiques for J. L. Stanford Sep 17, 1890 ALS received draft for antiques; Sep 21 1890 ALS and cvr. re: L.S.J.U. "Hereditary Prince" Nov 8, 1891 ALS condolences on death of Sen. Stanford Jan 19, 1894 calling card with...
15 pages: 0% indexed, 0% transcribed
ALS newspaper accounts of Grant - Vanderbilt correspondence undated ALS our boy Ulysses ny Dec 10 ALS regrets invite, leaving D.C. undated ALS sorry she missed her in New York undated ALS Gen'l Grant's stenographer would serve Stanfords undated ALS warm regards undated ALS...
54 pages: 0% indexed, 0% transcribed
ALS Mrs. Logan 1887, Jan 1 ALS writes for Mrs. Grant, thank you for floral piece for tomb, Mrs. Logan's grief 1887, Jan 1 ALS acknowledgement letter to Mrs. Grant, going to D.C. 1888, Jan 15 ALS Washington visit 1888, Jan 28 ALS Mrs. Grant invites Stanfords to dine Bishop and Mrs....
40 pages: 0% indexed, 0% transcribed
ALS Gen. Grant's son well received, Tracy and Blaine tragedies 1890?, Feb 25 ALS Mr. Blaine and party division, hope to have another term in Vienna 1890 Mar 14 ALS and cvr. Stanfords coming to Vienna, diplomatic social life, Huntington's daughter married Prince Kalzfelds 1890 Apr 29 ALS...
45 pages: 0% indexed, 0% transcribed
ALS Stanfords to return to Europe, renomination of Harrison 1892, June 18 ALS visit of Henry Dodge, cholera epidemic; met Stanfords at Geneva 1892 Sep 26 ALS death of Mrs. Harrison, Pres. Harrison's defeat, Col. Grant participating in Court Hunts 1892 Dec 14 A.L. (fragment) to Julia...
56 pages: 0% indexed, 0% transcribed
ALS condolence on death of Leland Jr. 1884, Mar 31 ALS to visit Washington, ref. to floral piece at tomb. 1887, Jan 24 ALS and card re: present personal, Fred Grant and family in Chicago. 1887, Mar 11 ALS articles from North American Review birth of a grandson 1887, May 2 ALS at the...
45 pages: 0% indexed, 0% transcribed
ALS plates arrived, death of Mr. Sartoris (Nellie's father-in-law), expecting Mrs. Harrison 1889, Jan 29 ALS can't come for inauguration 1889, Feb 4 ALS regrets she can't accept invitation 1889, Feb 10 Tel. Fred's confirmation 1889, Mar 23 Tel. Fred goes to Washington 1889, Mar 31 ...
34 pages: 0% indexed, 0% transcribed
Subject Categories