About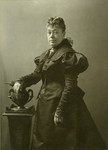 The papers of Jane L. Stanford pertain largely to the founding and administration of Stanford University, along with her personal and social affairs; included in the papers are correspondence, business records, legal and financial papers, speeches, news clippings, and biographical materials.
Works
ALS social, reference to RR strike 1894 Feb 4 ALS and cvr. social 1894 Feb 24 ALS and cvr. would like to meet with her 1894 Mar 5 Tel. returning East [1894] May 9 Tel. arrived 1894 May 24 ALS enjoyed J.L.Stanford's car in N.Y. 1894 May 28 ALS and cvr. social, summer plans 1894...
37 pages: 59% indexed, 95% transcribed, 5% needs review
A.L. (ltr. finished by Mary Coffey) social news, selling house 1893, Apr 15 ALS Fred. and family returning, J.L.Stanford had picture painted of Mrs. Grant's grandson 1893, June [13?] ALS condolence, death of L.Stanford 1893, June 22 ALS death of Mr. [Drexel] 1893, July 6 ALS death of...
32 pages: 28% indexed, 91% transcribed, 9% needs review
ALS "the Maine", war 1898, Apr 21 ALS has had her book typewritten, Fred a Gen., Quo Vadis 1898, July 19 LS a lock of hair cut from Lincoln's head by Barnes for museum, Fred in Puerto Rico 1898, Aug 29 Tel. sorry to miss her 1898, Oct 11 ALS sends lock of Lincoln's hair 1898, Oct 29 ...
44 pages: 2% indexed, 98% transcribed, 2% needs review
L. by Mary illness, social 1900, Feb 28 ALS moving picture of Passion Play reminiscing 1900, Mar 11 L. by M. recommends as maid companion Anna Held, maid for Helen Terry 1900, May 8 L. by M. social, Mrs. Newman 1901, Easter ALS and cvr. social, family news 1901, May 20, LS and cvr....
23 pages: 0% indexed, 57% transcribed
Tel. invit. 1902, Jan 8 L. by M. invit. 1902, Jan 8 ALS social 1902, Jan 10 ALS "the young President" 1902, Jan18 ALS explosion near hotel 1902, Feb 4 L. by M.E.C. Mrs. Lawton, niece of J.L.Stanford 1902, July 19 ALS social 1902, Aug 17 L. by M.E.C. J.L.Stanford in N.Y. 1902,...
18 pages: 0% indexed, 0% transcribed, 100% needs review
Gray, George H., TLS congratulations 1895 Oct 13 Gray, Geo. W., ALS sends clipping about court decision 1895 July 1 Gray, Geo. W., ALS congratulations, sermon by Bishop Newman 1896 Mar 3 Gregory, M.E., ALS sent flowers for L. Stanford's grave 1894 Mar 8 Grinnell, Jane S. C., ALS would...
16 pages: 0% indexed, 88% transcribed
inscribed calling card and cvr. undated accepts lunch date Feb. 2 undated she and Pres. accept dinner invitation for May 20 undated ALS apologizes for sending letter to forward to Mr. Elliott undated ALS introducing artist James H. Moses 1889 Feb 10 Mrs. Dimmick accepts invit. for...
30 pages: 13% indexed, 90% transcribed, 10% needs review
ALS and cvr. thanks for present, recalls visit 1891 May 17 ALS and cvr. thanks for wine 1891 June 27 ALS and cvr. painting on china 1891 Dec 24 ALS note of introduction 1891 Dec 28 Invit., cvr., place card and seating chart for luncheon 1891 Dec 29 ALS and cvr. borrowed sleigh 1892...
27 pages: 4% indexed, 96% transcribed
ALS thanks for wine Nov 24, 1893 ALS would like to visit with her Apr 8, 1895 ALS congratulations July 13, 1895 ALS thanks for pass ny Jan 30 ALS personal ny Apr 27 ALS government suit, personal undated Metadata: Available Online: https://purl.stanford.edu/cm789jy3596 Title:...
19 pages: 0% indexed, 0% transcribed, 100% needs review
Hodges, Myrtis Charles, ALS personal news Oct 16, 1895 Hodges, Myrtis Charles, ALS personal news Mar 10, ny Hoffman, J. W., ALS asking for photo of Leland Jr. Aug 3, 1893 Hoitt, Ira G., ALS congratulations on successful settlement of suit Mar 3, 1896 Holtzman, R.O., note re sale of...
22 pages: 5% indexed, 32% transcribed
Displaying Work 61 - 70 of 169 in total
Subject Categories