About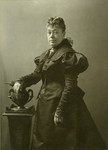 The papers of Jane L. Stanford pertain largely to the founding and administration of Stanford University, along with her personal and social affairs; included in the papers are correspondence, business records, legal and financial papers, speeches, news clippings, and biographical materials.
Works
Gamble, Mrs. J.F., ALS article by "Annie Laurie", 3 hour prayer for J. L. Stanford June 5, 1895 Gamble, Mary, ALS enclosing gift from children at Stanford Kindergarten 1893 Dec Gardiner, C. H., ALS is leaving New York, will call on her in California 1902 Jan 28 Garfield, Henry Whiting,...
17 pages: 0% indexed, 94% transcribed, 6% needs review
ALS trying for mission to China; Mar 12, 1889 ALS checks on antiques for J. L. Stanford Sep 17, 1890 ALS received draft for antiques; Sep 21 1890 ALS and cvr. re: L.S.J.U. "Hereditary Prince" Nov 8, 1891 ALS condolences on death of Sen. Stanford Jan 19, 1894 calling card with...
15 pages: 13% indexed, 27% transcribed
ALS newspaper accounts of Grant - Vanderbilt correspondence undated ALS our boy Ulysses ny Dec 10 ALS regrets invite, leaving D.C. undated ALS sorry she missed her in New York undated ALS Gen'l Grant's stenographer would serve Stanfords undated ALS warm regards undated ALS...
54 pages: 74% indexed, 98% transcribed, 2% needs review
ALS Gen. Grant's son well received, Tracy and Blaine tragedies 1890?, Feb 25 ALS Mr. Blaine and party division, hope to have another term in Vienna 1890 Mar 14 ALS and cvr. Stanfords coming to Vienna, diplomatic social life, Huntington's daughter married Prince Kalzfelds 1890 Apr 29 ALS...
45 pages: 0% indexed, 53% transcribed, 2% needs review
ALS Stanfords to return to Europe, renomination of Harrison 1892, June 18 ALS visit of Henry Dodge, cholera epidemic; met Stanfords at Geneva 1892 Sep 26 ALS death of Mrs. Harrison, Pres. Harrison's defeat, Col. Grant participating in Court Hunts 1892 Dec 14 A.L. (fragment) to Julia...
56 pages: 4% indexed, 86% transcribed, 2% needs review
ALS J.L.Stanford in N.Y. 1890 Jan 18 ALS Stanfords back from Europe 1890 Oct ? ALS. delighted to see her, was ill over summer, writing 1890 Oct 11 ALS Stanfords triumph in Calif. 1890 Dec 5 ALS Had a delightful Christmas, will see her soon 1890 Dec 26 ALS and cvr. Mr. Stanford's...
46 pages: 0% indexed, 65% transcribed
ALS social, reference to RR strike 1894 Feb 4 ALS and cvr. social 1894 Feb 24 ALS and cvr. would like to meet with her 1894 Mar 5 Tel. returning East [1894] May 9 Tel. arrived 1894 May 24 ALS enjoyed J.L.Stanford's car in N.Y. 1894 May 28 ALS and cvr. social, summer plans 1894...
37 pages: 59% indexed, 95% transcribed, 5% needs review
A.L. (ltr. finished by Mary Coffey) social news, selling house 1893, Apr 15 ALS Fred. and family returning, J.L.Stanford had picture painted of Mrs. Grant's grandson 1893, June [13?] ALS condolence, death of L.Stanford 1893, June 22 ALS death of Mr. [Drexel] 1893, July 6 ALS death of...
32 pages: 28% indexed, 91% transcribed, 9% needs review
ALS "the Maine", war 1898, Apr 21 ALS has had her book typewritten, Fred a Gen., Quo Vadis 1898, July 19 LS a lock of hair cut from Lincoln's head by Barnes for museum, Fred in Puerto Rico 1898, Aug 29 Tel. sorry to miss her 1898, Oct 11 ALS sends lock of Lincoln's hair 1898, Oct 29 ...
44 pages: 2% indexed, 11% transcribed, 2% needs review
L. by Mary illness, social 1900, Feb 28 ALS moving picture of Passion Play reminiscing 1900, Mar 11 L. by M. recommends as maid companion Anna Held, maid for Helen Terry 1900, May 8 L. by M. social, Mrs. Newman 1901, Easter ALS and cvr. social, family news 1901, May 20, LS and cvr....
23 pages: 0% indexed, 57% transcribed
Displaying Work 61 - 70 of 183 in total
Subject Categories